Amazon inventory forecasting helps you predict how much inventory your business will need based on past sales data and trends. Accurate forecasting is critical to your ecommerce business's success, as it ensures you maintain enough inventory to cover current demand without either buying too much and racking up storage fees or buying too little and going out of stock.
Using tools that automatically and accurately predict your inventory needs is a great way to save time and prevent guesswork. A good inventory management system, like Jungle Scout's Inventory Manager, does just that: it calculates how much inventory you should reorder and when, helping you analyze metrics and boost sales.
How to forecast inventory
Properly forecasting your Amazon FBA inventory involves a few moving parts. You'll need to estimate the amount of inventory that will satisfy future demand for your product, taking into consideration the product's past sales performance, current consumer trends, and your supplier's lead times.
Without accurately forecasting your future sales volume, you're just guessing each time you reorder from your supplier. This can cause the following financial issues for your business:
Over-ordering:

If you over-order inventory, you'll tie up capital you could otherwise invest elsewhere, and inventory left sitting in FBA warehouses will eventually rack up long-term storage fees.
Under-ordering:

If you under-order inventory, you won't have enough supply to cover customer demand, causing you to lose out on potential customers. Stocking out can impact your rankings on Amazon, making it harder to sell new inventory in the future.
Fortunately, Amazon makes many useful seller reports available to professional sellers that outline product sales histories, sell-through rates, and inventory health. These can be helpful if you want to forecast your inventory needs using your own spreadsheets.
However, that method gets messy and leaves plenty of room for error. The best way to forecast and manage your inventory is by using software specifically built to handle all that data.
Meet Jungle Scout's Inventory Manager
Inventory Manager automates the inventory forecast process, so you save time while knowing exactly how much stock to order for your business, and when to order it. This tool uses your sales data and supplier lead times to accurately predict your inventory needs. You can also prevent risks like running out of stock or over-ordering inventory.
Inventory Manager's powerful technology began with Forecastly, the original inventory forecasting tool popular among Amazon sellers. Inventory Manager integrated Forecastly's innovative capabilities and turned them up a few notches, so sellers get consistently accurate insights about their inventory needs. Fans of Forecastly will find their favorite features and more in Inventory Manager.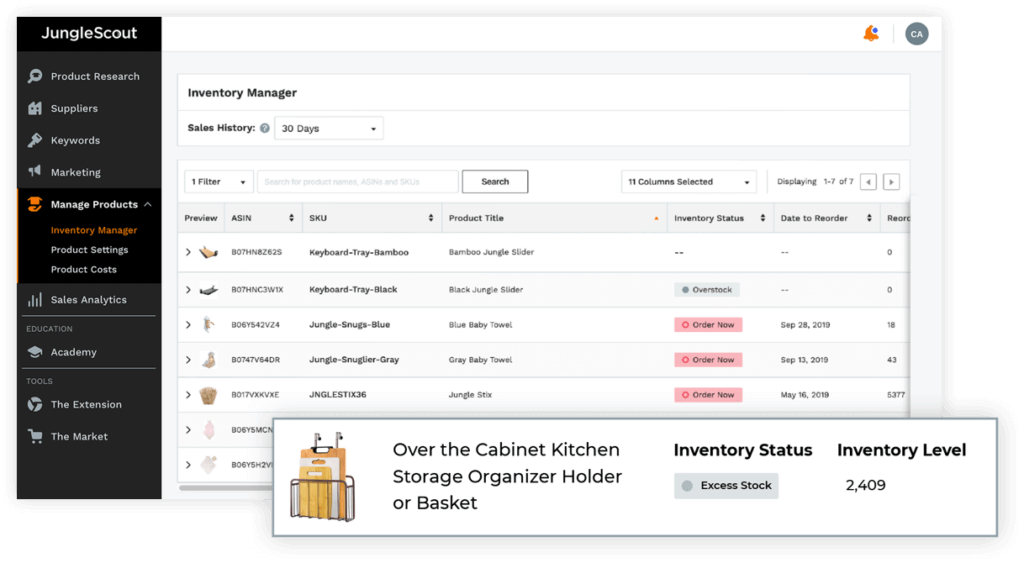 Another benefit of using Inventory Manager is that it's part of Jungle Scout's all-in-one Amazon seller platform. As an advanced seller feature, Inventory Manager comes with Jungle Scout's Suite and Professional membership plans. These plans offer other powerful seller tools to help you connect with overseas suppliers, track keyword performance over time, and automate review requests.
To learn more about how Inventory Manager works, check out the video below and keep reading!
Manage your inventory with forecasting technology
Like Forecastly, Inventory Manager has:
Advanced replenishment stats

Industry-leading demand forecasting

Inbound shipment insights
You can use Jungle Scout's Alerts feature to receive inventory level and status updates, adding extra inventory management functionality to your business.
Features and benefits of Inventory Manager
If you've never used Inventory Manager before, you'll find it has lots of useful capabilities and benefits that boost sales and smooth your business operations. Let's go over what you'll get from using this tool.
Accurately forecast demand
Inventory Manager predicts your FBA sales and profits so you know exactly how much inventory you should order. It also allows you to analyze critical inventory-level metrics such as revenue, unit cost, profit, average daily sales, and average profit per unit. This gives you an estimate of how much you'll spend on new inventory, plus how much you'll profit.
Know exactly when to replenish your inventory
Inventory Manager accurately calculates the exact date on which you should reorder inventory for each of your products. It marks each SKU as either Reorder Now, Reorder Soon, Overstock, or In Stock to give you a quick snapshot of your inventory needs.
Avoid costly storage fees
Inventory Manager estimates future demand for your product so you can order just enough stock. By preventing inventory buildup, you can avoid accruing long-term storage fees from Amazon.
Manage inventory on a user-friendly platform
Inventory Manager offers a great user experience. The intuitive, easy-to-use dashboard allows users to enter product costs and supplier lead times, see the value of their current Amazon inventory, and re-order days of supply. Once Inventory Manager has your product information, it analyzes your data and gives you a snapshot of your inventory performance.
Inventory forecasting and so much more
Jungle Scout offers the same functionality you know and love from Forecastly with Inventory Manager. It's also a robust suite of many other useful seller tools to help manage and scale your Amazon business.
Jungle Scout is backed by the industry's most accurate data and a community of more than 500,000 sellers — so you know it can be trusted. Our all-in-one seller platform helps you manage your Amazon business at every stage, from launching a product to scaling your operations. With tools like Review Automation, Opportunity Finder, and Keyword Scout, building a successful ecommerce business has never been easier.