Doesn't it feel like the moment Fall hits, there's a huge change in the way people act? Everything suddenly tastes like pumpkin spice. There are more scarves, windbreakers, and beanies around. Oh, and of course, the Halloween madness begins.
Who's spending the most this Halloween? While 45% of consumers plan to reduce their spending this Halloween season, millennials have other plans —40% of millennial shoppers plan to spend more this year than they did last year on Halloween, according to Jungle Scout's 2023 Halloween Trends report.
So, what are the Halloween costume trends you'll see taking over this year?
As an all-in-one Amazon seller solution, Jungle Scout offers a data tool that allows us to pull trending sales data directly from Amazon, including how many units sell every day and how customers rate products. For that reason, we decided to look at the top-selling Halloween costumes on Amazon in 2023.
Instead of ordering these top Halloween costumes to wear, did you know that you can actually sell costumes and other products like this on Amazon? Selling on Amazon is a great way to earn extra money online — in fact, new Amazon sellers are earning an average profit of nearly $30K per year. Not bad for a side hustle.
Before we take a look at this spooky costume data, let's go over how you, as an Amazon seller, can take advantage and profit from these major seasonal events and trending product searches.
How to sell Halloween costumes on Amazon
Knowing what the top costumes are doesn't just help give you ideas for what to wear to your next Halloween party but also gives you a way to capitalize on the influx of customers interested in Halloween costumes.
Smart Amazon sellers use this information to their advantage. What are customers actively looking for and purchasing? And the best thing about selling on Amazon, especially during this time of year, is that you don't need to reinvent the wheel or create a brand (though you can).
Sellers can do what's called retail arbitrage and resell popular Halloween costumes that are already selling well on Amazon.
Basically, you can go into local retail stores that sell Halloween costumes, scan the barcodes with the Amazon Seller app, and figure out what you can resell on Amazon for a profit.
Here's an example:
I found this "Carter's Baby Girls Unicorn Halloween Costume" (using Jungle Scout's Product Database tool) for sale on Macys.com for $15.20.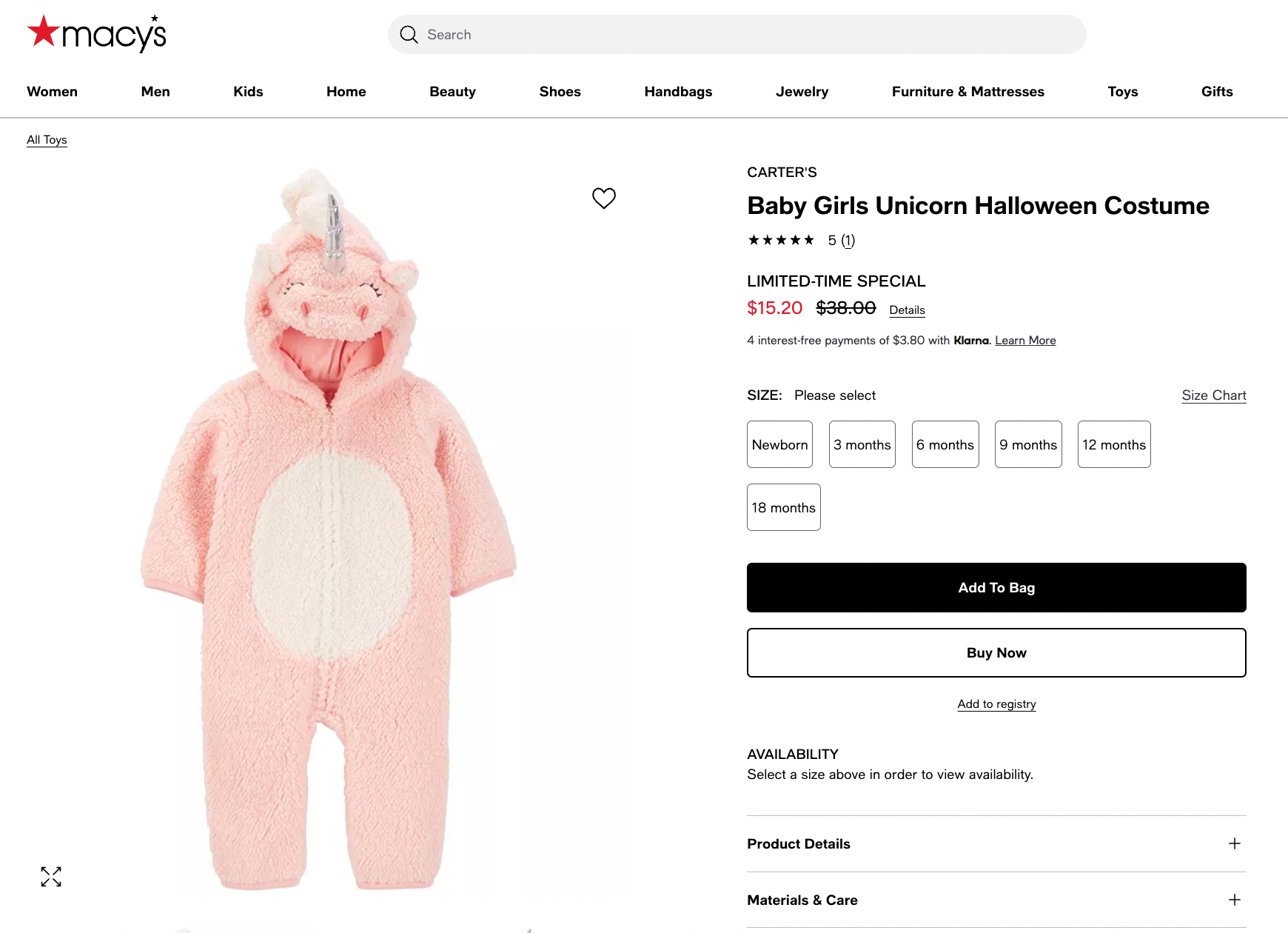 Now look at this — the same exact costume sells on Amazon for $35.99.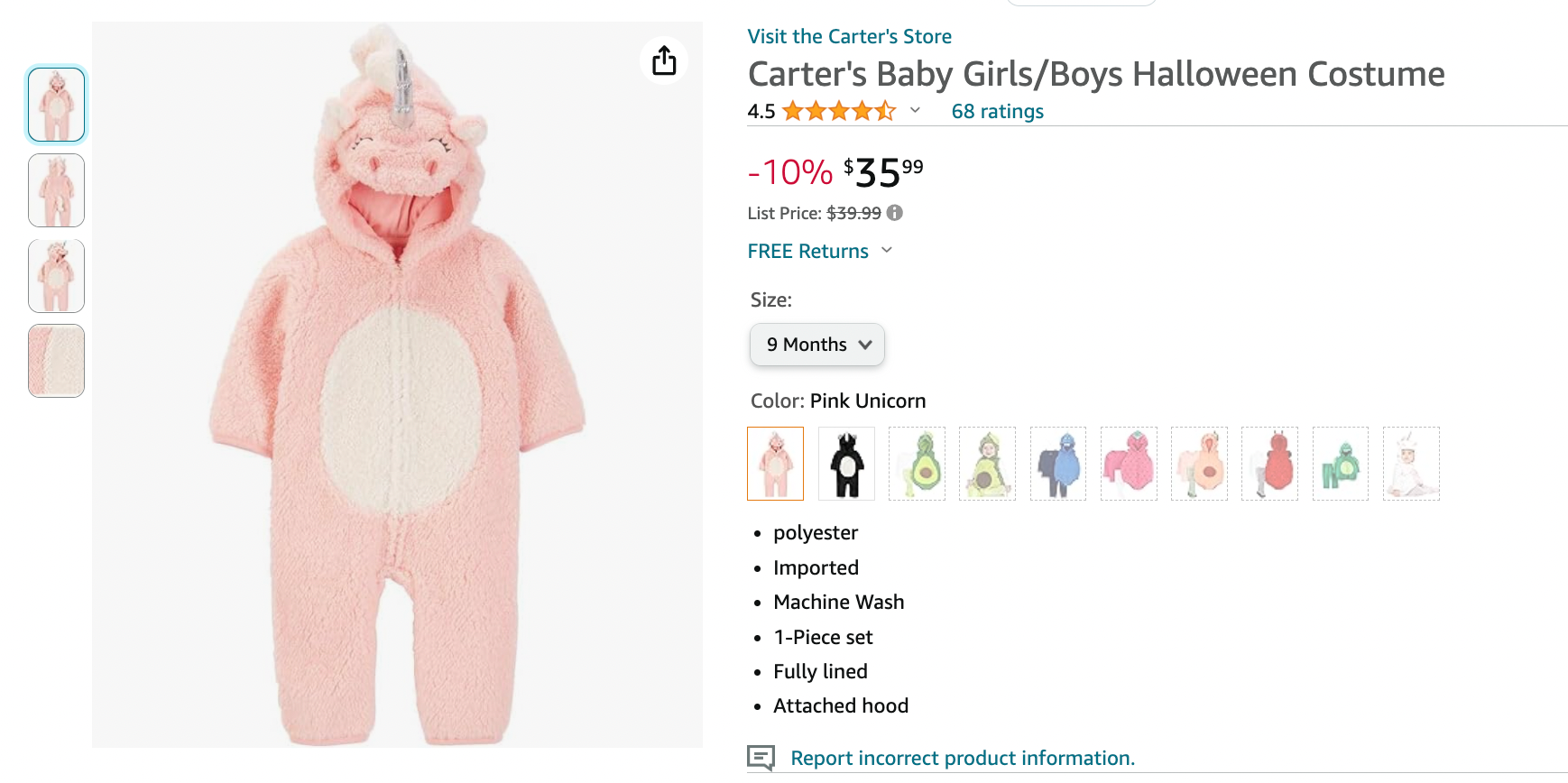 Using Amazon's free FBA Revenue Calculator tool, we can plug in the ASIN of this costume, along with our buy cost to see what the potential profit will be for both FBA (Fulfillment by Amazon) and FBM (Fulfilled by Merchant) fulfillment methods.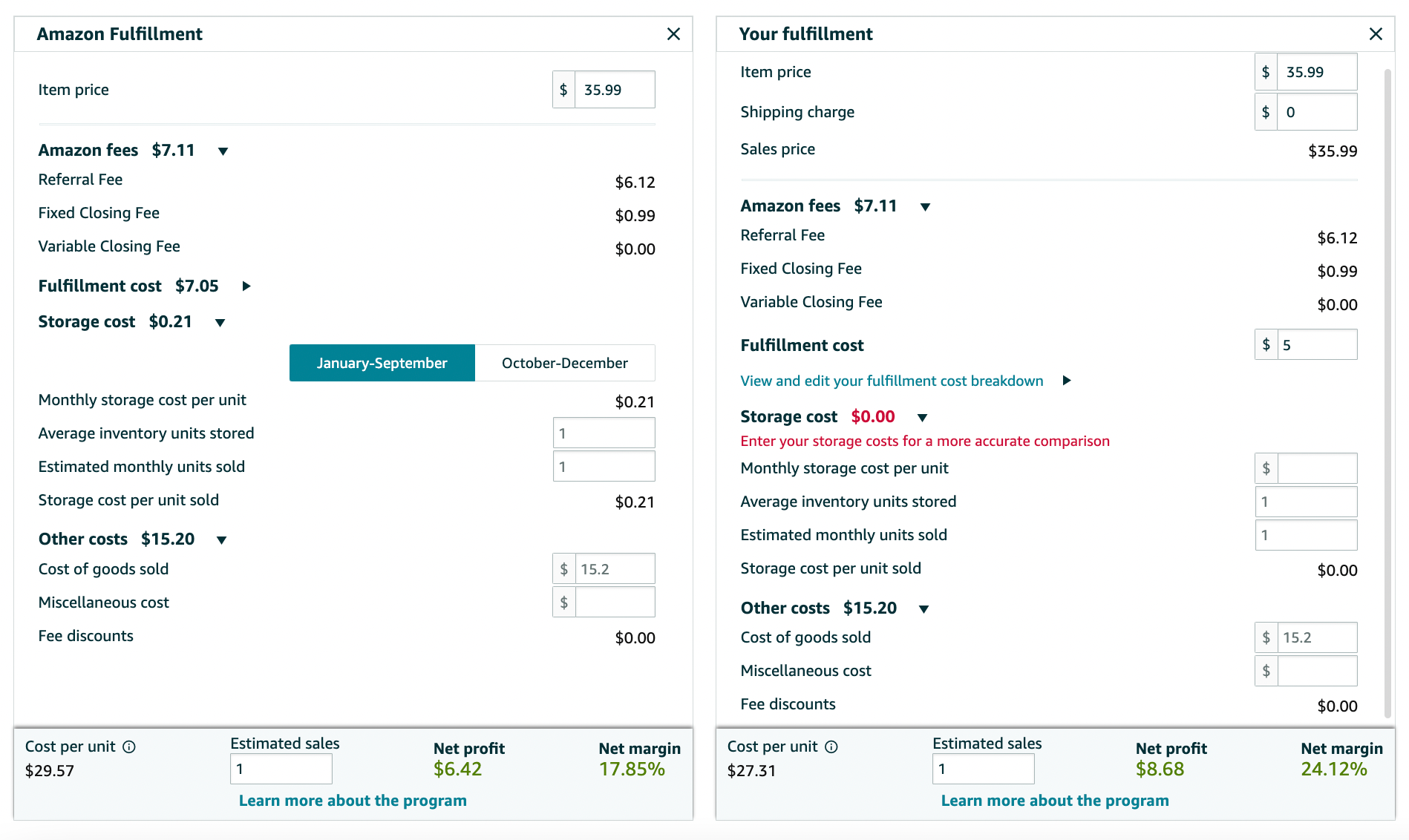 If you use FBA, you can earn a profit of $6.42, or a 17% profit margin, after the cost of goods and Amazon fees — which is pretty good. You could potentially earn more profit if you fulfill this product yourself, depending on shipping costs. Considering this product sells about 50 times per day according to the Jungle Scout Extension, it is a good arbitrage (reselling) opportunity.
Sellers can also do what's called private label, which means creating your own branded Halloween costume. While it is too late in the year to do this, you can still earn some money with retail and online arbitrage.
Here are some examples of a "Barbie" themed private label Halloween costume: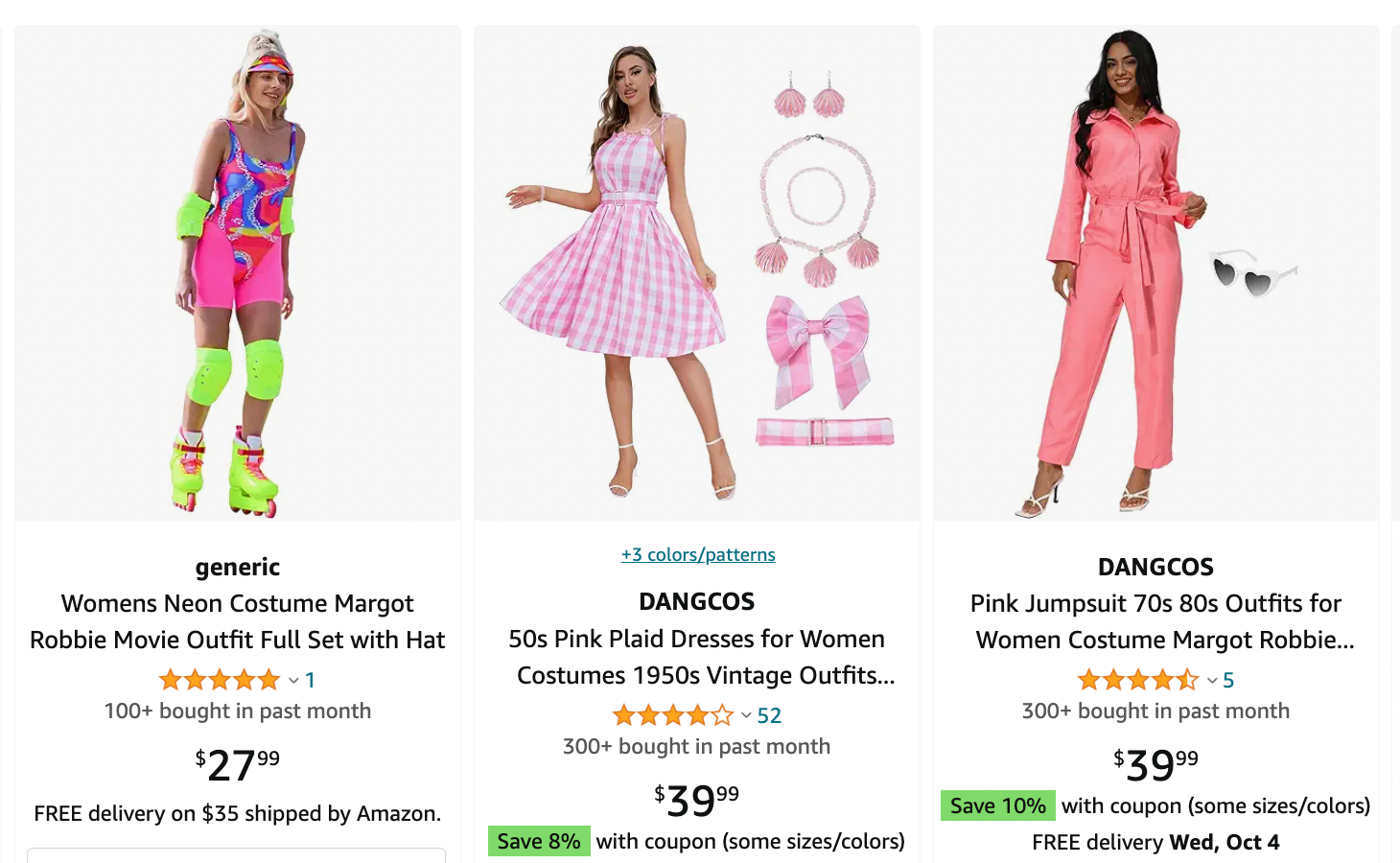 These are not official "Barbie" costumes but they obviously resemble Barbie's outfits. These costumes are sold by other brands as a private label product.
Seasonal products like this are a great way for Amazon sellers to earn some money quickly without launching a brand new product. Use the money you earn to invest in more arbitrage opportunities during the holiday season or for a private label brand you want to launch in the future.
Click the link below to start leveraging Jungle Scout's powerful Amazon seller tools.
Now, let's look at the trending Halloween costumes for 2023 and some Jungle Scout keyword data to show the popularity of each. Use the tools demonstrated below to determine which Halloween costumes would be best to resell for profit this season.
Top 10 Halloween Costumes in 2023
Halloween loving consumers love to get a jump on their costume and decoration shopping early — as we saw a spike in search volume for Halloween-related keywords in mid-August, but what's even more impressive is the amount of search volume for "Halloween costumes" as we get closer to Halloween.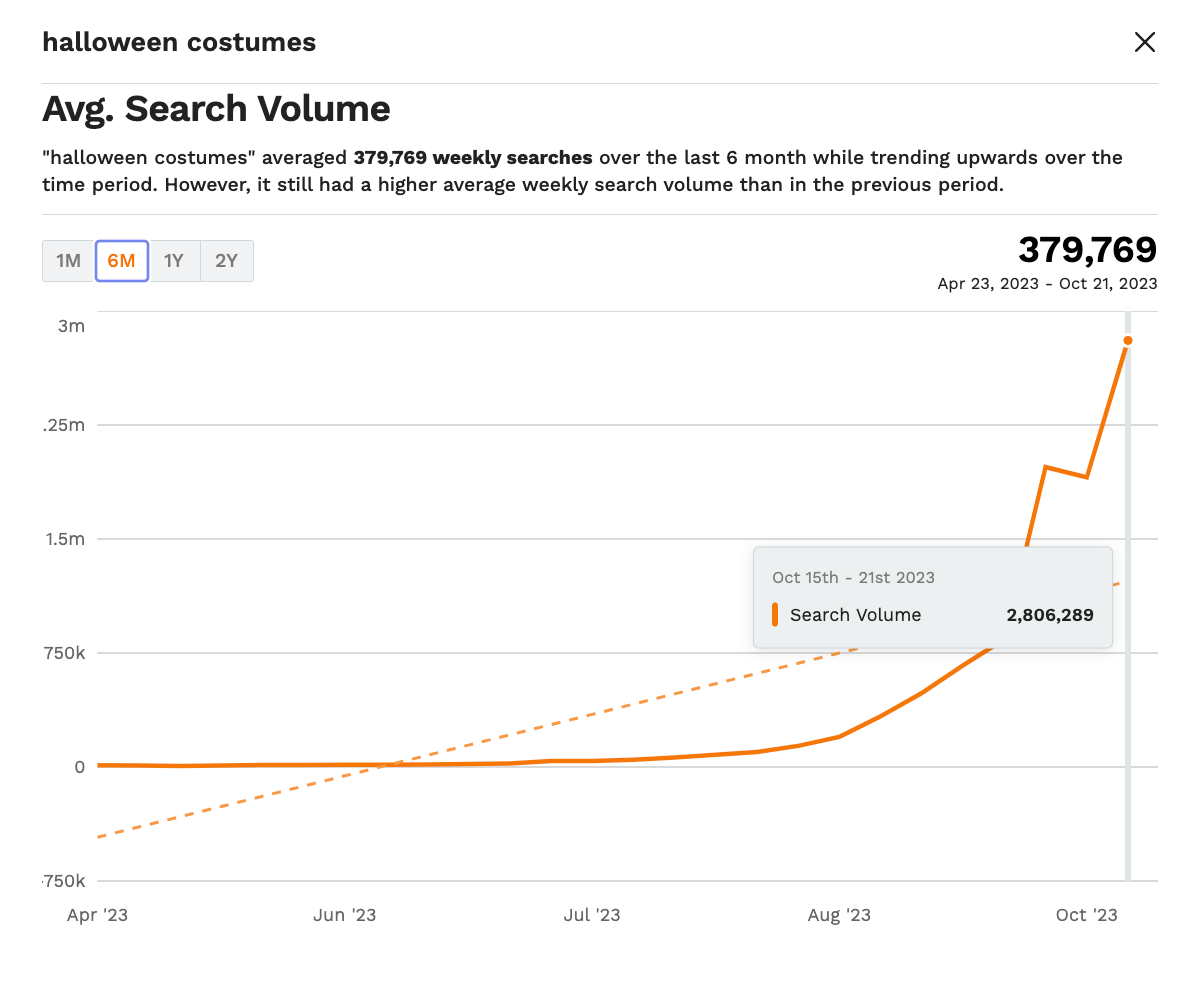 The search volume fully spiked in October with over 1.6 million searches per week as consumers prepared for a fun and spooky Halloween!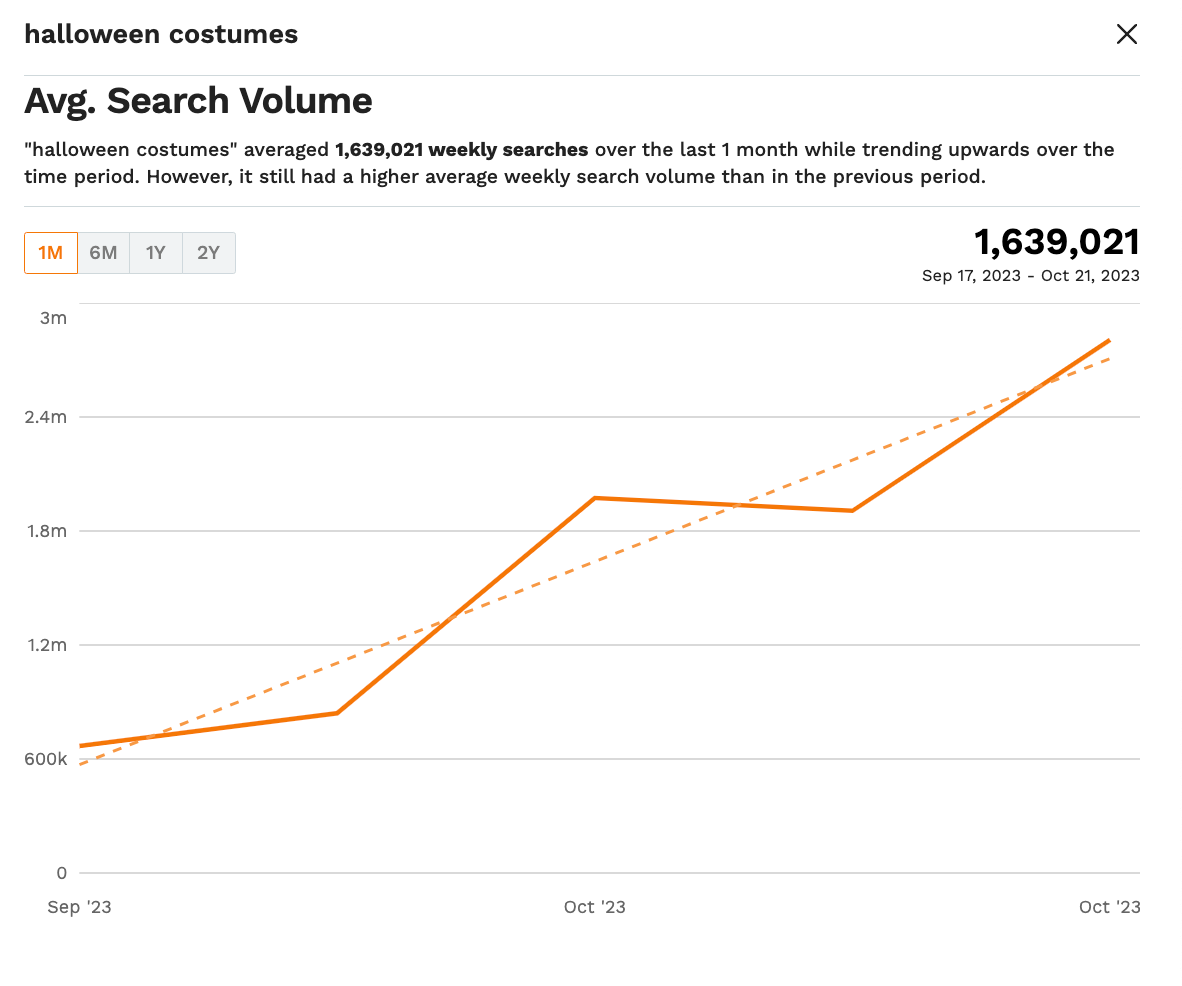 But as we near the end of October, let's take another look at the top 10 Halloween costumes are on Amazon and the spike in search volune. (In no particular order)

1. Mario/Luigi
With the release of the new The Super Mario Bros. Movie in April 2023, it is no surprise that these two stars of the classic Super Mario video game series are two of the most popular costumes of the year.
With any product on Amazon, there will be multiple options scrolling through the search results, but one listing in particular that offers both Mario and Luigi costumes has been dominating the category with roughly 13,000+ monthly sales.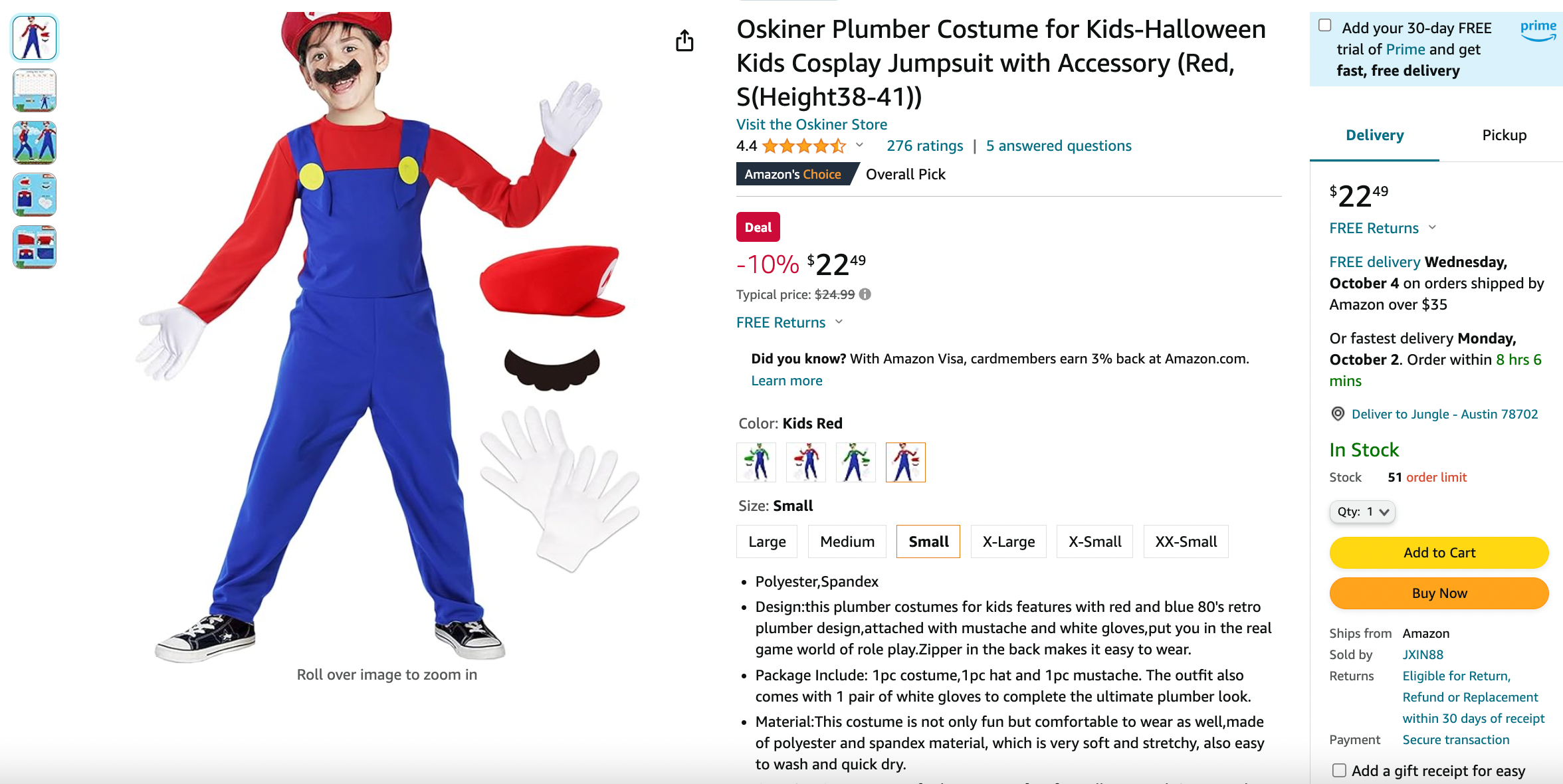 Using Keyword Scout, we also searched for "Mario costume" to show you the significant amount of search volume this keyword has seen recently.

2. Princess Peach
Another star from the box office hit (Super Mario Bros. Movie) unsurprisingly makes the list of one of the most popular Halloween costumes of 2023. The top Princess Peach costume on Amazon is bringing in roughly 20,000+ sales per month.

Check out this insane Extension data for Princess Peach costumes.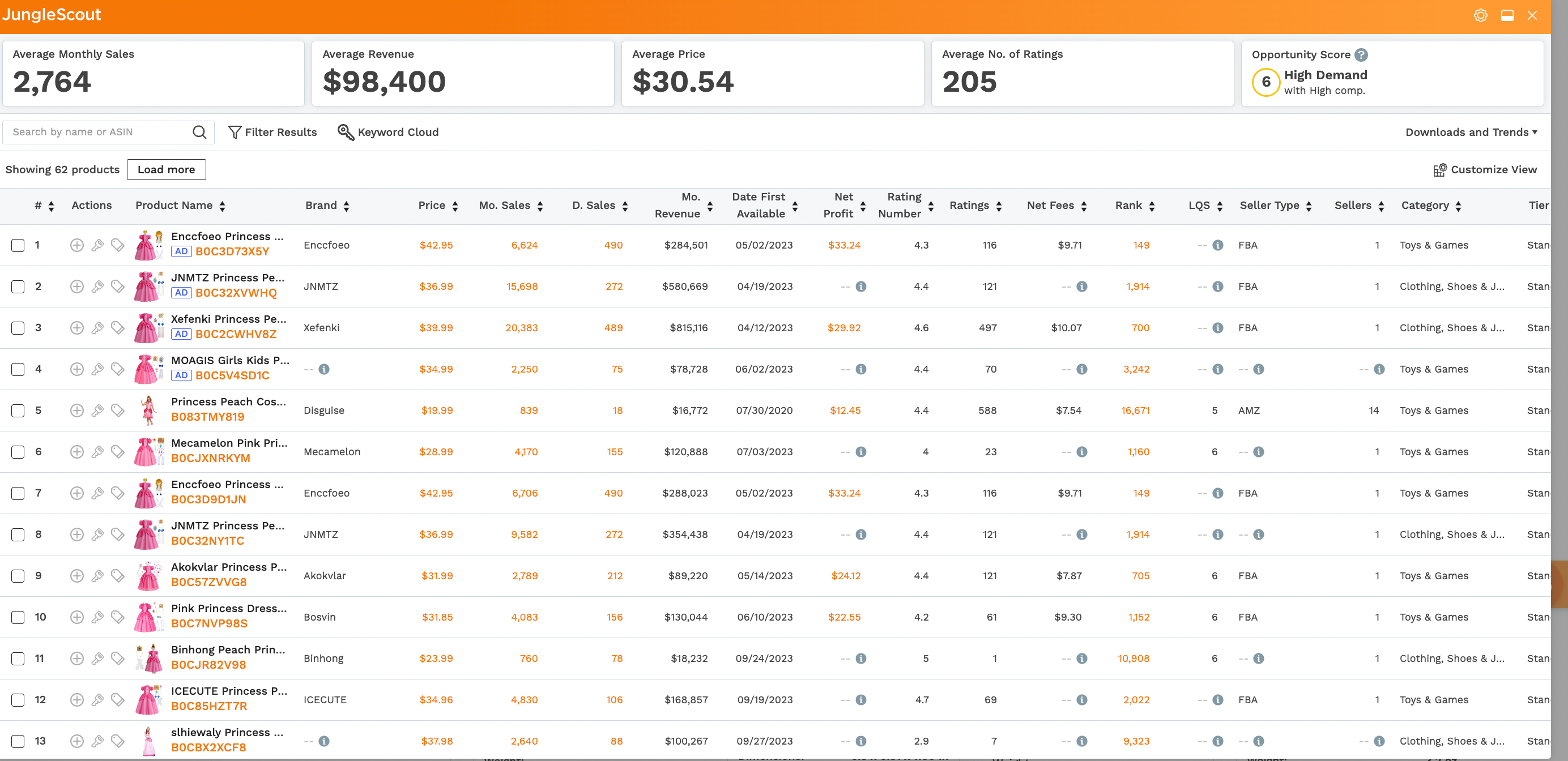 Last time we checked, this costume had an Opportunity Score of 8, making it a big opportunity to make some money selling popular Halloween costumes on Amazon.
Weekly search volume for Princess Peach costumes has also seen a significant increase over the past month.


3. Wednesday Addams
The new The Addams Family 3 movie debuted on October 9, 2023, perfectly timed for Halloween. Again, no surprise that 'Wednesday Addams,' a popular character from the classic series, will be one of the most popular costumes of 2023, particularly after the huge success of Netflix's 2022 hit show "Wednesday".
Her iconic look is the perfect spooky look for both kids and adults this year. A quick search on Keyword Scout shows us multiple popular 'Wednesday Addams' keywords and the huge upward trend in search volume during all of October.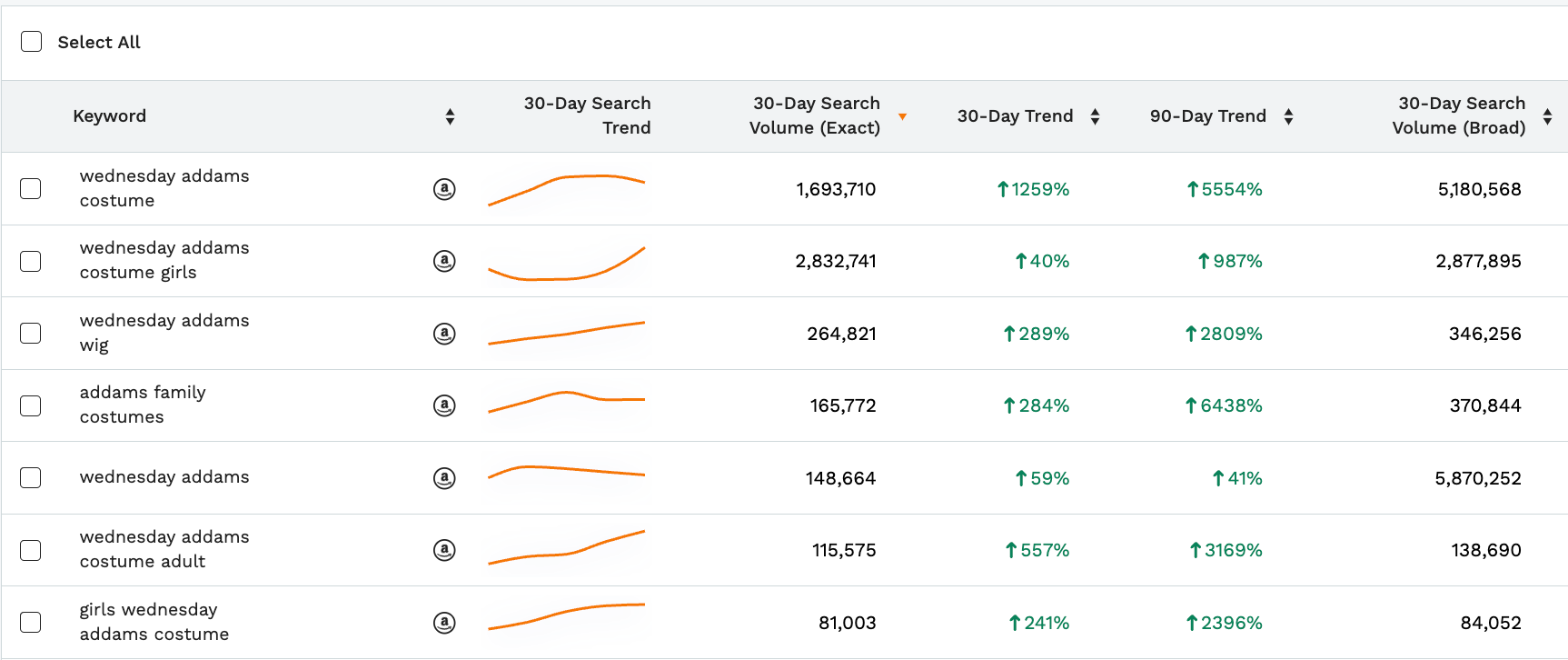 One of the most popular Wednesday Addams costumes on Amazon is seeing over 8,000 sales per month — a costume that includes the dress, belt, gloves, socks, and the iconic wig.

4. Harry Potter
A classic Halloween costume that you can count on seeing every year is Harry Potter. Search volume for the keyword "Harry Potter costume" saw an increase of 143% over the past 30 days.

One of the top Harry Potter costumes features his robe and is selling over 4,000 units per month.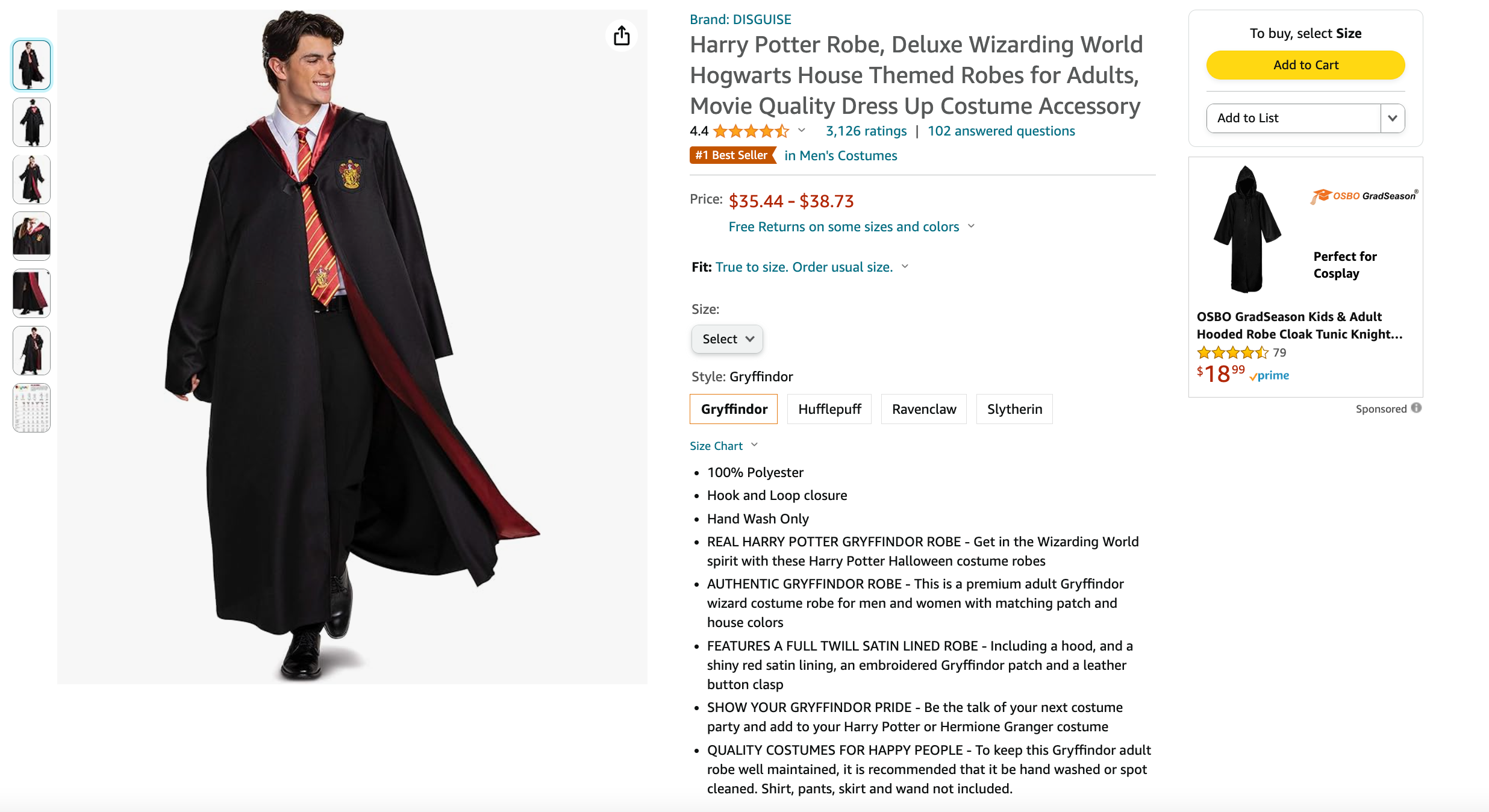 5. Hermione
After Harry Potter is, of course, Hermione. Anything Harry Potter related is going to be super popular around Halloween as more of the younger generations read the books and see the movies.
One Hermione costume for girls is doing insane numbers on Amazon! With over 6,000 units sold per month and over $460,000 in monthly revenue leading up to Halloween.

6. Barbie
With the new Barbie movie that was released in July 2023 being so popular, this is also no surprise. Count on seeing tons of Barbie and Ken costumes throughout your neighborhood or Halloween parties this year!
The keyword "Barbie costume" and other Barbie-related keywords have seen significant increases in search volume over the past couple of months.

While we all know Barbie has many iconic outfits, but one of the top Barbie costumes on Amazon features the classic pink cowgirl look and brings in a whooping $370,000+ per month in sales revenue — that's from just one of the Barbie listings on Amazon!

7. Ken
He's "just Ken," but don't forget about him! Of course with Barbie being in the top 10, so are costumes for Ken. The keyword "Ken costume" has a monthly search volume of 518,000 towards the end of October.


As with Barbie, Ken also has many iconic outfits and styles that would be great for any Halloween costume. One of the most popular Ken outfits on Amazon features a western Cowboy look with a pink scarf and is doing over $249,000 a month in sales.

8. Pro Football Player (Kids)
NFL costumes are mega popular for Halloween, no doubt because it's the middle of football season. On the most popular listing on Amazon, all NFL teams are represented with multiple sizes to choose from. While we are not able to see what the most popular team costume is, the listing as a whole is bringing in a massive $1,800,000+ per month in sales!

9. Cartoon Onesies
Onesies are a simple costume for adults (and kids) who want to dress up for Halloween but don't want to put in too much effort. For that reason, it is no surprise that various cartoon plush onesies do so well on Amazon.
Halloween onesie related keywords all have high monthly search volume that is continuing to trend upwards as we near Halloween.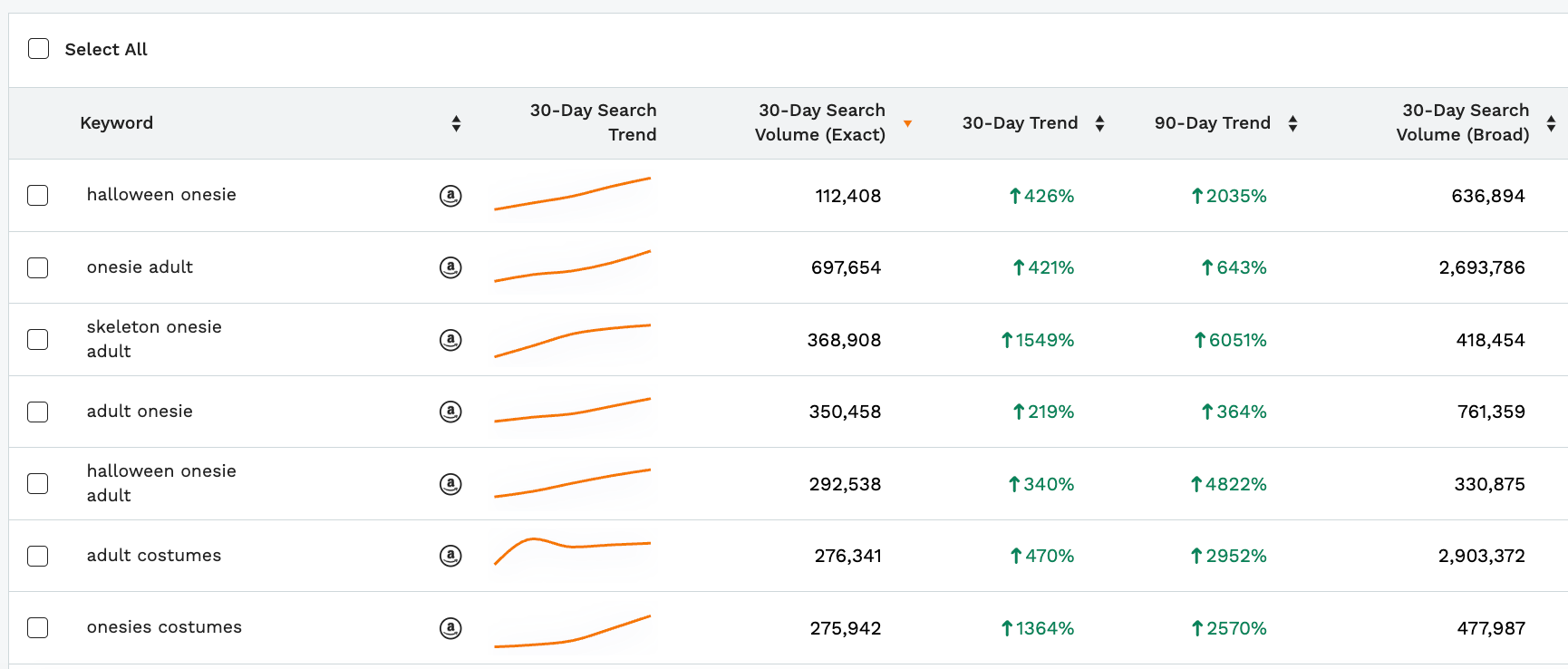 One listing in particular on Amazon features a bunch of characters to choose from and sells nearly 30,000 units per month, totalling over $900,000 in revenue — not bad for some plush onesies.

10. Inflatable T-Rex
Another costume that you can count on seeing every year on Halloween — the inflatable t-rex. Searching for "inflatable t-rex" or "inflatable dinosaur" will yield you a ton of popular listings on Amazon.
Search volume for these keywords is of course trending upwards as we near Halloween.

The average monthly sales revenue for inflatable t-rex costumes is over $131,000 per month, with the top listing doing almost $1,000,000 in monthly sales!

Top 5 Halloween Costumes for Men in 2023
Mario/Luigi

Ken wig

Medieval Viking pants

Harry Potter

Inflatable dinosaur
Top 5 Halloween Costumes for Women in 2023
Cartoon onesies

Barbie

Hermione

Mario/Luigi

Wednesday Addams
Top 5 Halloween Costumes for Boys in 2023
Mario/Luigi

Spiderman

Inflatable alien

Wild Deluxe Link

Spiderman
Top 5 Halloween Costumes for Girls in 2023
Princess Peach

Wednesday Addams

Hermione

Minnie Mouse

Little Mermaid
Top Halloween Costumes in 2022
Let's see what the top five costumes were for the 2022 Halloween season. We'll also show you the Keyword Scout graphs where weekly search volume spiked for each of these costume ideas in 2022.
1. Witch

One of the top costumes of 2022 was the witch costume. Why? Well, it's always a timeless costume choice, but likely saw a boost because of the September 2022 release of the movie Hocus Pocus 2, which got consumers, young and old, excited to dress like their favorite characters from the movie.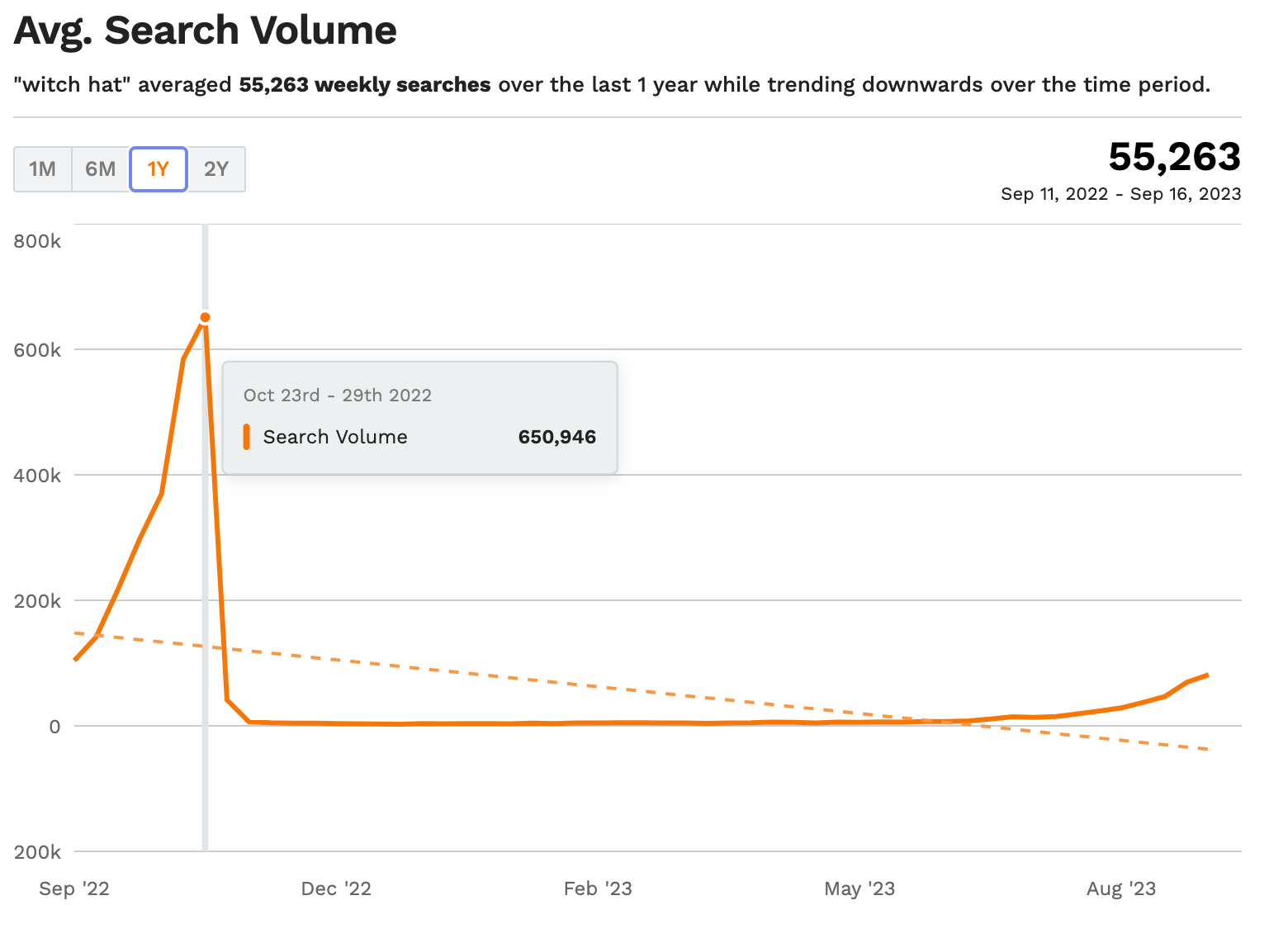 2. Stranger Things
Stranger Things has become a very popular series over the years, so, of course, consumers are looking for costumes related to the show! With a new season released in 2022, the spike in search volume makes sense for last year's Halloween.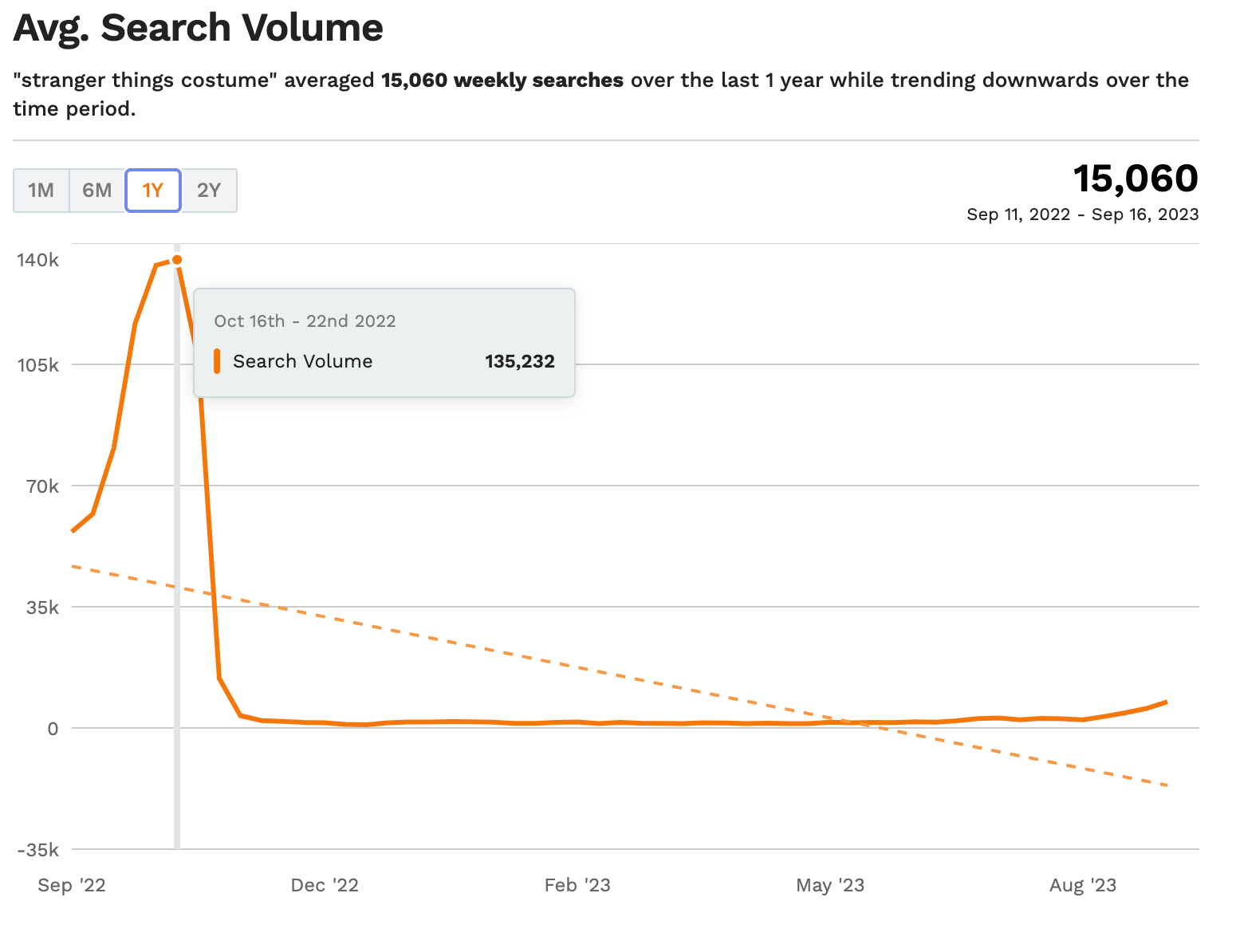 3. Inflatable dinosaur
For some reason, the inflatable dinosaur continues to thrive year after year. No matter which neighborhood you trick-or-treat in or party you go to; you can count on an inflatable dinosaur being there.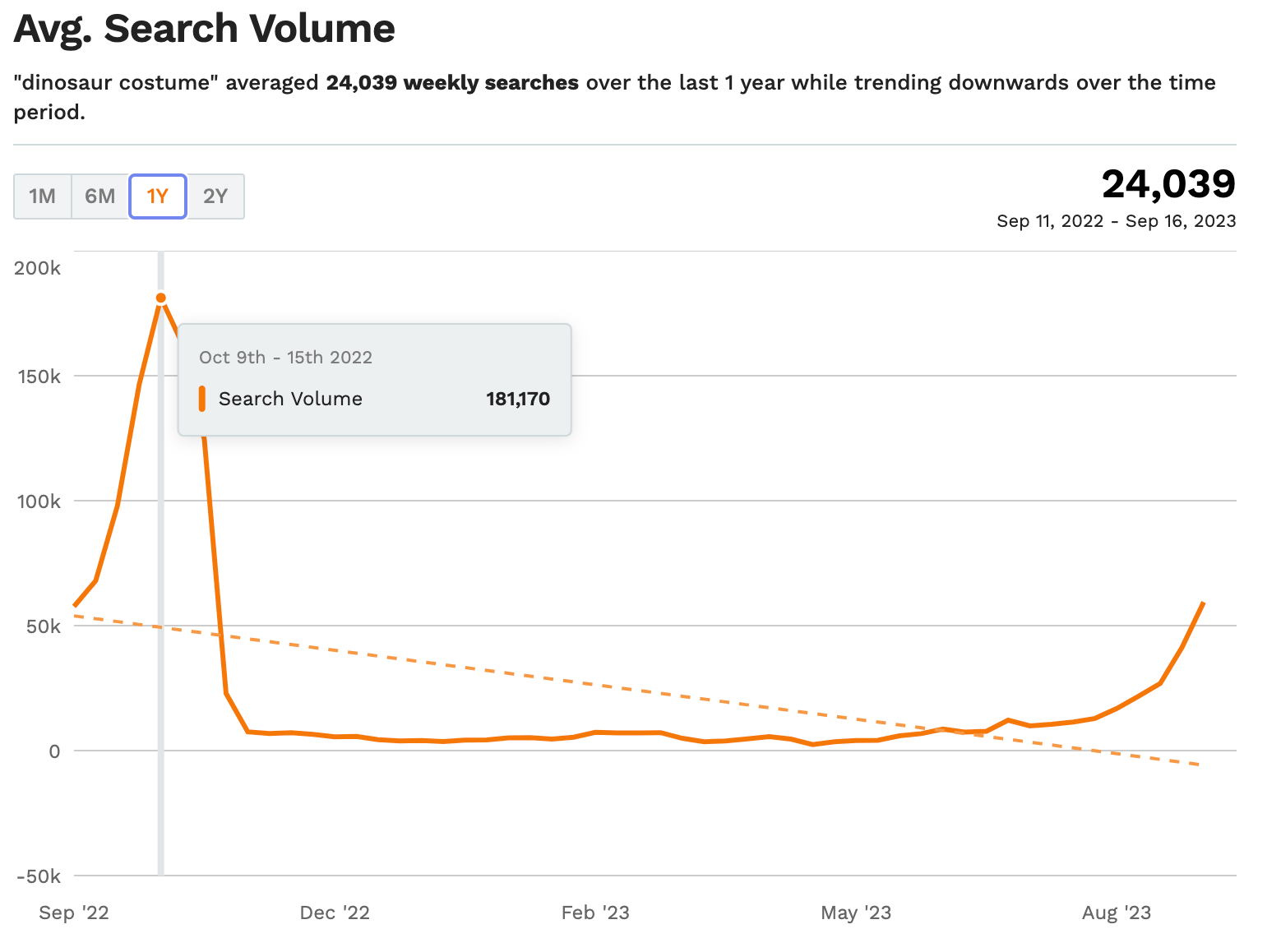 4. Top Gun
With the release of the new Top Gun: Maverick movie in 2022, it is no surprise that one of the top costumes last year was Top Gun-related.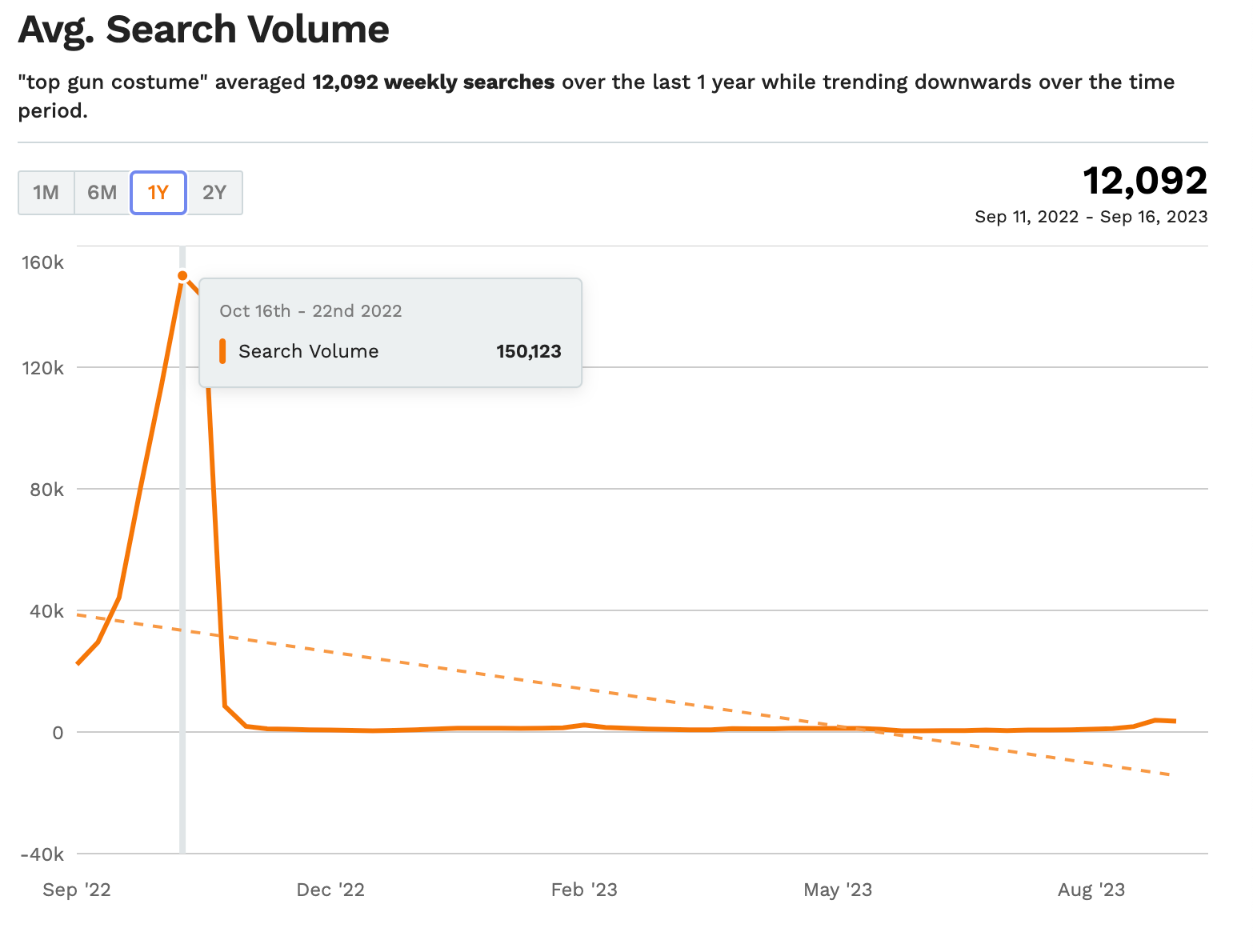 5. Harley Quinn
While Harley Quinn has been popular for years, Halloween 2022 was no different. Searches on Amazon for Harley Quinn costumes peaked at 250,000 searches per week.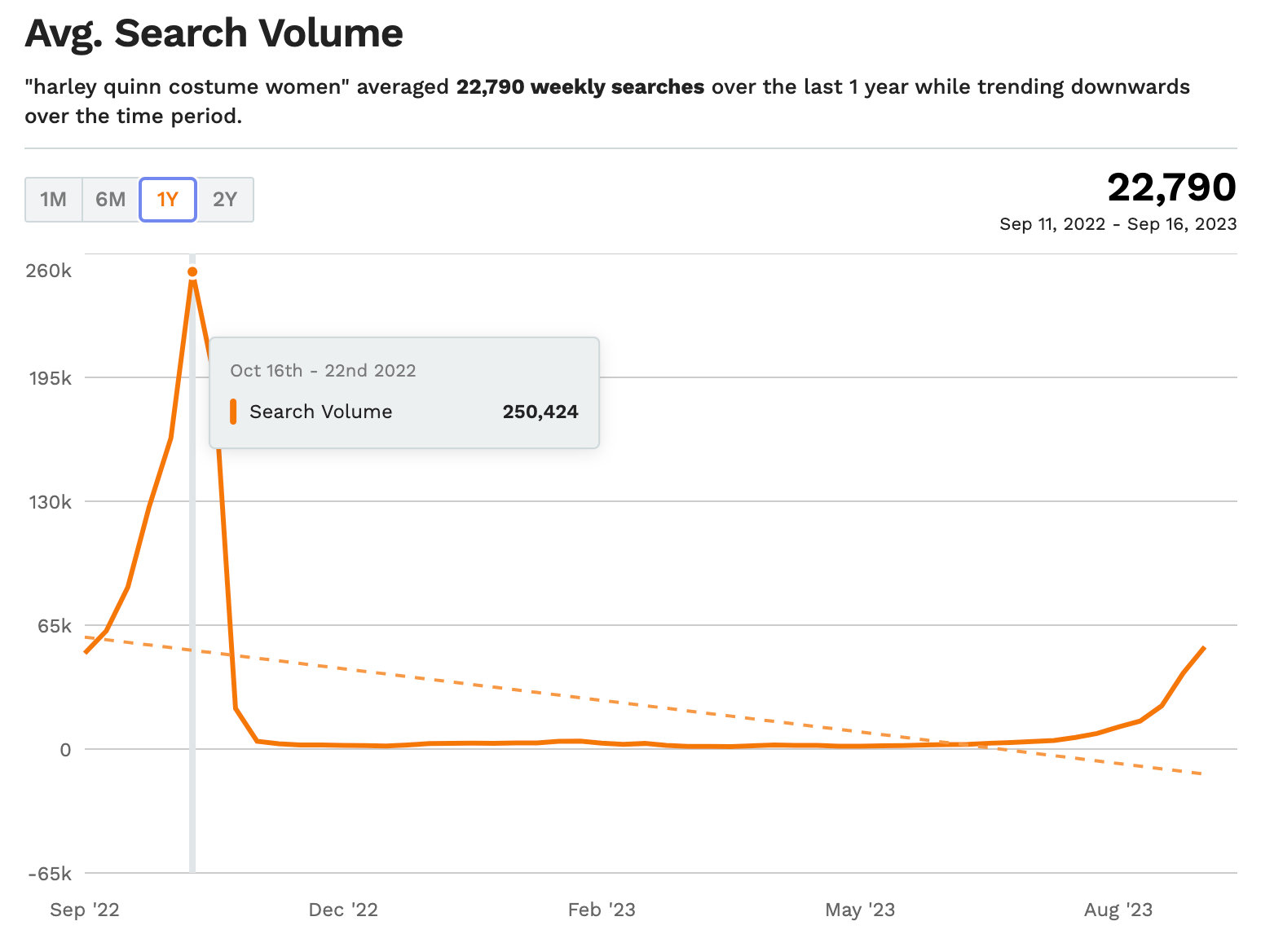 Top Halloween Costumes in 2021
Let's see what the top 5 costumes were for the 2021 Halloween season — in this list, you'll find some similarities from 2022 and even 2023. We'll also show you the Keyword Scout graphs where weekly search volume spiked for each of these costume ideas in 2021.
1. Spiderman (kids)
Spiderman always seems to be a hit costume for both kids and adults on Halloween, but in 2021, in particular, it was a big hit. This can be because consumers were getting excited about the release of the new Spider-Man No Way Home movie.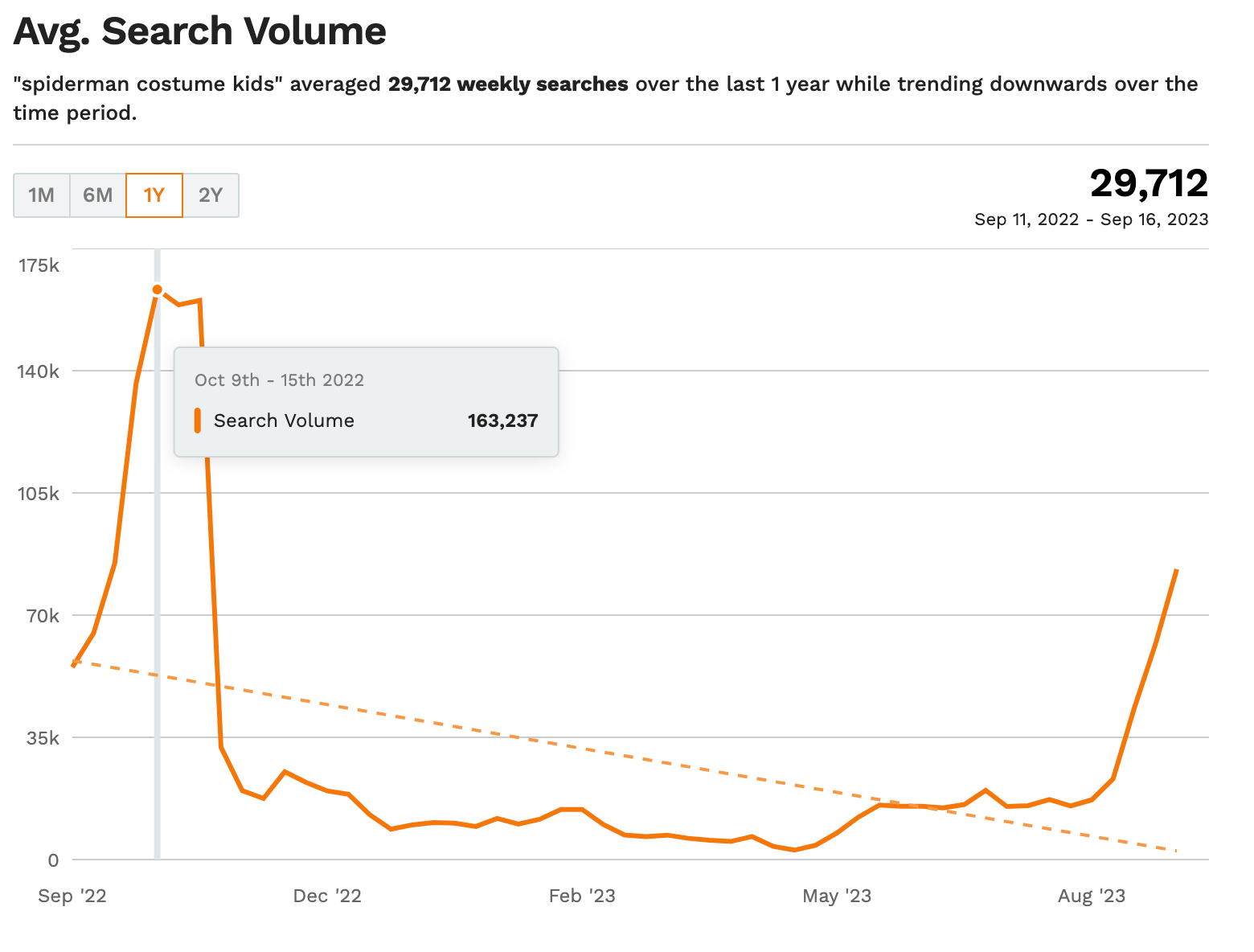 2. Cruella de Vil
Another highly popular costume of 2021 was Cruella de Vil; which makes sense because of the release of the movie "Cruella" earlier that year.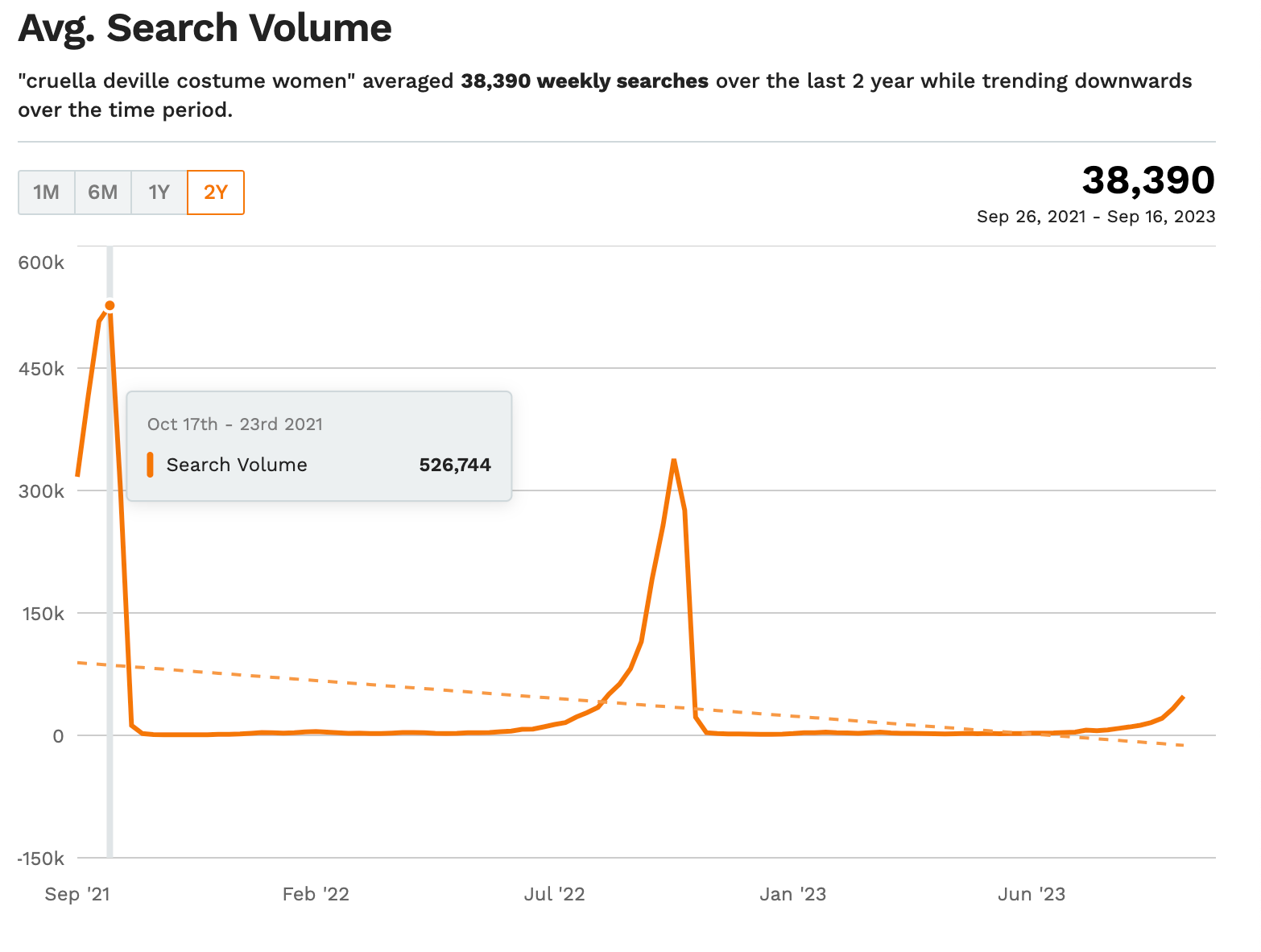 3. Fairy
For one reason or another, the "fairy" costume was extremely popular in 2021. Search volume for "fairy costume" peaked at 832,000 in one week!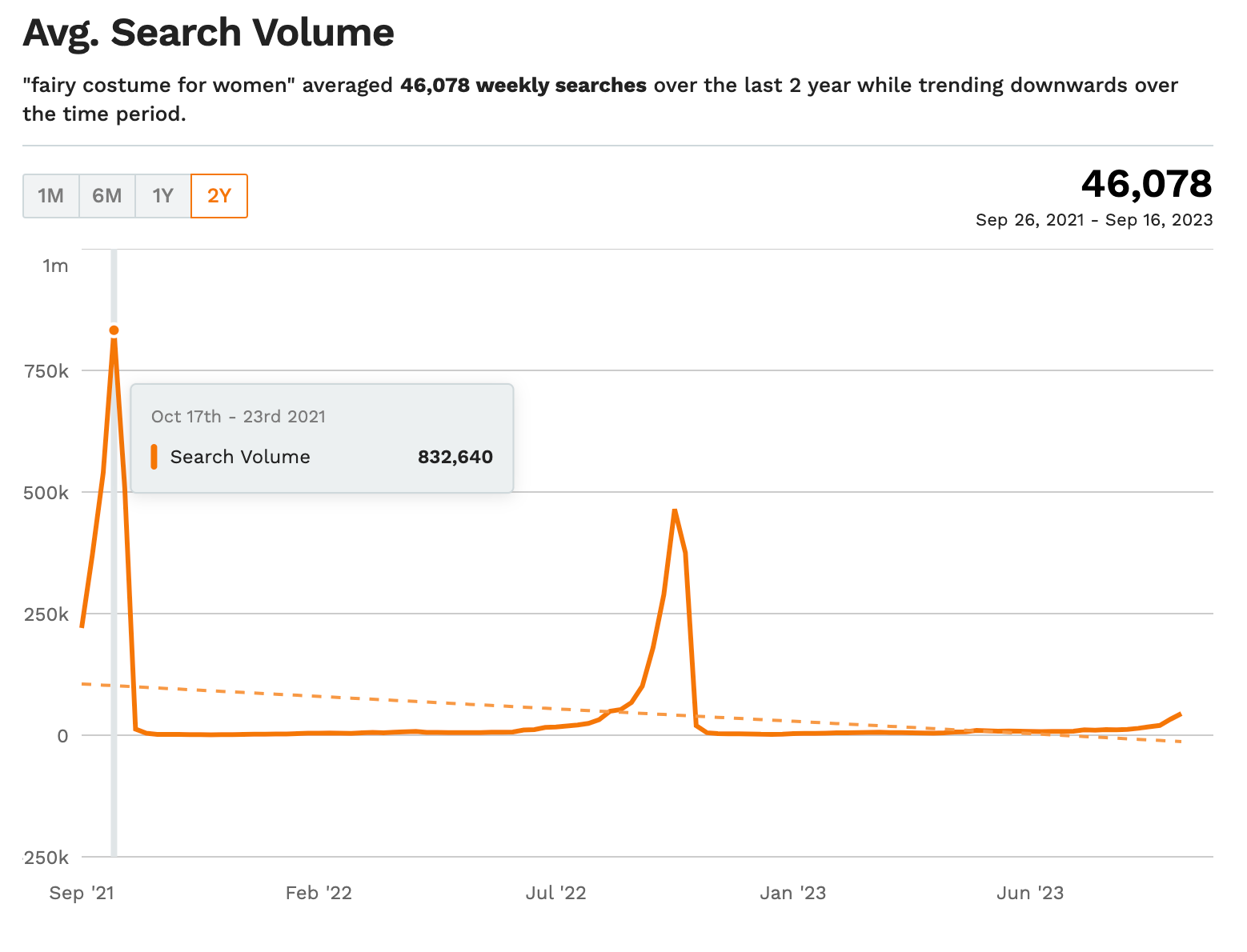 4. Chucky
Another creepy classic Halloween costume is Chucky. But in 2021, the spike in popularity for this costume is due to the October 2021 release of the new Chucky movie.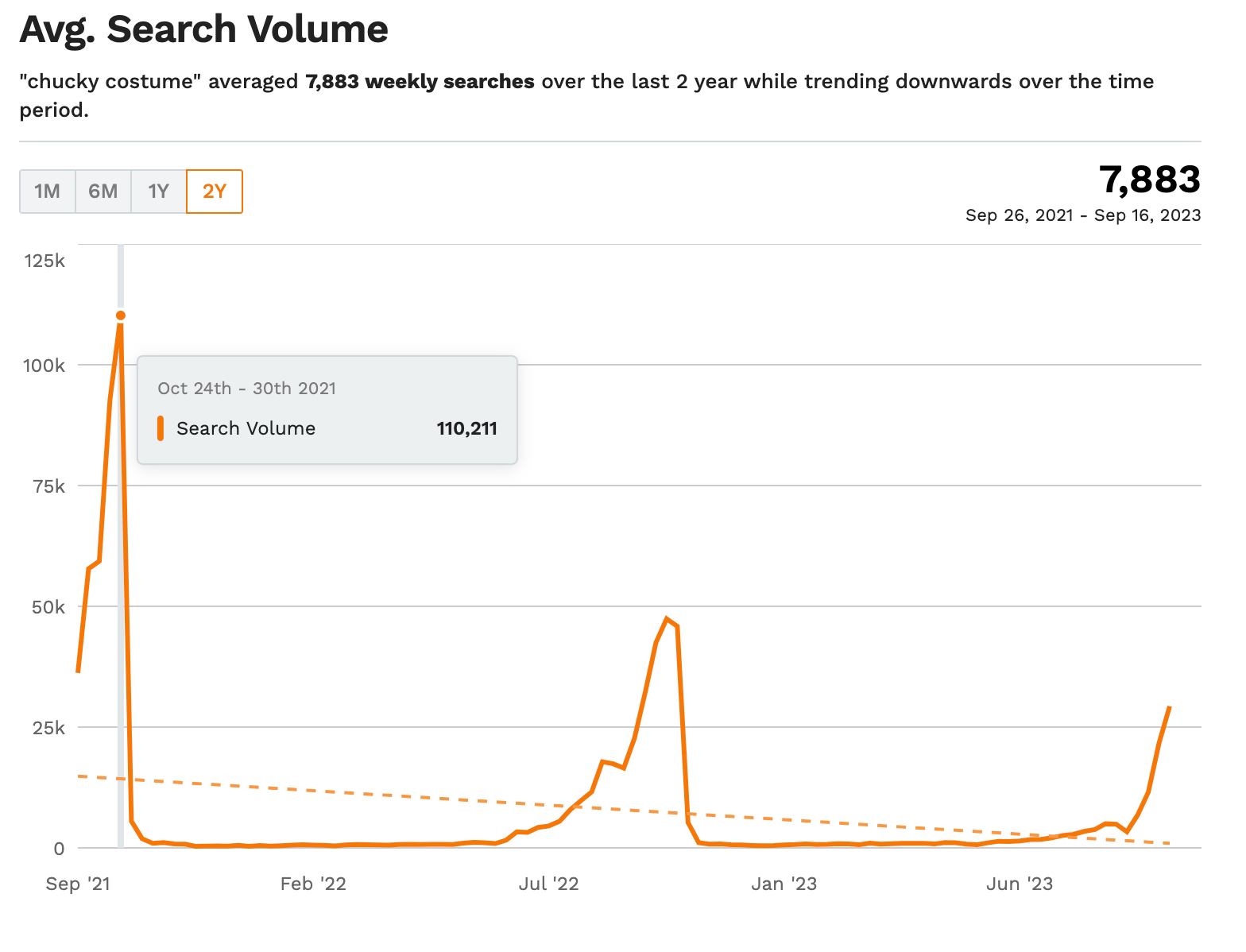 5. Inflatable dinosaur
It's no surprise (or is it) that the inflatable dinosaur costume made the most popular list for 2021 and 2022. Search volume for the inflatable dinosaur costume peaked at over 250,000 searches in one week.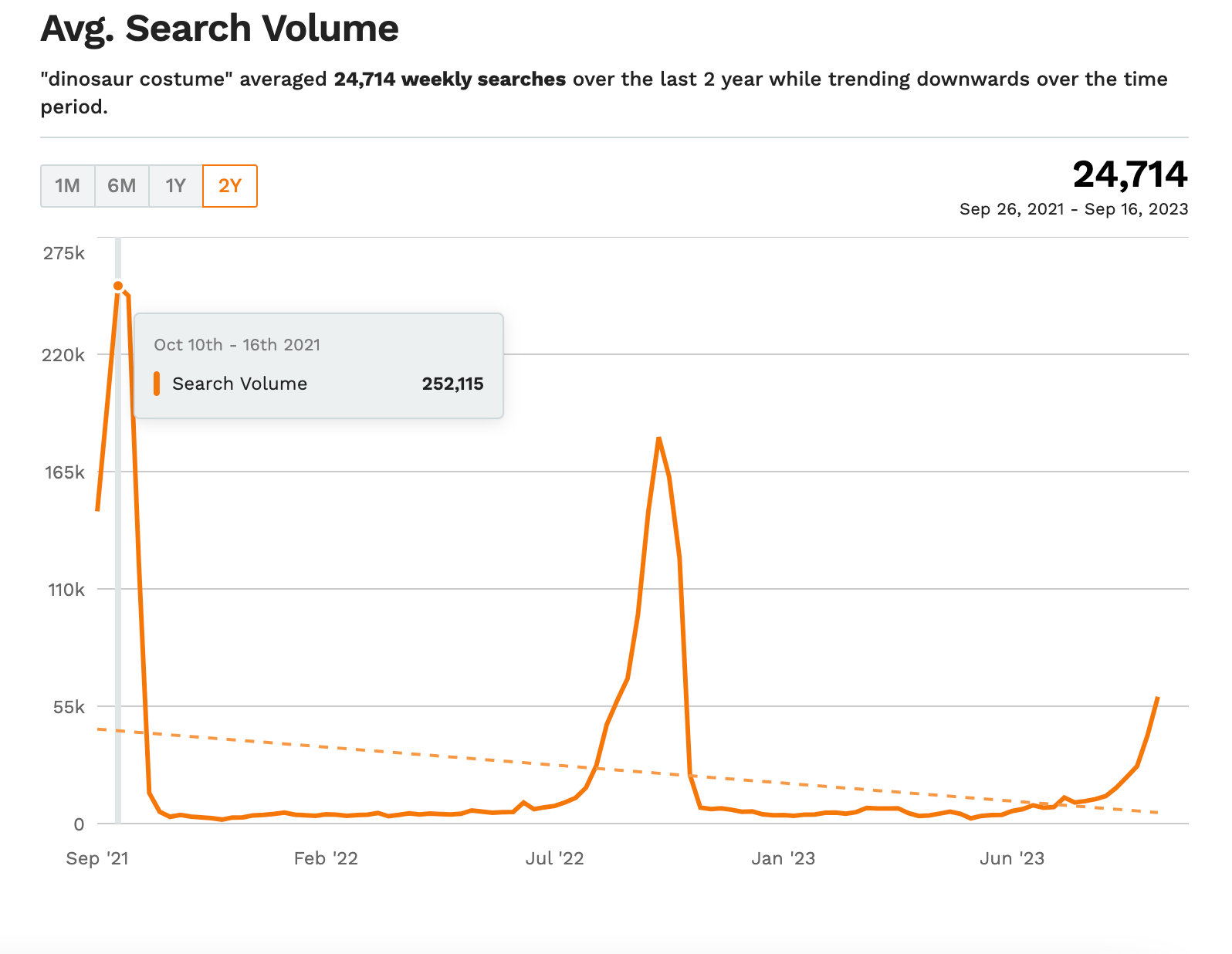 What costume are you wearing for Halloween?
There you have it! The top Halloween costumes for 2023. All of this data was found using various Jungle Scout tools.
What costume are you wearing this year? Is it one from the list above? Let us know in the comments!
And if you're planning on selling Halloween costumes, click the link below to start utilizing Jungle Scout's data and tools.