Doesn't it feel like the moment fall hits there's a huge change in the way people act? Everything suddenly tastes like pumpkins and spice. There are more scarves, windbreakers, and beanies around. Oh, and of course, the Halloween madness begins.
So what are the Halloween costume, decoration, and candy trends you'll see taking over this year?
As an Amazon data analytics company, we at Jungle Scout have a data tool that allows us to pull trending sales data directly from Amazon, including how many units are selling every day and how customers rate the products. For that reason (and for interest's sake!) we decided to look at the top-selling Halloween costumes on Amazon in 2019.*
Now let's take a look at this spooky data!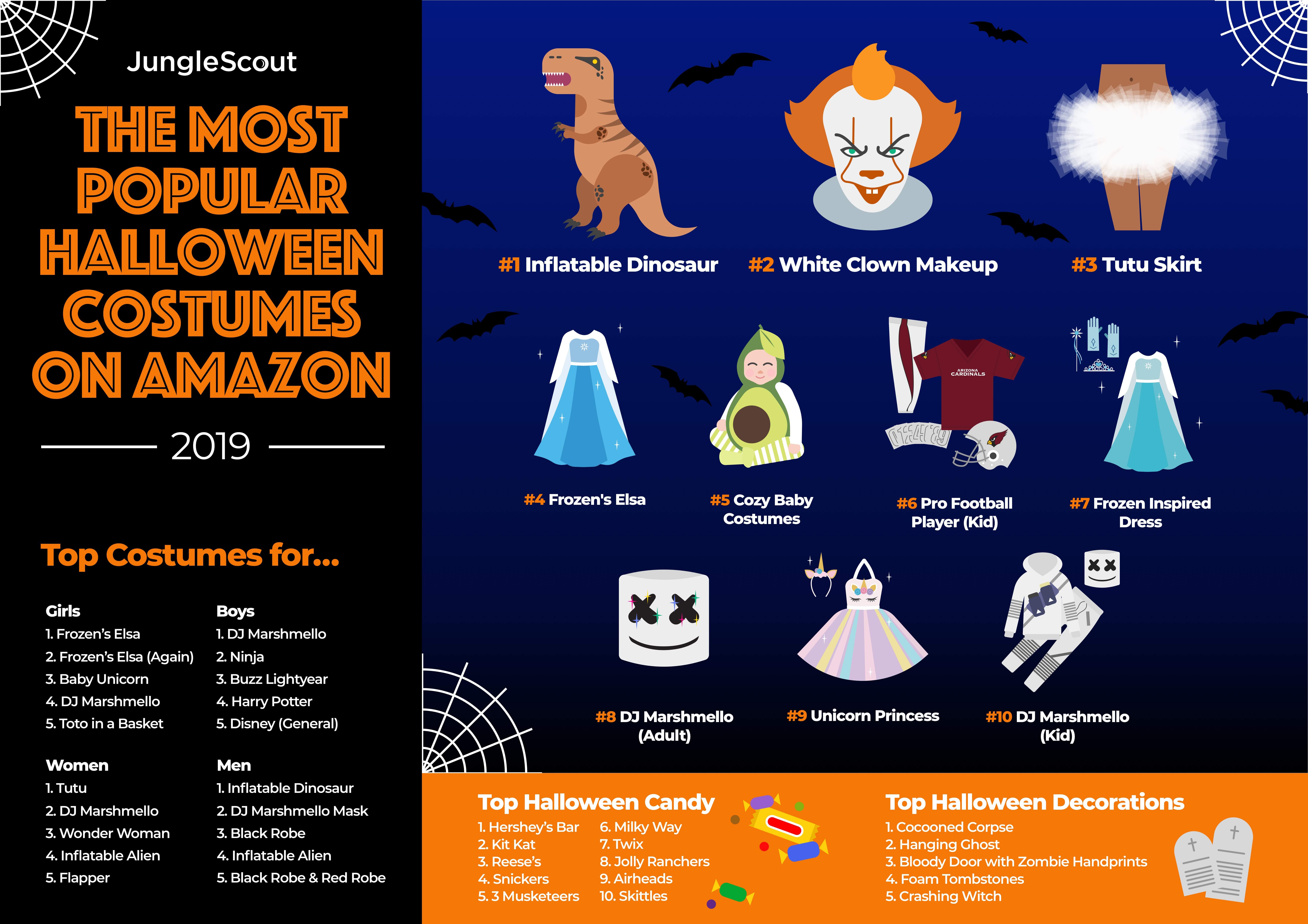 Top 10 Costumes for "Halloween Costumes" in 2019
There are definitely some interesting trends in Halloween costumes this year, especially in the overall "Costumes" category of Amazon U.S. Here are the Top 10 results for Halloween costumes.**
1 – Inflatable Dinosaur
The top seller is the inflatable dinosaur costume. Not only is it selling over 800 units per day in the month of October, but it stays popular year around with an average of 14,000 sales per month! So, while you're out trick-or-treating this year, don't be surprised if you get mauled by a T-rex.
2 – White Clown Makeup
Next up is white clown makeup. Not a surprise, really, since there were not one but two killer clown movies that came out within the last couple months: It Chapter 2 and Joker. Just be sure to put a smile on that face. Of all the items we looked at, white clown makeup had the largest October spike, with its sales increasing by 84%. As of this writing, the Mehron brand clown makeup has over 1,100 reviews mostly positive, with an average 4.5 star rating.
3 – Tutu Skirt
Tutus are pretty big this year, coming in at 3rd overall and 1st in women's Halloween costumes. Tutus, like white clown makeup, are versatile and can go with many different costumes, hence the popularity. This brand of tutu skirt by Simplicity has over 775 reviews.
4 – Frozen's Elsa
Let it goooooo! With Frozen being one of Disney's most popular cartoons of all time and a sequel headed our way later this year, the Snow Queen Elsa dominates in girls' Halloween costumes and takes the 4th spot overall. Plus, another brand of this costume takes the 7th spot. If you combine the sales of the two costumes, Elsa costumes are the most popular of all, with combined daily sales of nearly 1,000 units per day. It's unclear why this dress ranks higher than the other, other than its price is less.
5 – Cozy Baby Costumes
Grabbing its own spot in the Top 10 Halloween Costumes is the entry for all of Carter's Halloween costumes for babies. Within this one listing, there are 32 different costumes for parents to dress their little ones in — and all look super cozy. The main image is of a baby dressed like an avocado.
6 – Pro Football Player (Kids)
NFL costumes are mega popular for Halloween, no doubt because it's the middle of football season. All NFL teams are represented, with the Arizona Cardinals (first alphabetically) as the main Amazon listing image. Like the baby costumes, this is multiple SKUs sharing one listing, so it's difficult to tell if one costume is selling better than any of the others.
7 – Frozen (again!)
Just how big of a deal is Frozen to kids? Well, the costume appears twice on this list, first as the "official" costume and then with this "Frozen inspired dress," which features options for both Princesses Elsa and Anna. If we combine the Frozen-themed Amazon listings, they come in at a whopping 945 units in sales per day in October, beating even the inflatable T-rex.
8 – DJ Marshmello Mask (Adults)
This is probably the oddest trend for this year, but internet celebrity and YouTuber DJ Marshmello's mask and likeness are in multiple spots both on the adult and children's lists. The helmet itself is cool, resembling the DJ's own helmet, with LED lights inside. So why is this one so popular? It might be because it's one of the newest listings, first appearing in late August of this year.
9 – Unicorn Princess
Sometimes simple (with some sparkle thrown in) is all you need. For example, this costume is a girl's princess dress with a sparkly unicorn bodice and headband. Like the pro football and cozy baby costumes, this has multiple variations.
10 – DJ Marshmello (Kids)
The trend continues with DJ Marshmello — this time it's a full-regalia look for kids. While the helmet isn't as funky as the adult version (the kids' costume doesn't have the LED lights), it does come with screen-printed pants and shirt.
Top 5 Costumes for "Halloween Costumes Men" in 2019
These are the top costumes in the subcategory "Halloween Costumes > Men":
Inflatable Dinosaur

DJ Marshmello Mask

Black Robe

Inflatable Alien

Black and Red Robe
Top 5 Costumes for "Halloween Costumes Women" in 2019
These are the top costumes in the subcategory "Halloween Costumes > Women":
Tutu

DJ Marshmello Mask

Wonder Woman

Inflatable Alien

Flapper
Top 5 Costumes for "Halloween Costumes Boys" in 2019
These are the top costumes in the subcategory "Halloween Costumes > Boys":
DJ Marshmello

Ninja

Buzz Lightyear

Harry Potter

Disney (General)
Top 5 Costumes for "Halloween Costumes Girls" in 2019
These are the top costumes in the subcategory "Halloween Costumes > Girls":
Frozen's Elsa

Frozen's Elsa (Again)

Baby Unicorn

DJ Marshmello

Toto in a Basket

Bonus Top 10 Products for "Halloween Candy" in 2019
As a "boo-nus," we looked at the products Amazon's Halloween candy shoppers are buying. The big sellers are the combo packs — specifically chocolate. Breaking down the popular combos and individual bulk bags, the types of candy you'll see most while trick-or-treating this year are:
Hershey's Bar

Kit Kat

Reese's

Snickers

3 Musketeers

Milky Way

Twix

Jolly Ranchers

Airheads

Skittles

Bonus Top 5 Products for "Halloween Decorations" in 2019
And as a second "boo-nus", here are the top decorations for Halloween:
Cocooned Corpse

Hanging Ghost

Bloody Door with Zombie Handprints

Foam Tombstones

Crashing Witch
Imagine discovering data like this for yourself!
Finding these nuggets of information starts by checking out what Jungle Scout has to offer:
* These lists were compiled on October 11th, 2019.
** Just to let you know, Jungle Scout may receive a commission, fee, and/or compensation if you make a purchase via the links in this post.