After two years of pandemic restrictions, it's certainly no secret that consumers are eager to get back to traveling and socializing this year. At the same time, lingering supply chain issues and record-breaking inflation have many tightening their budgets in response to rising costs. As these conflicting sentiments impact consumer spending, what do current Amazon trends reveal about shoppers' spring and summer plans?
Travel or no travel
To travel or not to travel? That's the question many consumers face as they plan for spring and summer. The data reveals that it's not an easy question to answer, as many people feel torn between long-awaited vacations and cost-conscious staycations. While 70% of consumers say they are making fewer "fun" or impulse purchases this year, 62% plan on taking as many as four trips throughout 2022.
Compared to last year, many more consumers plan to resume in-person activities in the coming months, including hotel stays and airplane travel. In 2021, 54% of consumers planned to visit family, and 50% planned to visit friends. This year, both figures have jumped by more than 20%.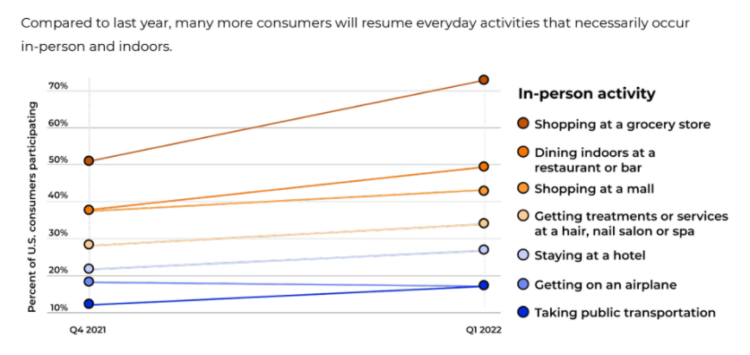 Just as consumers are becoming more open to travel and social activities, however, they are also becoming more deliberate about spending. 72% of consumers say that rising inflation has affected their spending, and over half are currently saving up for a large expense or purchase. For ecommerce brands, it's essential to understand how all of these factors influence the purchases that shoppers are — and are not — prioritizing as they plan for warmer weather.
Spring and summer travel trends
Families and young adults may be among the most eager to travel this year. 58% of Americans are more interested in multi-generational family trips than ever before, and over 60% of Millennials and Gen Zers want to book a once-in-a-lifetime vacation in 2022.
This excitement over travel is reflected in shopping trends on Amazon, with revenue in the luggage category up 183% year-over-year. In the past 90 days, unit sales and revenue in the category are up nearly 20%, and the number of ASINs offered in the category has increased by almost 40%.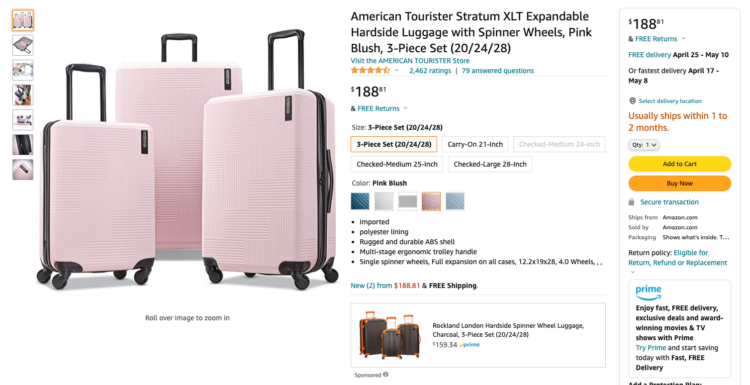 Revenue for this American Tourister luggage set is up nearly 7000% over the last three months, and the search activity leading shoppers to the listing reveals a cost-consciousness even for those planning for travel. The top keyword for this ASIN is "clearance luggage sets," which has had a 110% increase in search volume over the last 30 days.
Clearly, travel plans are still making many consumers' priority lists for 2022, even as they may be trying to slow down on other spending. However, the added focus on cost may still be influencing where and how they choose to travel. 62% of consumers say they want to be more thoughtful about where and how they travel this year than they were pre-pandemic. A deeper dive into current Amazon trends provides more insight into how this unique blend of wanderlust and frugality is influencing shoppers' spring and summer plans.
Beach vacations
For many consumers, the beach is a staple of spring and summer vacationing, and shopping trends show that it is likely to be a popular destination this year. Revenue for beach chairs and umbrellas has increased almost 75% on Amazon in the last 3 months.

The family-fun focus that many consumers report is also reflected in how they're shopping for beach vacations. Unit sales for beach toys on Amazon are up almost 40% in the past 90 days. Some products, like these kids' mesh beach bags, have seen a revenue boost of over 3000% in the last month.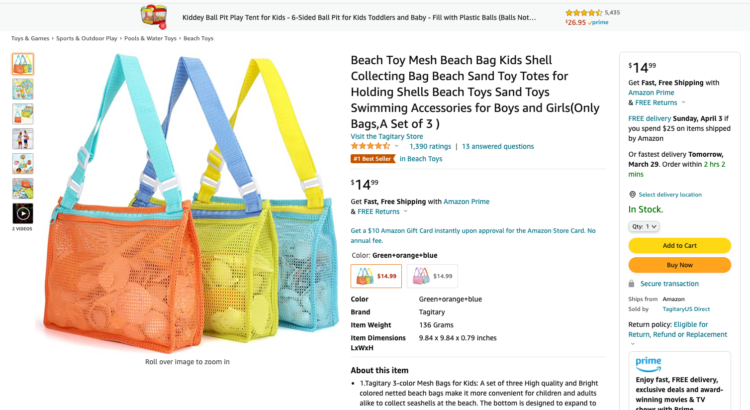 Spring break
Spring Break travel is back on for many college-age consumers this year. Increased revenue and unit sales for some items on Amazon seem to show an eagerness for the college spring break season. Revenue for this beer pong pool float, for example, is up over 200% in the past month.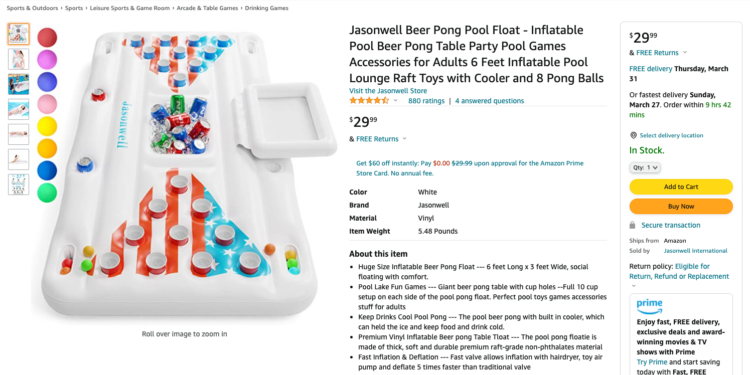 Unit sales of bikinis have also skyrocketed, surpassing sales in the lead up to last year's spring break season by over 300%. In the last 6 months, every one of the top 25 products in the category has seen a revenue increase of 100% or more.
Getaways in the great outdoors
Consumers are also planning for outdoor adventuring this spring and summer. Revenue for canoes and kayaks, for example, has increased 81% on Amazon in the last 90 days.
Other category segments, like camping equipment, are holding relatively steady against last year's revenue and sales numbers. Compared to March 2021, revenue for this category is up 4%, while unit sales are up 7%. A closer look at items within the category shows the difference that product pricing may make for consumers right now. Similar camping products at higher price points are experiencing downward trends. For example, this Core 9 Person Instant Cabin Tent that sells for $299.99 has seen a 70% revenue drop over the past 6 months.

However, this 8 Person CAMPROS Tent priced at $159.99 has experienced a 6-month revenue increase of over 100%. Cost could be a key factor in the differing conversion rates between these two items with similar ratings and product features.

Fishing gear is experiencing a similar trend to camping equipment, with revenue increasing 8% year-over-year and unit sales up 3% this March 2021. The relative seasonal stability of categories like this is a good opportunity for brands that can increase relevant product offerings.
The brand Reaction Tackle, for example, has seen a 1,150% revenue increase in the fishing gear category since March 2021, in part by expanding its product lines. Since spring 2021, the brand has added 21 ASINs to its product catalog for the fishing gear category, and over a third of those new ASINs have seen a revenue increase of 50% or more. In the last 90 days, three of the brand's new ASINs have been among the top 25 performing products in the category overall. Sales of this braided fishing line have grown over 350% in the last month.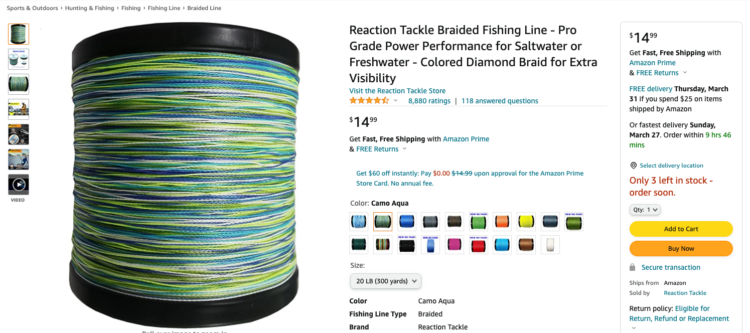 Road trips
Consumers' reservations about long-distance car travel amid rising gas prices are reflected in some Amazon search activity. Historical search volume for "road trip" on Amazon is 60% lower than in March of 2021 and only 6.7% higher than it was as pandemic-related travel concerns took hold in March of 2020.
Some road trip-related products are feeling the impact of shoppers choosing air travel or at-home spring and summer entertainment over long-distance driving. Revenue for this magnetic travel games set has fallen over 50% in the last 90 days.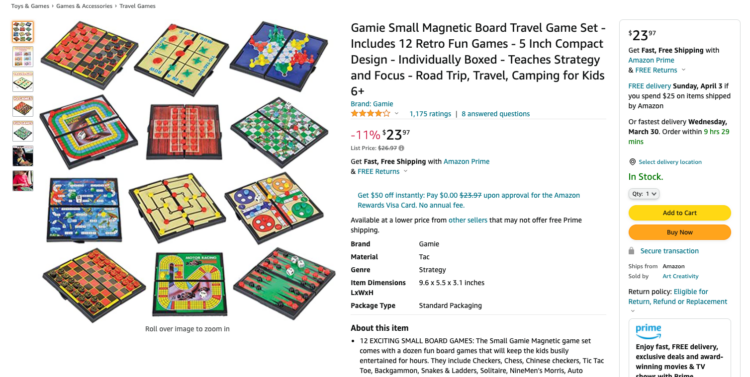 Other products that have historically seen growing demand ahead of spring and summer road trips are also underperforming compared to last year. Revenue for this set of car trash cans is down 90% year-over-year.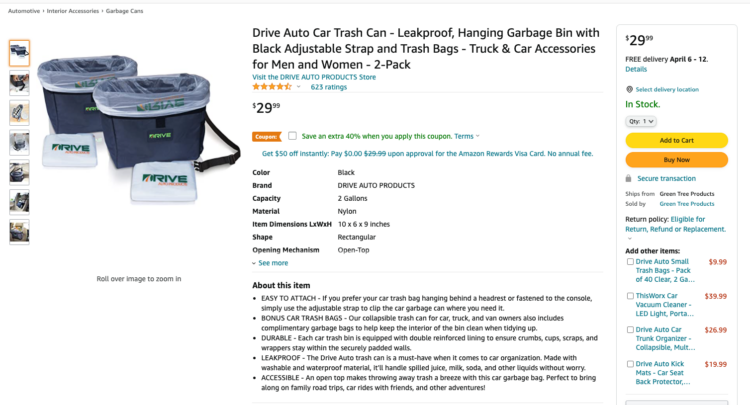 Unit sales for this one-size-fits-all car organizer are 50% lower than they were this time last year.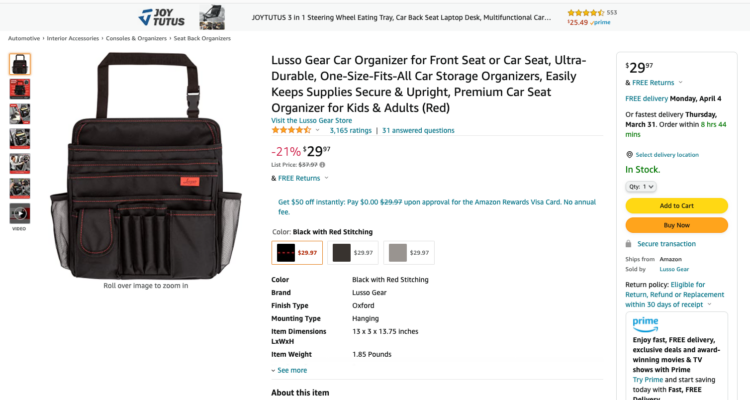 Shopping for spring and summer at home
Although interest in travel has grown, the percentage of U.S. consumers who feel comfortable taking a flight or attending an in-person event is still below 50%. This lingering hesitation, combined with the fact that inflation is now costing the average American household nearly $300 more a month, has many consumers pressing pause on some or all of their spring and summer plans. As shoppers cut back on discretionary spending, they may be opting for staycations over expensive travel.
At-home entertaining
With 82% of consumers looking forward to visiting with friends this year, many are preparing for spring and summer entertaining at home. Revenue in the outdoor grills category has jumped nearly 20% since the beginning of March, with some products seeing astounding revenue growth over the last 30 days. Revenue for this Blackstone flat top griddle grill station, for example, has grown more than $24,000% in one month.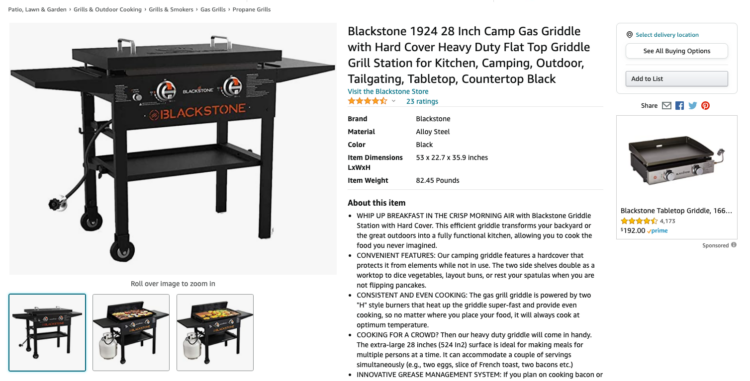 Sales of outdoor dining tables have doubled in the last 90 days. Revenue for this patio dining table for 6 has increased by over 3000% in the past month.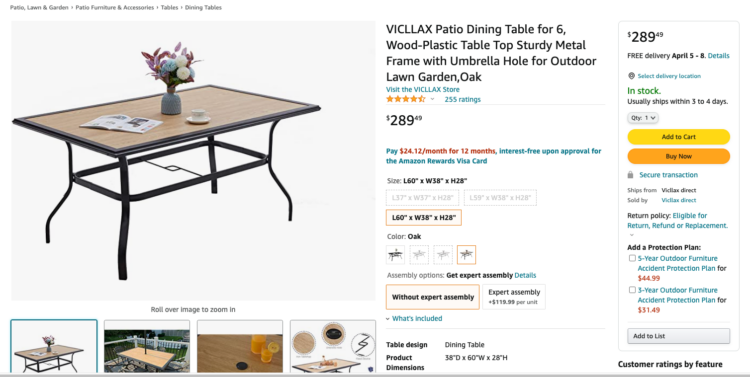 Over the same period, revenue for this Ninja ice cream, gelato, milkshake, and smoothie maker has increased more than 1200%.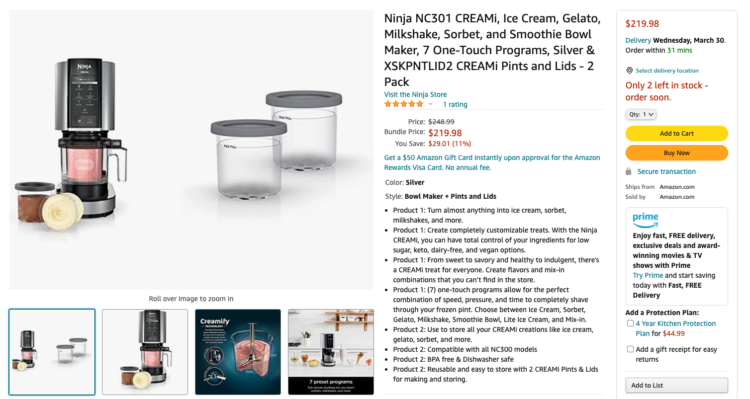 Shoppers are getting ready for summer by the pool, too: unit sales of pool toys are up 190% over the last 90 days. Revenue for this outdoor speaker has increased by more than 500% in the last 30 days.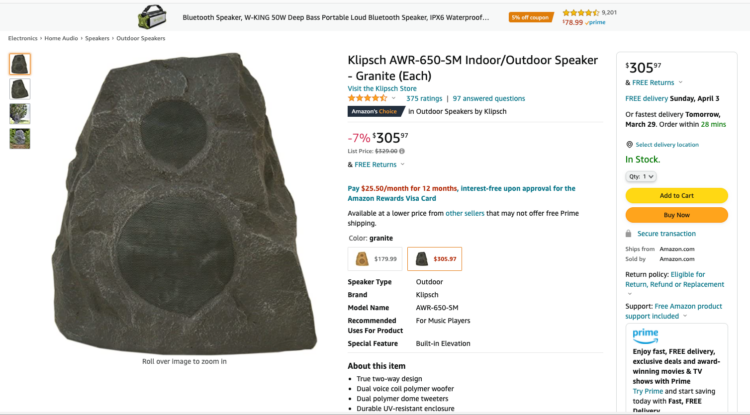 Family fun
Family is a major priority for consumers this year, with three-quarters planning to visit family in 2022. As they look for opportunities to create cost-effective quality time, many families are shopping for ways to enjoy warmer weather together in their own backyards.
Unit sales for backyard toys and games have more than doubled over the last 90 days. Some products, like this kids' outdoor sand and water play table, have seen a revenue increase of over 900% in the last month.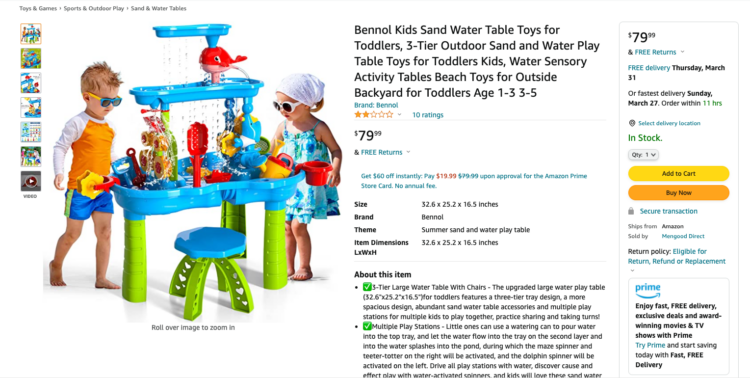 Even bigger ticket backyard fun products are seeing a sales spike. Unit sales of swing sets and outdoor playsets are up over 50% over the last 90 days, and revenue for this bounce house is up over 400% in the last month.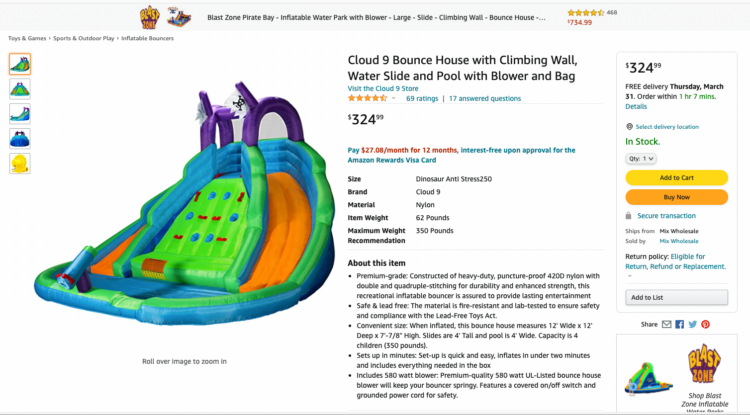 Preparing for spring and summer shopping
As consumers balance cost concerns with a desire to get back to the warm weather fun they've missed amid the pandemic, their shopping behaviors may be less predictable than in the past. As trends begin to emerge, however, there are three key ways that ecommerce brands can prepare for a unique spring and summer shopping season:
Expand product lines. If travel-related shopping has always been your brand's warm season bread-and-butter, consider what you can do to expand into more products for staycationers who will plan to

treat themselves

at home.
Review pricing strategies.

As many consumers look to reduce their spending, analyze your brand's (and your competitors')

pricing

strategies and consider where you may be able to offer discounts and other purchase incentives.

Prepare now for summer savings events.

With budget-conscious consumers on the lookout for deals, these events will be highly anticipated this year. Although dates have not been announced yet,

Amazon Prime Day

is expected to fall sometime in June or July, and

Walmart

is likely to launch a competing Deals for Days event around the same time.
Methodology
The product data in this report is representative of the U.S. Amazon market. Market insights on Amazon products were sourced from Jungle Scout Cobalt, an industry-leading market intelligence and product insights platform powered by more than 1.8 billion Amazon data points that are monitored every day. Two-year data encompasses the period of March 25, 2020 – March 25, 2022. Year-over-year revenue and sales figures are comparisons of the period March 1 – 25, 2021 to March 1 – 25, 2022.
Contact [email protected] today to see how Jungle Scout Cobalt can help you explore sales data and provide strategic insights into consumer behavior on Amazon.