An explosion of subscription-based ecommerce is on the rise, and you can thank the pandemic. When brick-and-mortar stores had no choice but to close up shop, consumers took to their devices to shop for goods and services.
Businesses quickly made hard pivots as consumers favored convenience and predictability — making way for subscription services. UBS financial services predicts that the "subscription" economy will double by 2025 — accounting for over $1.5 trillion.
So what does this type of ecommerce entail? Read on to learn more about the following:
What is subscription-based ecommerce

Why subscription-based ecommerce is on the rise

The pros and cons of subscription services

The types of subscription services for ecommerce

Subscription-based ecommerce on Amazon and Walmart
What is subscription-based ecommerce?
Put simply, subscription-based ecommerce is a buy-in service for membership or recurring orders.
Subscriptions can take many forms. Some include memberships to retailers (like Amazon and Walmart.com), discounts (like Subscribe & Save), or buying boxes or specialty products from boutique brands.
Why is subscription-based ecommerce on the rise?
Subscription services help consumers modulate in a new, on-demand world. They give shoppers a sense of comfort and trust, allowing them to streamline everyday shopping tasks, and curate their purchases and lifestyle. This need rings true as we wrestle with the day-to-day implications of COVID-19.
The pandemic has contributed to the popularity of subscription-based ecommerce for one overwhelming factor: convenience. Subscription-based ecommerce sales have leaped to an estimated 41% growth.
Millennials favor this shopping mode most, accounting for the largest sector in subscription models, followed by Gen Z. It makes sense ​​— Millenials are digital natives and likely have more disposable income than their younger counterparts.
Regardless of consumer age demographics, subscription-based shopping has resonated with all kinds of consumers and will likely shape ecommerce at large for years to come — all the more reason for sellers to keep their finger on the pulse and take advantage of this opportunity.
Pros and cons of subscription services
So what are the benefits and drawbacks of subscription services for sellers? It depends on the type of consumer, of course.
PROS
Subscription models are more secure.
One pro is recurring revenue by faithful shoppers due to convenience. Then there's the "buy-in" of a membership. Some shoppers feel the need to maximize a membership for what it's worth. That could mean justifying last-minute purchases or buying more than if they didn't have a subscription.
Subscription models build brand awareness.
You know what they say: if you give a mouse a cookie, it's going to ask for a glass of milk. In the same way, loyal shoppers will keep coming back for more if they like and come to rely on a product.
Consumers value "pick-me-ups."
Subscription models give consumers something to look forward to, and products serve as welcome treats, especially when many sacrifices have to be made for safety and our new normal.
But subscription models are not without their drawbacks. The stickiness of subscriptions might not jive with all kinds of consumers.
CONS
Shoppers may not bite if they don't need a product right now.
Some may drop off if they don't need a product immediately. However, retailers are pretty savvy about serving up what customers want to buy. They also know shoppers have grown accustomed to certain products for a seamless life, setting a precedent for convenience.
Subscription models aren't the most sustainable.
Would having a constant supply of a product resonate with consumers? In our Q3 2021 Consumer Trends Report, we examined the core elements of shopper loyalty. As sustainable business practices are on the rise and on consumer minds, shoppers may say no to incidentals for the sake of the planet. After all, 21% of consumers noted a commitment to sustainability as a top reason for brand loyalty. Consumers are increasingly conscious about this mission (as they should be).
Types of subscriptions services
As we mentioned above, subscriptions exist in a variety of venues. Let's look at some popular ones:
Membership subscriptions
Shoppers can sign up to receive fast and free shipping and exclusive discounts from retailers. Walmart+ entered the ecommerce scene and gave Amazon Prime some healthy competition with affordable groceries, essential items, electronics, and more.
Subscribe and save
This subscription model is an easy way for shoppers to save on recurring purchases and household essentials. Shopper benefits typically include automatic deliveries, free shipping, no extra fees, an option to cancel anytime, and discounts. A popular one? Amazon's Subscribe & Save, which allows customers to "set and forget" their purchases.
Subscription boxes
From makeup to books to crafts, subscription boxes are great for niche interests and hobbies. One of the longest-running businesses in this space is Ipsy, a beauty box subscription service that ships five product samples to customers per month. Curated according to subscriber preferences, each shipment is priced according to a chosen subscription tier. According to our most recent consumer survey, subscription boxes will account for 22% of gifts this year.
Specialty products
Some companies structure their business around selected signature offerings, like gourmet snacks, beverages, or artisanal products. Coffee subscriptions are immensely favored amongst subscribers, and this category offers a wide range of specialty products, from single-origin beans to canned vegan lattes. Wandering Bear offers cafe-style cold brew on tap — customers can subscribe to get coffee delivered every month for a discount.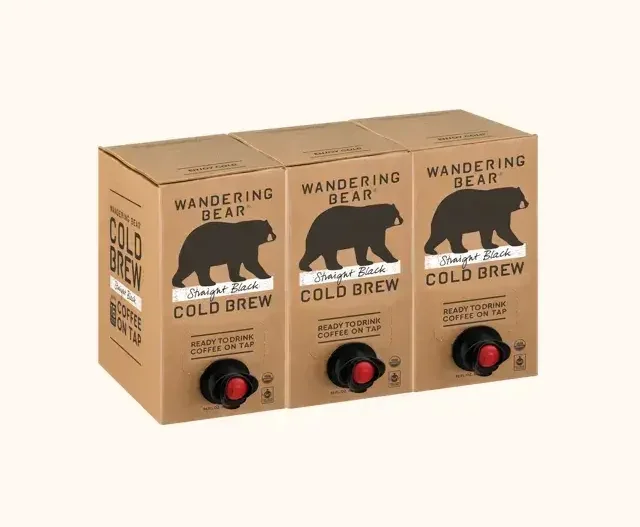 Content subscriptions
Virtual content products are a hallmark of subscriptions and are most likely the easiest consumer entry point to subscription ecommerce. Think entertainment, education, music, and fitness. Netflix, Prime Video, Spotify, Apple Music, Hulu, HBO Max — however you kick it, these media giants have thousands of movies, tracks, and shows to entertain. This year, 27% of holiday shoppers are giving virtual products as gifts.
Subscription services for Amazon and Walmart
Here, we'll focus on the two types of subscription services that dominate Amazon and Walmart: membership services and subscribe and save models.
Membership subscriptions: Amazon Prime and Walmart+
Let's break down the essential benefits of both Amazon Prime and Walmart+, the two biggest retail subscription platforms right now. According to Jungle Scout's newest Amazon vs. Walmart report, 65% of U.S. consumers shop on Amazon, and 37% shop on Walmart.com.
Here are the key differences between Amazon Prime and Walmart+:
Amazon Prime
Walmart+
Annual membership cost
$119
$98
Free trial period
30 days
15 days
Events
Prime Day

Most recent: June 21-22, 2021

Deals for Days

Most recent: June 20-23, 2021

Shipping
Free next-day and two-day shipping with no purchase minimum
Free next-day and two-day shipping with no purchase minimum
Grocery offerings
Amazon Fresh offers free delivery for orders over $35

Discounts on many products from Whole Foods Market

Free grocery delivery from Walmart stores
Other
Online programming (music, movies, books), Subscribe & Save
Gas savings, prescription savings, Mobile Scan & Go in stores
The growth of Amazon Prime and Walmart+
Amazon Prime has experienced a 200% increase in worldwide subscribers in two years, from 100 million in Q1 of 2018 to 200 million in Q1 of 2021. The U.S. accounted for nearly three-quarters (74%) of users.
The growth in the U.S. has been particularly noteworthy, too. It's expected that nearly 77 million households will have a Prime account in 2022.
Similarly, Walmart.com — The Everything Store's biggest rival — has carved out some impressive stats. Globally, Walmart's ecommerce revenue is projected to grow 89% in 2021, outpacing Amazon's 16%.
What about Walmart+? It's gaining traction. With a debut in September 2020, Walmart+ now boasts memberships for an estimated 32 million households.
Subscribe and save models
For consumers intent on consistency, another popular form of subscription-based ecommerce is recurring orders. Amazon has a Subscribe & Save model, while Walmart offers something similar to its Canadian marketplace with Subscribe to Save. They both allow customers to order and receive products without having to place an order every week or month.
It's a quick way of getting products you use or regularly consume, like cleaning supplies, toiletries, snacks, and OTC medication.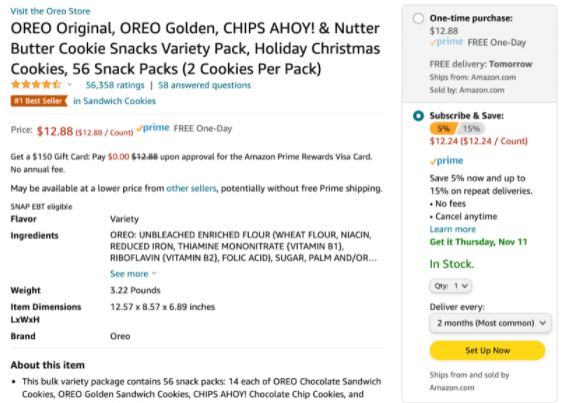 Another cookie bit: on Amazon, customers can complete a one-time purchase or opt to Subscribe & Save. They get a 5% discount now and up to 15% off on future deliveries.
Subscribe and save models are an easy way to retain customers with a loyal following to your product. And it ups the ante for recurring revenue. The hook for customers? Subscribers usually receive a small discount per order, prompting them to return and save on frequent purchases.
Using Subscribe & Save for your Amazon business
How can you test the Subscribe & Save model for your products on Amazon? First, consider if your product is something consumers would reorder (like a consumable or single-use product), including some of the items listed above.
There are eligibility requirements for your business to meet before using a Subscribe & Save model. You'll also need to check if the products you sell on Amazon meet specific criteria too.
From there, select a discount for your product (either 0%, 5%, or 15%) that you'll fund. Amazon suggests placing it at 10%/15% vs. 0%/5%, as they've found higher discount rate drives higher conversions — as much as 1.8 times!
Finding suitable discounts is a challenge for sellers using Subscribe & Save. You need to ensure the fees and discounts with this model make sense for your business and profit margins, or you may lose money.
Subscription-based ecommerce is here to stay
Subscription-based ecommerce may not suit every shopper, but this model is becoming a mainstay of convenience and an expectation of modern-day consumers. They're always looking for "hacks" and as an ecommerce entrepreneur, it's advantageous to know what kinds of options are at shoppers' disposal.
Between the potential for recurring revenue and faithful shoppers from both Amazon and Walmart, sellers should capitalize on the demand.
Do you have any questions about subscription-based ecommerce? Have you tried it for your product? Let us know in the comments below!