May is a time for many things: the full bloom of spring, May showers, and, of course, one of the largest retail holidays of the year: Mother's Day. Lately, much of the conversation around commerce has been centered on inflation, which 72% of consumers say has them spending less and saving more. According to the National Retail Federation, however, Mother's Day spending is expected to increase by nearly $4 billion this year, topping already-record numbers for the 2021 holiday. In this report, we'll explore how this trend is playing out on Amazon in the lead-up to Mother's Day — and what it could mean for brands and sellers preparing for Father's Day next month.
What's influencing Mother's Day spending?
If inflation isn't curbing Mother's Day spending, what factors are impacting how consumers are shopping for the holiday?
The beginnings of post-pandemic life
For many consumers, this year marks the first since the onset of the pandemic where they are comfortable visiting relatives, with 74% planning to see family in person again and 71% planning to attend celebrations with loved ones. Extended time apart may also be a factor in consumers' willingness to spend on gifts that celebrate family.

Continued interest in self-care and wellness
The self-care trend spurred on by the stress of the pandemic has been neither surprising nor fleeting: 62% of consumers now have a greater interest in self-care. This could be turning more consumers toward pampering and wellness items as they shop for a way to treat mom to some long-overdue rest and relaxation — giving a boost to already-popular Mother's Day product categories like bath, spa, and beauty.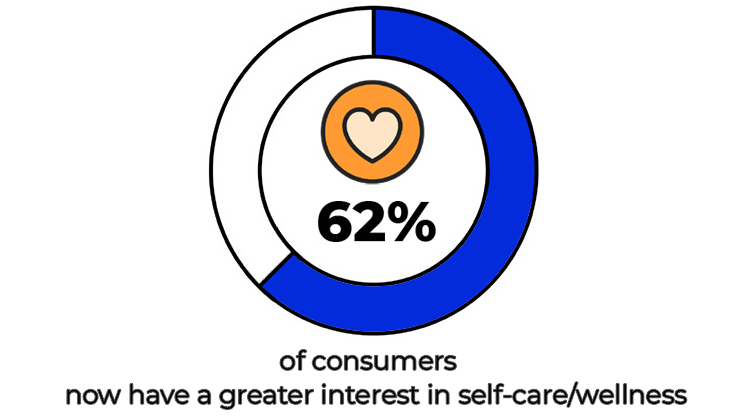 Eco-friendliness and sustainability
Climate change is a growing influence on shopping behavior, with 21% of consumers citing a commitment to sustainability as a top consideration when choosing which brands to purchase from. With eco-friendliness becoming a higher priority for both gift-givers and recipients, sustainability could make or break a shopper's decision to choose one Mother's Day gift over another.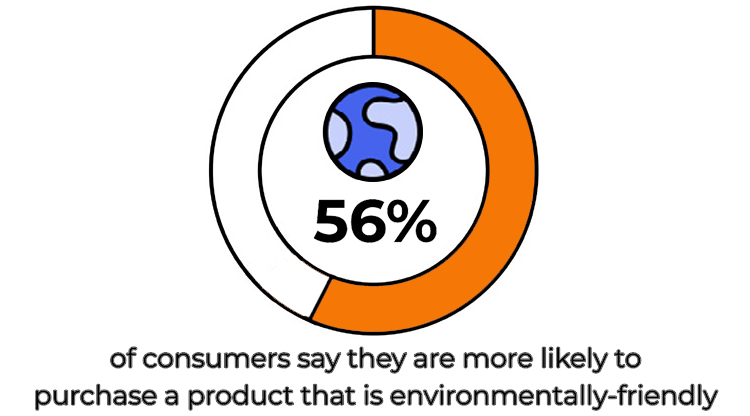 The homebody economy
Although consumers have been anxiously awaiting traveling again, over half still say they'll spend more time at home now than they did before the pandemic. And while the impact of inflation may not be deterring shoppers from buying Mother's Day gifts, it could affect the types of gifts they purchase as some families reconsider summer vacation plans due to rising travel costs.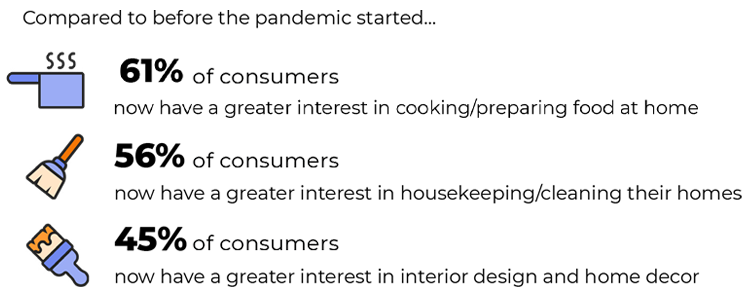 Mother's Day product trends
It's no surprise that search volume for terms related to Mother's Day gifts has skyrocketed in recent months; but what products are those searches leading shoppers to — and, more importantly, which gifts are consumers choosing to buy?

Self-care and wellness items
Recent search trends on Amazon also give more insight into the specific types of gifts that shoppers are looking for. Search volume for the phrase "self-care gifts for women" has jumped 212% in 30 days, and revenue for products that fit the bill is climbing, too.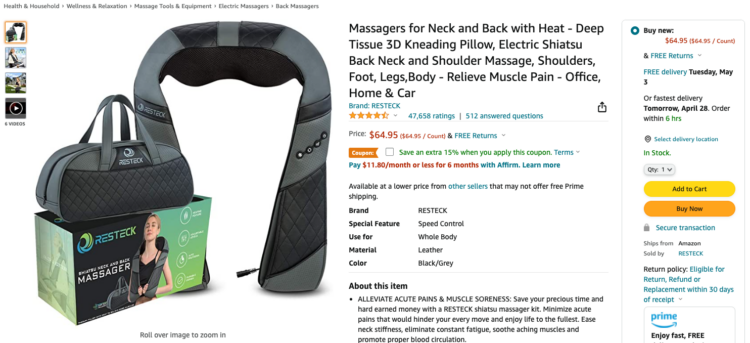 Revenue for this neck and back massager is up 2,503% in the last month.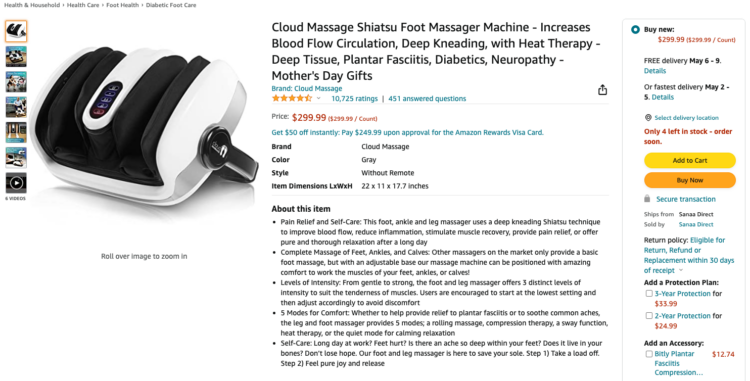 During the same time period, revenue for this cloud massage shiatsu foot massager has more than doubled.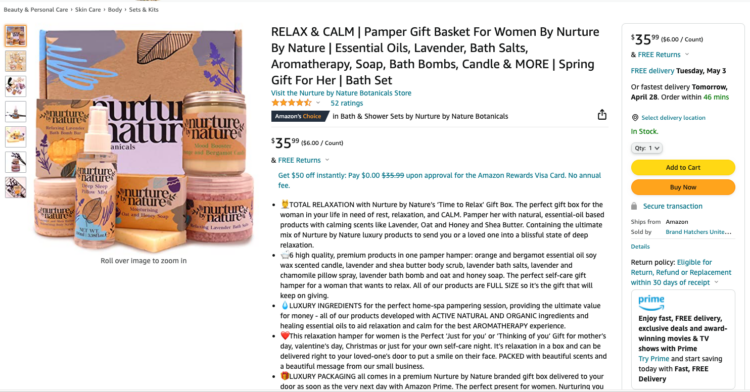 For the brand Nurture by Nature Botanicals, which specializes in natural, wellness-focused products like this Relax & Calm gift basket, overall revenue has increased almost 1000% over last year's lead-up to Mother's Day.
Luxury products
The trend of treating yourself (and your loved ones) could also explain why some shoppers have a growing interest in luxury items. Over 10% of consumers plan to increase their spending on luxury goods this year — and they say gift-giving to someone special is among the top reasons why.

There's no arguing that jewelry and perfume are go-to gifts for Mother's Day — and the uptick in interest in luxury seems to be reflected in Amazon sales of both popular items.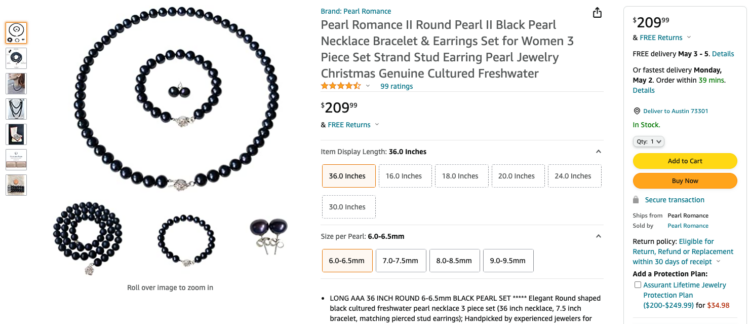 Compared to last year, unit sales of this pearl jewelry set are up 451%.

Gift shoppers seem to be responding to the touch of personalization offered by this initial necklace: revenue and unit sales are up nearly 800% compared to last year.

It's hard to top a classic. Unit sales of Chanel No 5 Eau de Parfum are nearly 150% higher than this time last year.
Gifts for home & entertaining
A lingering love of staying home and an eagerness to reunite with friends and family means that many consumers are shopping for gifts related to home decor and hosting guests.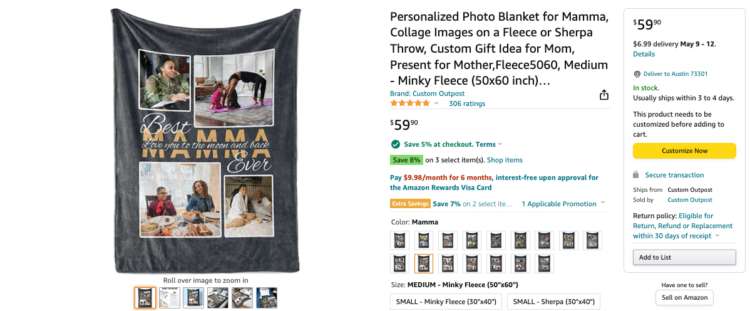 Personalization is a popular option for Mother's Day gifts — and it makes a cozy home gift feel even more special. Revenue for this personalized photo blanket is up 1,296% in the last 30 days.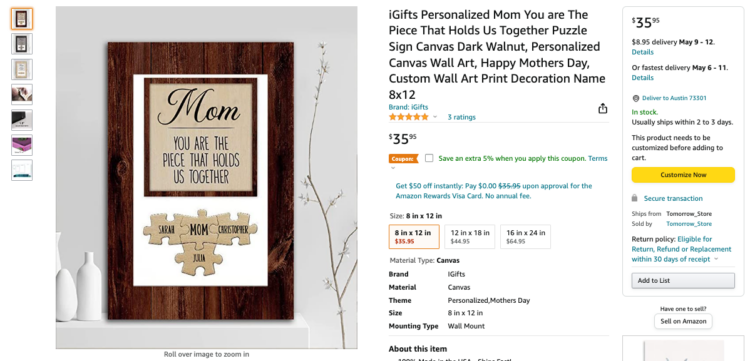 Revenue for this personalized Mom canvas wall art is up 43,181% in the last 30 days.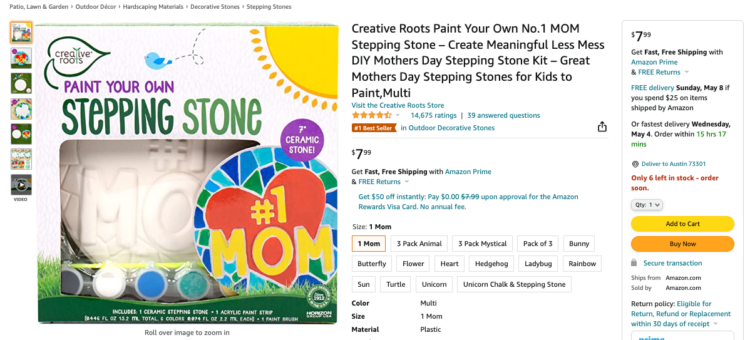 Of course, nothing is more personal than a gift with a DIY touch. Perhaps that's why revenue for this Paint Your Own No. 1 Mom Stepping Stone kit is up a staggering 56,563% in the last three months!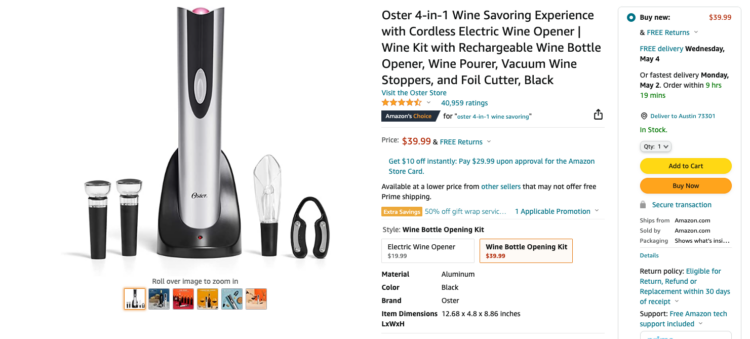 Building a product bundle around a shared experience can up the gift appeal, especially when people are still basking in a newfound appreciation for time spent together. Unit sales for this Oster 4-in-1 wine savoring experience are up almost 3,000% compared to this time last year.
On-the-go gifts
Post-pandemic life has many Mother's Day gift recipients heading back out into the world for day-to-day activities — and it seems many consumers are shopping for gifts that make that easier and more enjoyable.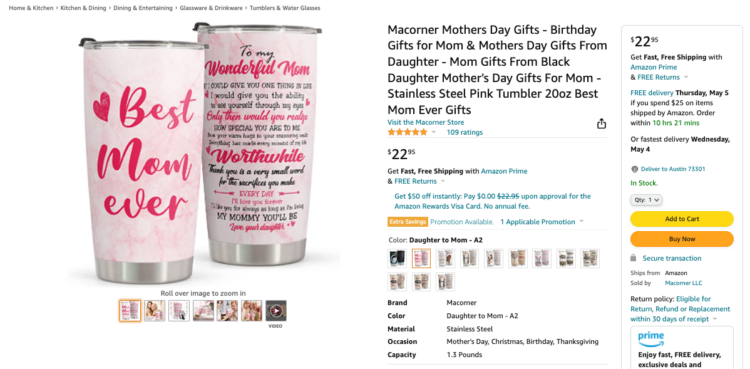 Some shoppers are choosing gifts for the moms and mom figures who are heading back to the office. Revenue and unit sales for this Best Mom Ever tumbler are up over 300% in the last month.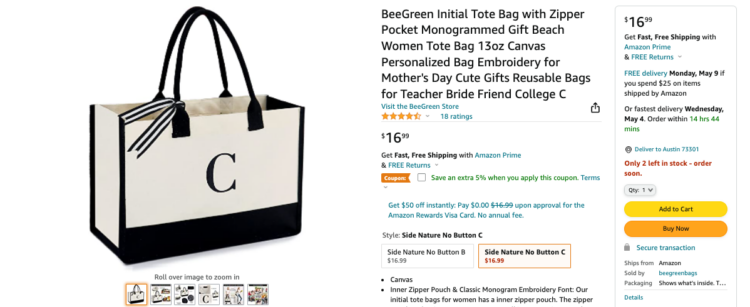 Work, shopping, summer vacay … this monogrammed tote can go plenty of places with its recipient, which could be why revenue and unit sales have jumped almost 430% in 30 days.

Fitness-tracking, GPS, and a sport band make this Apple Watch Series 7 a popular gift idea for active or tech-savvy giftees. Unit sales are up 681% in the last 30 days.
Sustainable goods
Sustainability is a consideration near to many shoppers' hearts, as well as the hearts of those they're shopping for.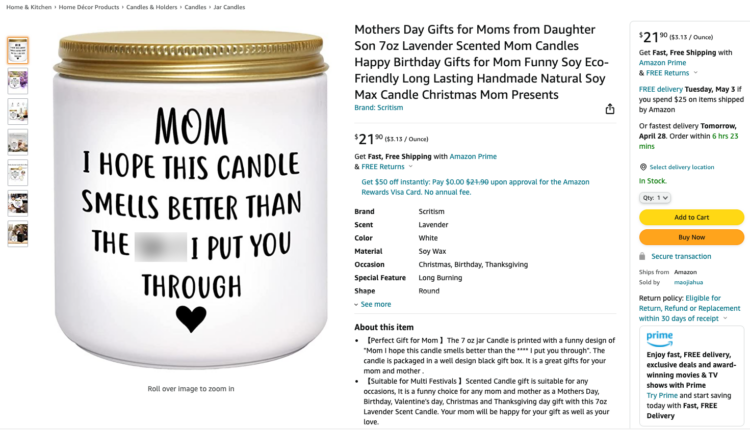 The blend of humor and environmental responsibility could be behind the 373% revenue increase this eco-friendly soy candle has seen in the last month.

Eco-friendly gifts call for an eco-friendly presentation. Revenue for this Wooden greeting card, made from sustainable bamboo, is up 321% compared to this time last year.
Using Mother's Day shopping trends to prepare for Father's Day
In a cost-conscious time, celebrating moms, grandmothers, sisters, aunts, and other mother figures is one area where consumers are still willing to spend, which could bode well for other family-focused holidays like Father's Day — which consumers are already shopping for.

There are many themes influencing gift shopping this season, and building product bundles around those themes could add an extra layer of convenience and appeal for customers.
Since consumers are also looking forward to in-person celebrations this summer, consider both gift bundles, like this Mother's Day spa bundle, and decor bundles, like this Father's Day party decorations bundle.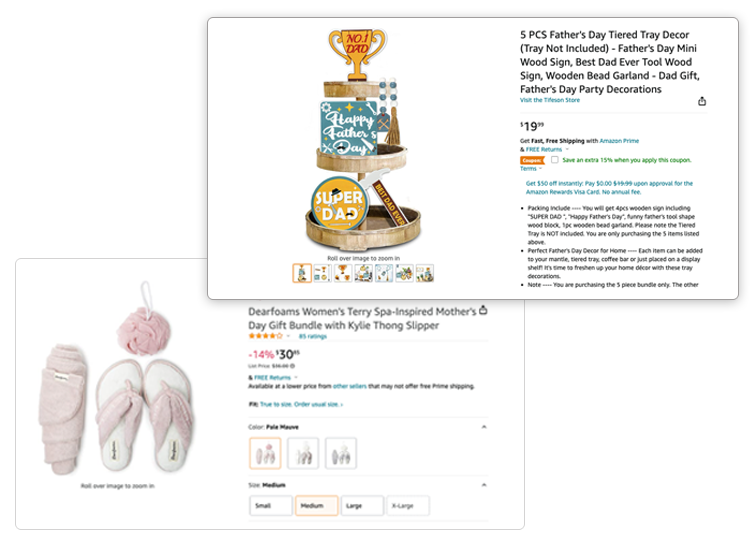 Update product messaging
Optimizing your product listings based on the factors most influencing consumers' summer gift shopping can also help them find (and convince them to choose) your products. Add trending Father's Day keywords to your backend search terms, as well as within your product title, bullets, and description.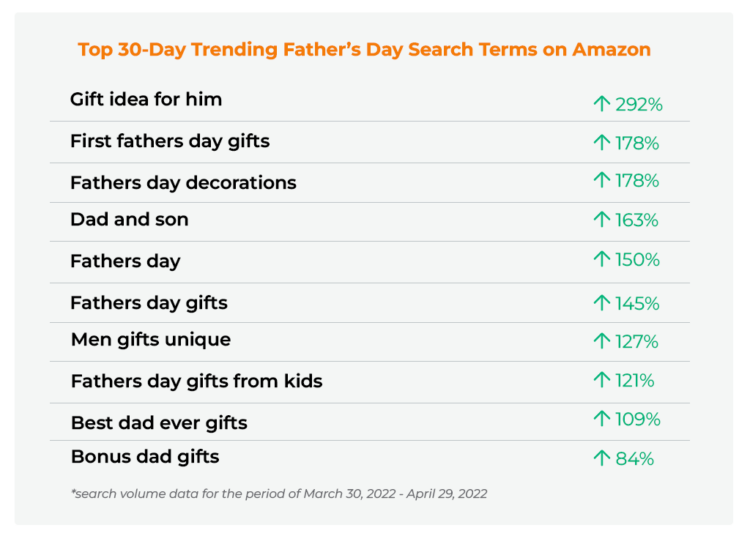 Also, consider how you can integrate keywords and phrases that connect your products to the specific characteristics that are most important to shoppers and gift recipients.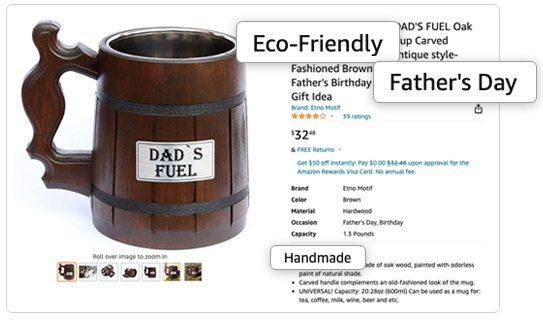 Revisit ad strategies
Ad space on Amazon is highly sought after, and competition can get particularly fierce in the lead-up to major retail holidays like Mother's Day and Father's Day. Revisiting your current advertising strategy could uncover areas where you can pause campaigns or adjust budgets to allocate more to your holiday-specific efforts. Jungle Scout's Keyword Scout can help you gauge the competition and estimate PPC costs on your target keywords.
You can also use automation tools, like those in Downstream by Jungle Scout, to keep your targeted Father's Day campaigns optimized and agile.
Automatically identify trending keywords and add them to your campaigns with Keyword Harvesting

Limit your ad spend to the days and times where consumers are most likely to be shopping for gifts through Dayparting

Set automatic bid adjustments to capitalize on gaps in competition using Advanced Budget Control
For brands and agencies with larger budgets, consider how you can leverage additional advertising options — like the Amazon DSP — to gain additional visibility outside of your PPC campaigns.
Offer deals and discounts
Nearly 20% of consumers say they would try a new brand if offered a discount. As Father's Day approaches, consumers will already be on the lookout for great ideas — and a discount or deal could be what compels them to look at and ultimately purchase your product. The savings could also afford them the opportunity to be even more generous with their gift-giving: 46% of consumers end up buying more products with a coupon than they would have without one.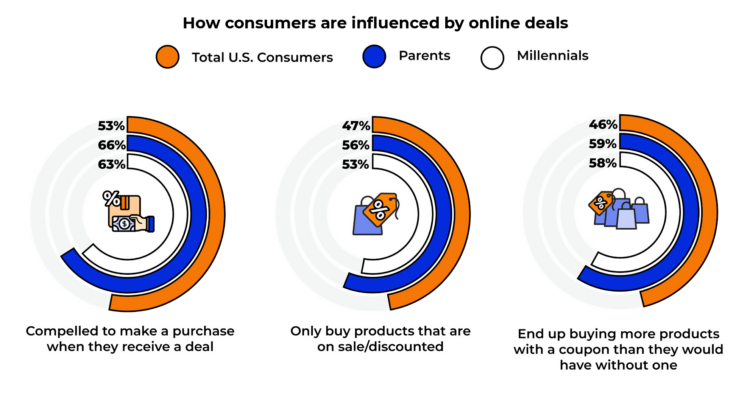 Automate the review process
Getting customer reviews can be notoriously difficult, with 57% of all Amazon sellers citing it as a top challenge. Automating the request process can help you collect more customer reviews on key products leading up to Father's Day, which in turn can increase your Best Sellers Rank and organic search rank even beyond the holiday. More reviews can also have a positive impact on the ROI of your advertising campaigns by increasing the likelihood that a customer converts once they click through to your product listing page.
A unique summer of shopping
This summer, many — sometimes conflicting — factors are influencing consumers' plans and spending: a desire to travel and a lingering love of life at home; eagerness for new experiences as costs reach record highs; concern over price, and an urge to spend on gifts and celebrations for loved ones. Such a unique environment can make it hard to predict which products will top summer gift lists for both shoppers and recipients. By monitoring and analyzing Mother's Day shopping trends, however, brands and sellers can get a glimpse into the way consumers are likely to approach Father's Day and other family-focused summer holidays as well.
Methodology
The product data in this report is representative of the U.S. Amazon market. Market insights on Amazon products were sourced from Jungle Scout Cobalt, an industry-leading market intelligence and product insights platform powered by more than 1.8 billion Amazon data points that are monitored every day. Year-over-year revenue and unit sales increases/decreases are comparisons of the period March 29, 2022 – April 27, 2022, and March 29, 2021 – April 27, 2021.
Contact [email protected] today to see how Jungle Scout Cobalt can help you explore sales data and provide strategic insights into consumer behavior on Amazon.