This article was written by Jungle Scout ecommerce experts with some assistance from artificial intelligence.
When most people think of selling on Amazon, they think of selling their own products through Amazon's marketplace and fulfilling their orders through Fulfillment-by-Amazon (FBA). That is known as an Amazon third-party seller or Amazon 3P.
Though have you ever wondered how Amazon carries so many different products and brands? Amazon purchases products at a wholesale cost from thousands of brands, small and large through a process called Amazon Vendor or Amazon 1P.
Understanding the differences between Amazon 1P and 3P is crucial for any merchant who wants to sell their products on Amazon. In this article, we'll explain the differences between these two selling options and the pros and cons of each.
What are the differences between Amazon 1P and 3P?
The biggest difference between Amazon 1P and 3P is that with one, you sell directly to Amazon, and with the other, you sell directly to the customer.
In this section, we'll explore what each of these models are, as well as their pros and cons.
What is Amazon 3P?
Amazon 3P is Amazon's third-party selling option that allows businesses to sell their products on Amazon's marketplace through Seller Central. In the Amazon 3P model, the third-party seller lists their products on Amazon and has the option to fulfill orders through FBA or Fulfillment-by-Merchant (FBM).
Amazon provides the platform, including the website, payment processing, and customer service support. However, the third-party seller is responsible for managing inventory, setting prices, optimizing listings, advertising, and more.
In exchange for these services, Amazon charges third-party sellers a referral fee for each sale they make on the platform.
The Amazon 3P model has become increasingly popular in recent years, allowing businesses of all sizes to access Amazon's vast customer base immediately.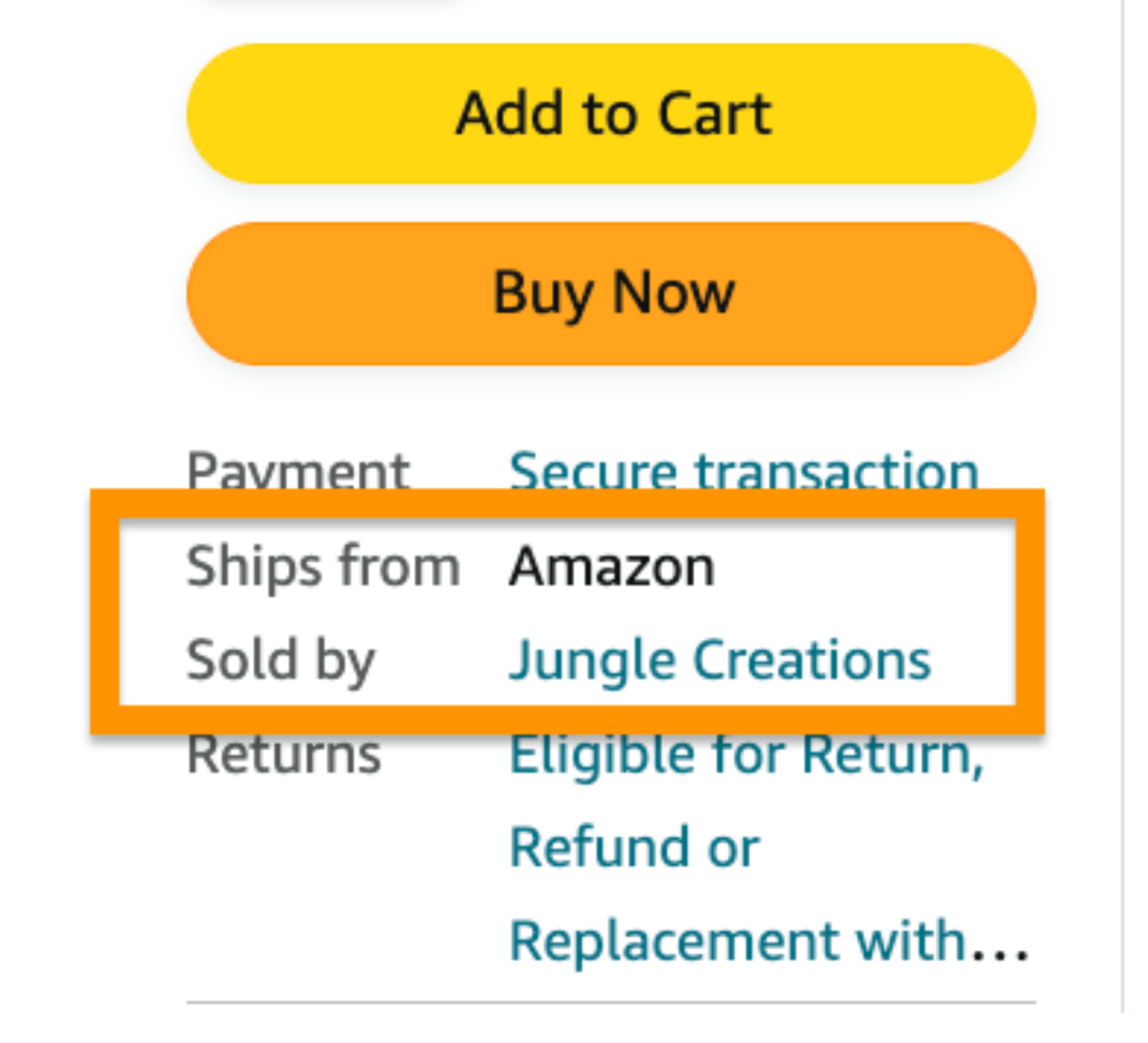 When you see "Sold by (store name)," this is an example of a third-party seller on Amazon.
What is Amazon 1P?
Amazon 1P, also known as Amazon First-Party or Amazon Retail, refers to the direct retail sales Amazon makes to customers. In the Amazon 1P model, Amazon purchases products from manufacturers or distributors through Vendor Central and sells them directly to consumers on the Amazon platform.
Amazon owns the inventory and is responsible for pricing, inventory management, fulfillment, customer service, and returns.
Amazon 1P differs from Amazon 3P, where third-party sellers list and sell their products on Amazon's marketplace.
In the 1P model, Amazon purchases wholesale goods from other brands and acts as the seller.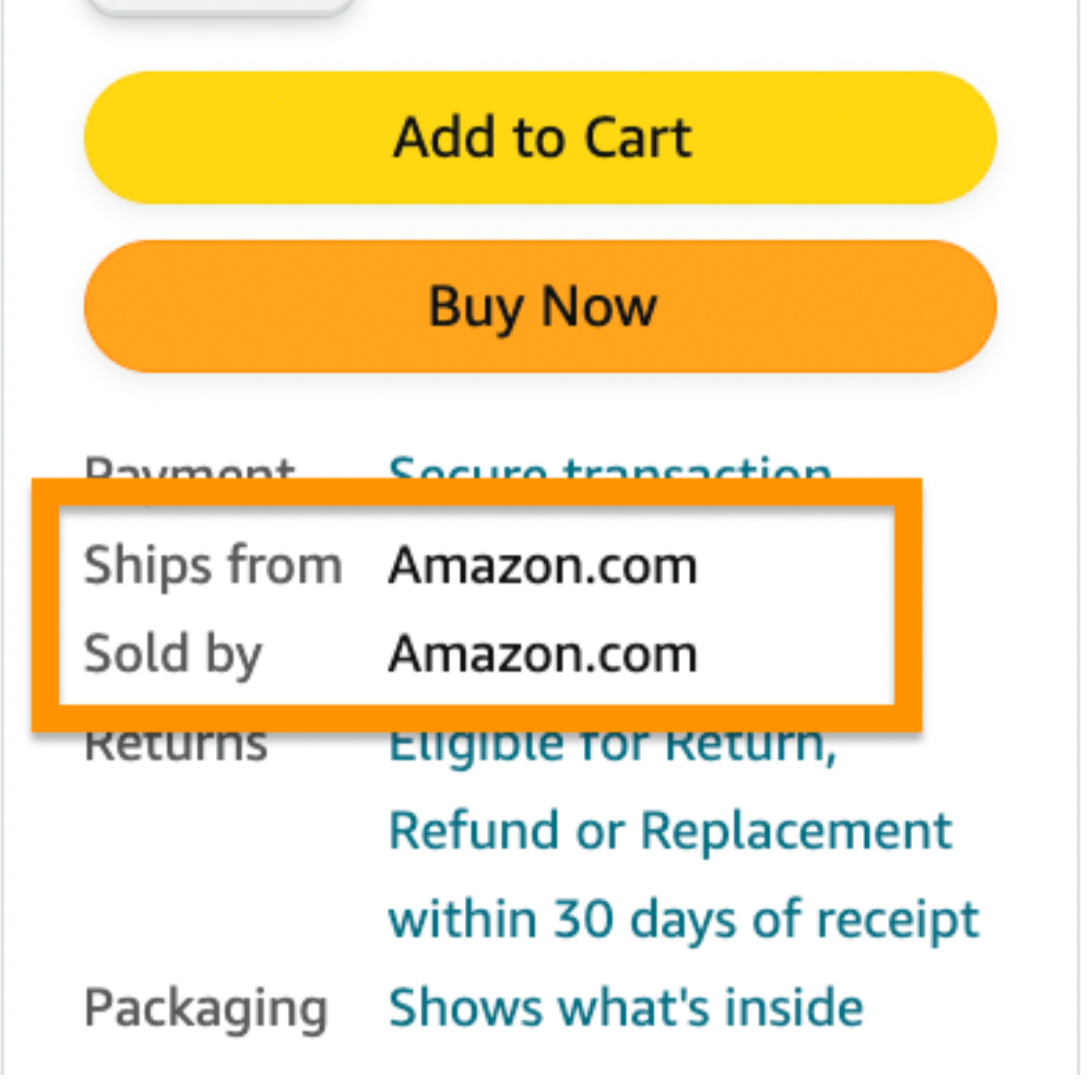 When you see "Ship from Amazon.com" and "Sold by Amazon.com," this is an example of Amazon 1P.
Amazon uses a combination of 1P and 3P models to offer customers a wide range of products at competitive prices. Amazon 1P is typically used for high-volume products and branded items, while Amazon 3P is often used for unique or niche products that may not be available through traditional retail channels.
Pros and Cons of Amazon 1P & 3P
Now that you understand the difference between the two, let's go over the pros and cons of each so you can decide which is best for your business.
When you're weighing the two, remember that Amazon 1P is an invite-only program, and that it is applied to products, not sellers — meaning Amazon will specifically choose products they want to order from you, typically from sales volume.
Amazon 1P pros and cons:
Amazon 1P pros
Amazon 1P cons

'Sold by Amazon.com' label.

Customers trust Amazon and may feel better about ordering from brands that Amazon carries.

Direct relationship with Amazon.

With Amazon 1P, sellers have a direct relationship with Amazon, which can be beneficial in terms of product placement and marketing opportunities.

Increased visibility and sales.

Amazon 1P sellers are often given priority in search results and other marketing initiatives, which can increase visibility and sales.

Hands off.

Since Amazon owns the inventory and will be reselling the product to the end customer, you don't need to worry about listing optimization, customer service, or collecting sales tax.

Access to advertising tools.

When you sell directly to Amazon through Vendor Central, you will have access to advanced selling tools such as A+ Content and other advertising solutions. As a 3P seller, you must be enrolled in Brand Registry to access all these tools.

Limited control.

Amazon controls product pricing, shipping, and inventory, limiting a seller's ability to control their brand and make independent decisions. Amazon doesn't always follow your brand's MAP pricing (minimum advertised price).

Lower profit margins.

Since Amazon purchases products at a wholesale price, Amazon 1P sellers typically receive lower profit margins than 3P sellers.

Slow payment.

Amazon's payment terms can be 30, 60, or 90 days, which can be a challenge for cash flow.

Fees.

Selling on Vendor Central can come with lots of additional fees, including co-op fees, marketing fees, remittance fees, freight allowance fees, and chargebacks, which may total up to 25%.

Revenue is not guaranteed.

Just because Amazon sells your product does not mean it will become a best-seller. Yes, your sales may increase due to Amazon having control, but it is not guaranteed.

Amazon may drop you.

Amazon can drop you as a 1P seller at any time for various reasons.
Amazon 3P pros and cons:
Amazon 3P Pros
Amazon 3P Cons

More control.

As a 3P seller on Amazon, you will have much more control over your products and listings than a 1P seller. Control pricing,

listing optimization

, advertising, inventory management, and more.

Grow your brand.

Within Seller Central, 3P sellers can access many advanced selling tools and sales reports to help grow their brand on Amazon. However, some can only be accessed through

Brand Registry

.

More profitable.

Amazon fees are more predictable as a 3P seller, and you may be more profitable as you can control your product's price and work towards limiting the fees you pay.

Sell globally.

3P sellers can sell their products globally and list them on other marketplaces through programs like

Amazon NARF

.

List as many products as you want.

There is no limit to the number of products you can list for sale on Amazon as a third-party seller. With 1P, Amazon may not order some of your products.

Amazon fees.

While the fees may be more predictable on Amazon Seller Central compared to Vendor Central, they can still be high when using FBA, depending on the size and weight of your product.

You have to handle everything.

While having more control over your business is a pro, for some new sellers, handling the aspects of running an Amazon business, such as creating listings, logistics, pricing, and customer service, can be overwhelming.

Inventory management.

Managing inventory can be a difficult task for many ecommerce sellers, especially when launching a new product. If you send in too much inventory to FBA, Amazon will charge you additional fees if the inventory sits too long without selling.
READ MORE | Amazon Inventory Management 2023 Guide
How to become an Amazon 1P seller
As mentioned above, Amazon Vendor Central is currently invite-only, and there is no way to apply to become a vendor. You must wait until an Amazon brand manager contacts you before you can sign up for Vendor Central.
If you're looking to become an Amazon vendor, the key is to establish yourself as a reputable third-party seller with a strong brand presence both on and off the Amazon platform.
Here are a couple ideas for how to become an Amazon 1P seller:
Perform well on Amazon.

Maintain consistent sales volumes, positive seller reviews, and high customer satisfaction while ensuring your products remain in stock and meet Amazon's sales metrics.

Go to trade shows.

Catch the attention of Amazon brand managers by participating in trade shows, as they may be actively seeking out brands that are not yet available on Amazon.
However, it's important to note that even if you meet all the criteria and make every effort to be an exemplary seller, there's no guarantee that Amazon will extend an invitation to become a vendor.
That said, it's worth considering whether becoming a vendor is truly the best path for your brand. Brand-registered third-party sellers now have access to many of the same features and tools once exclusive to vendors, including:
So, while being a vendor may have certain advantages, it's not necessarily the only way to succeed on the Amazon platform.
READ MORE | How to Register Your Brand on Amazon Brand Registry
How to become an Amazon 3p seller
The good news is that anyone can sign up to become a third-party seller on Amazon! If you're not registered as a seller yet, follow our guide on how to create an Amazon seller account to get started.
If you're a beginner at selling on Amazon or online, we suggest checking out Jungle Scout's How to Sell on Amazon for Beginners video on YouTube. It is the most comprehensive video on how to start selling on Amazon, and it is free!
Will you sell on Amazon 1P or 3P?
After reading this article, you should have a strong understanding of the differences between Amazon 1P vs. 3P. At Jungle Scout, we love the 3P model, as you have more control over building your brand and launching new products!
Do you have any more questions about either of these? Let us know in the comments.
Want to learn more about how you can use Jungle Scout to launch, grow, and run your Amazon business? Click the "Learn More" button below!