Amazon automation can mean both automating specific tasks and processes of your Amazon business, as well as hiring an agency to build an Amazon business for you.
While both options can be viable for Amazon sellers, they each have benefits and drawbacks. We'll dig into the two meanings of Amazon automation and explain why you should be a little cautious when it comes to hiring an outside company to build the business on your behalf. We'll also demonstrate how to automate your current Amazon business using software, AI, and other methods
Here's what this article will cover:
What is Amazon Automation?
Amazon automation can have different meanings depending on who you're talking to. Amazon automation can mean hiring an agency to build and run an Amazon store for you, or it can mean automating tasks within your existing Amazon business.
Automating tasks
Amazon automation can also mean automating specific tasks to improve efficiency, sales performance, or simply free up time. Automation allows sellers to focus on more high-level strategies to grow the business instead of wasting time on tedious jobs.
Running an Amazon business on your own is not always easy — there are many moving parts sellers need to focus on, so if I can automate certain tasks, sign me up!
In fact, 86% of Amazon sellers are already automating a significant part of their businesses by using FBA. When sellers use Amazon's fulfillment services, Amazon handles the entire fulfillment process. You send your products to an Amazon fulfillment center, and Amazon handles picking, packing, shipping, returns, and even customer service.
Some businesses can handle their fulfillment, but for many new and veteran Amazon sellers, automating the order fulfillment process is significant and worth the Amazon fees.
READ MORE | How to Reduce Amazon FBA Fees: 13 Tips for 2023
Different ways to automate your Amazon business
As you've probably already gathered by now, automation is a good thing! Automating frees up your time, helps grow your business, and makes sure things get done. This can mean hiring help, using a service, or using software to handle some tasks – and now by using AI technology.
So, what are some ways you can automate your Amazon business?
Review Automation
Getting more reviews on your products is one of the biggest priorities for a brand owner or private label seller on Amazon. One of the best ways to earn more product reviews is by automating the review request process.
Jungle Scout's Review Automation tool sends automated Amazon-generated review request emails to your customers. All you have to do is turn the feature on in Jungle Scout and let the tool do all the work for you.
Click here to learn more about Jungle Scout Review Automation.
AI tools
It is no secret that AI in ecommerce is taking over, with more and more tools arriving to help make your life as a business owner and Amazon seller more efficient.
Using AI in your business is a great way to automate repetitive or tedious tasks so your time can be redirected toward strategic decision-making, product innovation, and overall business growth.
Jungle Scout has a suite of tools that leverage our AI integration, "AI Assist," to help make running your Amazon business easier.
1. Listing Builder
Our Listing Builder tool now has an AI Assist feature that leverages AI to create listing content using the top keywords from your keyword bank in seconds.
If you are not a strong writer, don't have much time to write, or don't want to hire a listing copywriter, AI Assist helps Amazon sellers generate optimized product listings fast so you can get your listings up and running as soon as possible.

2. Profit Overview
Profit Analysis within our Sales Analytics tool provides sellers with in-depth data analysis and reveals key insights into sales, profitability, and valuable suggestions for improvement.
There is often a lot of information and data that sellers must go through to determine if their business is running profitably. Our AI Assist integration is essentially your personal "CFO" and helps you make decisions to grow your business.
This tool will show you overall company performance, areas of investigation, and recommendations for further action.

3. AI Review Analysis
Going through your product reviews one by one to figure out common themes among your customers can be a very tedious task. Jungle Scout's Review Analysis feature now leverages AI Assist to help sellers identify major pain points to address based on product reviews.
Review Analysis will also allow sellers to research and analyze competitors' product reviews to help sellers figure out key differentiators for the next product they are researching.
The tool will automatically scan through the reviews of a specific ASIN and provide an actionable analysis such as how to improve the product, how to beat the product as a competitor, how the product compares to similar products, review trends, along with the most common positive and negative reviews.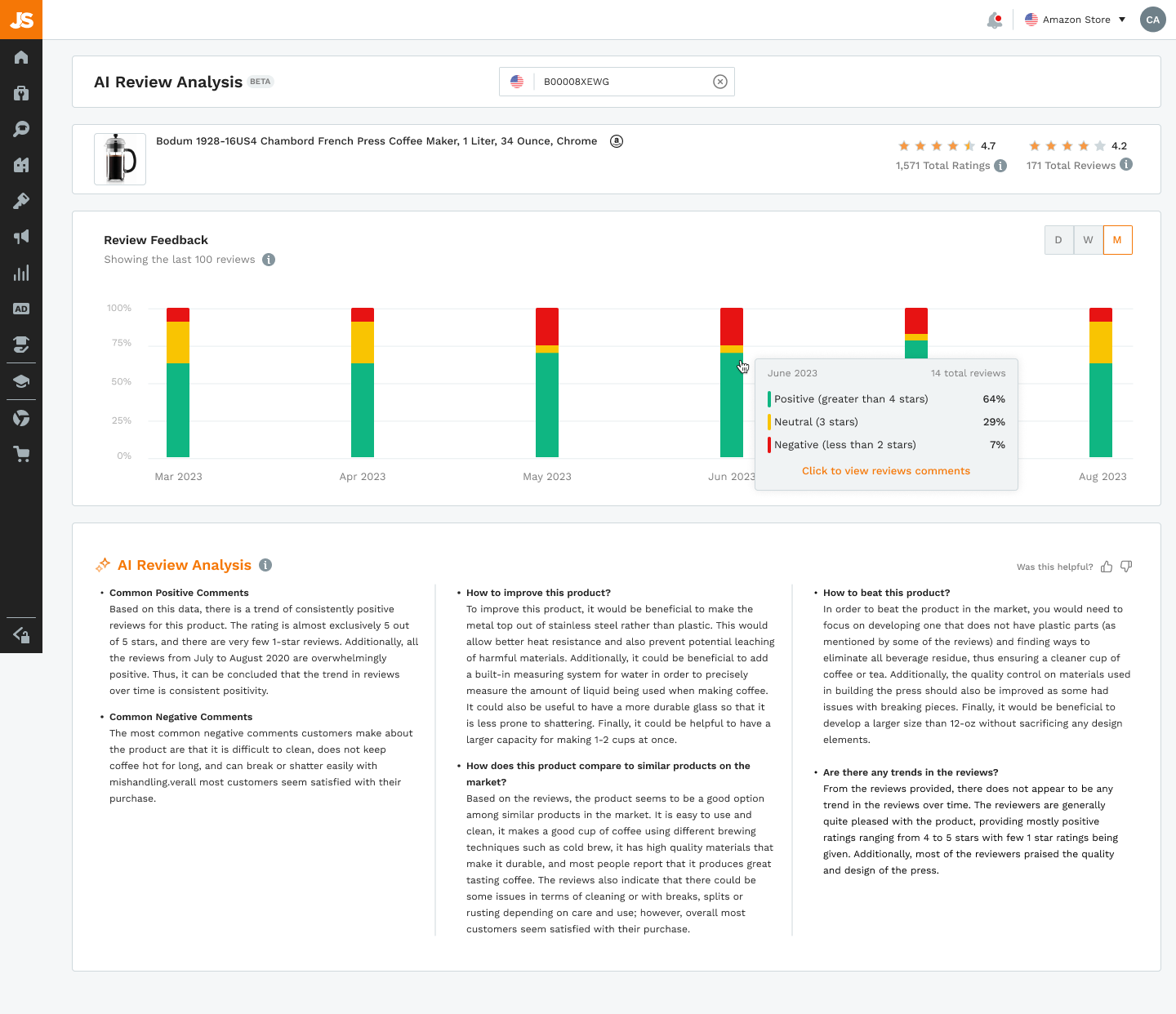 4. AI Assist Chat
Jungle Scout's AI Assist Chat provides Jungle Scout users with high-level support whether they need help with the Jungle Scout tools or are looking for answers to a specific Amazon seller-related question.
AI Assist Chat can provide instant answers from our vast knowledge base, including help center articles, blog posts, and YouTube video transcripts.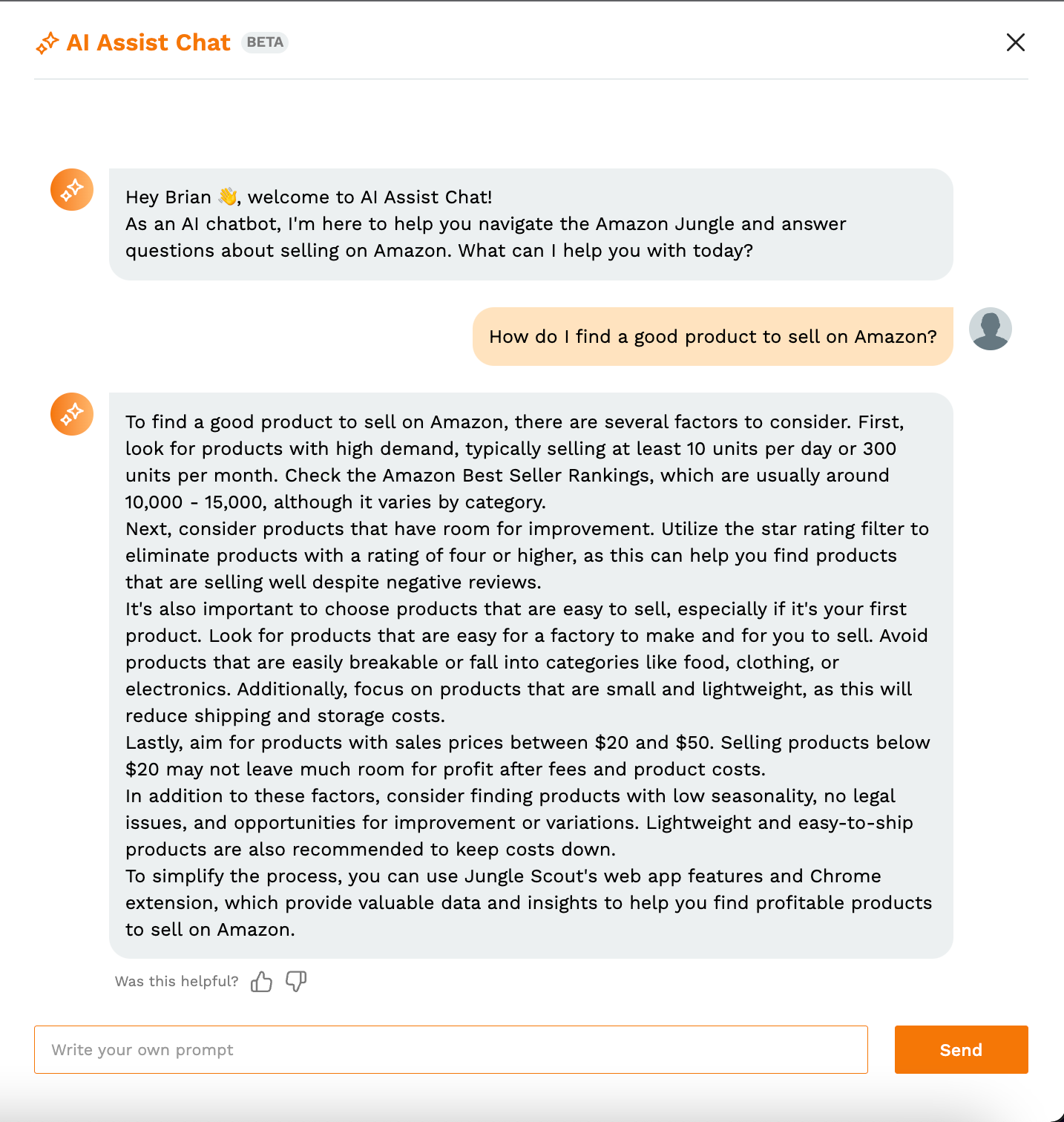 Hiring outside help
Once your Amazon business starts to grow, you'll likely want or need to hire some outside help to keep your business running smoothly and profitably. Or, maybe you want to spend more time on other things and have your business run in the background.
Hiring outside help such as virtual assistants, freelancers, agencies, accountants, or shipping agents, can help take a lot off your plate as a business owner.
Here are some things you can do:
Amazon automation agency
When I hear "Amazon Automation," I think of some self-proclaimed Amazon guru trying to sell me a dream on a turnkey cash-flowing business. "All you need to do is give us $20,000, and we do the rest!" Hmm, not so fast.
In the Amazon and ecommerce space these days, many people are trying to sell you on a course or service, so new sellers need to be wary of where they invest their money.
The thought of investing money in a profitable, hands-free Amazon business sounds great, but you need to be sure the company you're thinking of working with is reputable and won't lose all your money.
Many Amazon automation services will claim to do the following for you:
Research a high-demand, low competition product

Contact and negotiate with suppliers

Handle shipping from the supplier to Amazon

Set up your Amazon account

Create and optimize your Amazon listings

Manage PPC campaigns

Manage the entire business

Share the profits with you
Do some deliver on this? Sure, but you need to be confident the company you work with really knows what they're doing. If they try black-hat tactics to rank your products, choose a poor-performing product, or dropship items from other retailers, your Amazon account and investment could be lost.
Before investing in a done-for-you Amazon business, research the company beforehand and look for honest, unbiased information about the service they provide.
Is Amazon automation a scam?
No, Amazon Automation is not a scam. If you are interested in a done-for-you type of service, you need to be sure the agency you invest with knows what they're doing or won't just take your money and run.
Don't be influenced by the high-pressure sales tactics that many of these companies use. Take your time and research a few different agencies to see which would be best for you.
As mentioned above, look for honest and unbiased reviews on the service, and be careful of videos or articles that look like honest reviews but are affiliate promotions.
Building an Amazon business is a lot of work, but it can be done successfully by nearly anyone who wants to put in the time and effort. If you'd rather invest your money and not do any of the work yourself, then hiring an aAmazon Automation service may be a good option for you.
READ MORE | How to Sell on Amazon FBA
Current Amazon sellers should be looking for ways to automate some tasks to be more efficient in growing and making decisions for their business. Let'sLets go over some ways to automate your Amazon business.
Are you automating your Amazon business?
We hope this article helped clear up some confusion around the topic of Amazon automation. It can mean a complete done-for-you service or simply the practice of automating specific tasks within your business.
Want to learn more about how Jungle Scout can automate parts of your business? Check out the link below!
Let us know in the comments if you have more questions about Amazon automation! Thanks for reading.