The U.S. Amazon marketplace has hundreds of millions of products listed in over 30 categories.
And while those numbers may seem incredible, what's more incredible is that the vast majority of items available on Amazon (that have made one or more sales) is awarded a special ranking called the Best Sellers Rank (BSR).
But what is the Best Sellers Rank? And what does it mean for your Amazon FBA business? In this article, we'll dive deep into what the BSR actually is and how understanding its function can benefit your business.
What is Amazon Best Sellers Rank?

How is Amazon Best Sellers Rank calculated?

What is the difference between Amazon Best Sellers Rank and organic ranking?

How can I use Amazon Best Sellers Rank to estimate sales?

How can I improve my Amazon Best Sellers Rank?

What tools are available to calculate sales from Amazon Best Sellers Rank?
If you already understand the Amazon BSR and are looking for a powerful tool to help you estimate sales, then skip ahead to learn more about Jungle Scout's Chrome extension:
Want to learn more about selling on Amazon? Check out our complete guide.

What is Amazon BSR?
An Amazon Best Sellers Rank (BSR) is a number that nearly every product in its multi-million product catalog is awarded once the item has had at least one sale. For that reason, the BSR is a good indicator of how well a product is currently selling on Amazon.
The lower the product's BSR, the better its sales.
For example, a product ranked #1 has much higher sales than a product ranked #200,000.
However, the BSR only applies to how a product sells in a particular category. In other words, products don't have an overall BSR, comparing their sales to every other product on Amazon. Since many products sell in multiple categories on Amazon, it is possible for an item to have more than one BSR.
So, a product on Amazon can have a BSR of 2,000 in Kitchen & Dining, while the exact same product can have an Amazon Best Sellers Rank of 20,000 when sold in Toys & Games.
Note: Some products on Amazon are not given BSRs. This is fairly common for electronics.
READ MORE | Amazon Top Product Categories in 2023
How is Amazon BSR calculated?
Although Amazon doesn't reveal exactly how the Best Sellers Rank is calculated, there are a number of factors that contribute to it, including:
Current and historic sales

Product price changes and promotions

Competitive products
The BSR's biggest influence is current sales trends, as well as historical sales volume, and is updated hourly.
For example, if a product has 10 units of sales in one hour but drops to only one unit sale the next, that doesn't mean it will automatically drop down to a BSR that's for products that only sell one per hour. Instead, the BSR algorithm will take into account both sales velocities.
What is the difference between Amazon Best Sellers Rank and organic ranking?
One big thing that a lot of new sellers confuse when they first start selling on Amazon is the difference between Amazon Best Sellers Rank and organic ranking.
BSR:

How well the product ranks based on sales

Organic ranking: H

ow well the product ranks in Amazon's search for a given keyword
What is organic ranking on Amazon?
Organic ranking is where a product appears on Amazon's search engine results pages (SERP) for a particular keyword. Meanwhile, Amazon Best Sellers Rank is great for estimating the monthly sales frequency of an individual product.
The product's position on Amazon's SERP has no bearing on the product's current Amazon Best Sellers Rank. In fact, the products on the SERP are organized by what Amazon sees as the most relevant products for that keyword search.
For example, when we did a search for "marshmallow roasting sticks" on Amazon, this is what we saw on the SERP:
However, just because a product ranks favorably on Amazon's SERP doesn't necessarily mean that it will have a good BSR as well.
In the screenshot above, the first result actually has a lower BSR than the second search result.
This could be because the product has had better sales in the past, higher rates of conversion, a lower price, or even better reviews.
How to find the Amazon BSR?
To find an item's BSR, go to an Amazon.com product page and scroll down to the "Product Information" section. This is what you should see: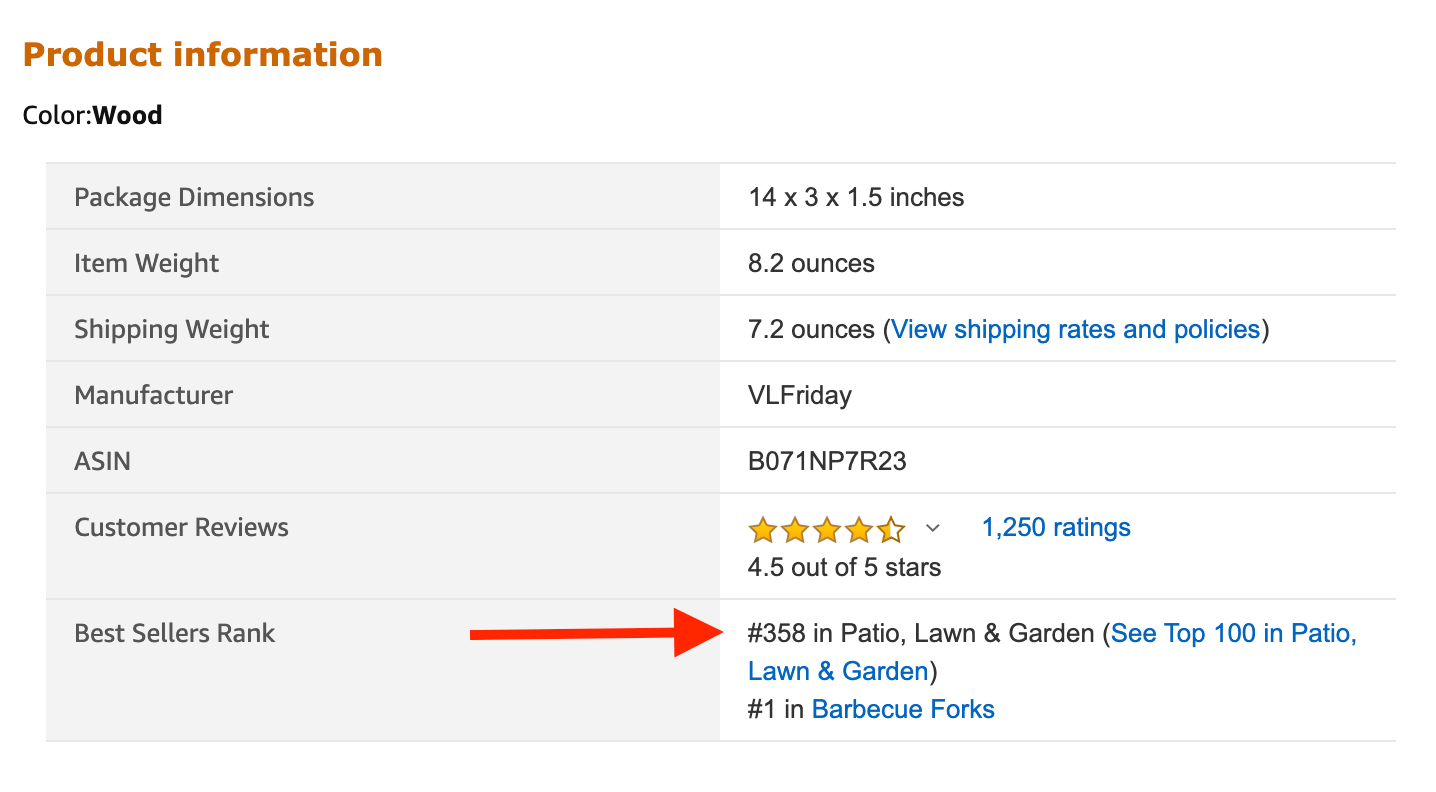 As you can see, the Amazon Best Sellers Rank of this product in the Patio, Lawn & Garden category is currently #358.
This means that out of the hundreds of thousands of products in Amazon's Patio, Lawn & Garden category, only 357 sell more than this particular item. Not too shabby!
What is a good Best Sellers Rank on Amazon?
Best Sellers Ranks are different for every category. So what one might consider a "good" Best Sellers Rank for Patio, Lawn & Garden a category, might be a bad BSR in the Kitchen & Dining category.
Though "good" is subjective. If your goal is to sell 10 products per day, or 300 per month, use that number to figure out what a "good" BSR would be. You can use the Jungle Scout Sales Estimator to determine the BSR you should aim for.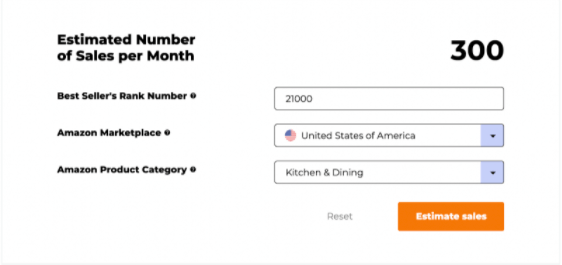 What is a good BSR for books on Amazon?
This is a very common question we often get from booksellers on Amazon. As mentioned above, a "good" BSR is subjective, but I will give you some tips on BSR when selling books.
Since the book category is so large, a higher sales rank in books may be much better than a lower sales rank in another category.
For example, a rank of 100,000 in the kitchen category only equates to roughly 30 sales per month. In the book category, a 100,000 Amazon Best Seller Rank is roughly 200 sales per month.
When sourcing books to sell on Amazon, we suggest looking for books with a 100,000 BSR or lower, so they sell quickly.
How can I use Amazon Best Sellers Rank to estimate sales?
By far, the most powerful function of the Amazon Best Sellers Rank — other than bragging rights — is using the value to predict how often a product sells on Amazon.
Consider this: Let's say we have a product that has a BSR of #1699. We know from our checking our own sales that a BSR of #1,699 translates to roughly 810 sales per month, as long as our Best Sellers Rank stays roughly around that same value.
But just a month ago, our average BSR was #3,000 for about 30 days and we only did 510 sales that month.
However, last fall, our BSR was #500 on average for 30 days and we did 1,980 sales that month.
While using the BSR is a quick way to estimate the sales of a product, it does not mean it will have the same BSR month after month. If you are doing product research, it's important to look at the historical sales data when deciding what to sell.
You can view any product's sales history by using the Jungle Scout Extension. When on an Amazon product detail page, the Extension will display a widget above the images where you can view monthly sales and a historical trend graph.

How to improve Amazon BSR?
To boost your Amazon BSR, you need to sell more products and outsell your competitors! If you are selling the same number of products or less than your competition, your BSR will not improve. Here are four tips for improving your Amazon BSR:
1. Optimize your listing copy
If you want to improve the searchability of your product as well as the conversion rate, you should work on optimizing your listing with relevant keywords and compelling copy.
2. Price competitively
Work on a proper pricing strategy for your products. If you priced fairly within your category and compared to the competition, this will ultimately help you sell more products and boost your BSR.
3. Improve your listing images
Since a customer cannot see or touch your product in person, your product images are what will help sell your products. Make sure your images are of great quality and can help point out important features and benefits. Better images = higher conversions = higher BSR.
4. Add a video to your listing
Not only do images help sell your product but a product video will bring your listing to a whole other level. Video comes closest to a customer experiencing your product in person.
READ MORE | How to Create an Amazon Storefront
What tools are available to calculate sales from Amazon Best Sellers Rank?
Going back to our SERP for "marshmallow roasting sticks", this time, instead of spending half a day checking out each individual product page and guesstimating the sales totals for each of those products, I'm going to use Jungle Scout as a BSR calculator.
It opens up a big spreadsheet that shows you the following information:
The average monthly sales and revenue for each product on the page

Average Amazon Best Sellers Rank

Average sales and review counts

Amazon fee estimates

And a whole lot more!
Browser extension
Jungle Scout's Extension is a browser extension that is fed data from Jungle Scout's AccuSales™ Amazon data engine. It takes the information on each of Amazon's search engine result pages, organizes it, averages it out, and gives you information to help you make the best product purchase decision.
Jungle Scout's free sales estimator
If you want to get your feet wet first, then consider trying out Jungle Scout's free sales estimator tool. While it doesn't estimate the sales for an entire category like the Jungle Scout Extension, it can make sales estimations simple for you if you prefer to do things the old-fashioned way.
Plus, if you want to just get a feel for Amazon and sell only a couple of products at first, this might be the best way for you to go.
Jungle Scout's all-in-one platform
But what if you're not sure what to sell? That's where Jungle Scout — an all-in-one platform for selling on Amazon — can help. This time, instead of finding a product to sell on Amazon using Amazon Best Sellers Rank and random searches, you can put in the Amazon Best Sellers Rank you're interested in targeting and reverse engineer a high sales product niche.
In addition to that, it also has tools to help you track competitor products' daily sales, find profitable keywords, and organize the Amazon product catalog any way you see fit.
Your next step is to either use one of the tools mentioned above to start finding products that can help you get the life you want to live or learn a little bit more about the "How to Sell on Amazon FBA" process.
Want to learn more about how Jungle Scout can help you grow your Amazon business? Check out the link below!
Do you have any questions or comments about this article? Let us know in the comments below!