Things have changed quite a bit since I started selling products on Amazon in 2015. Back then, Jungle Scout was only an extension, and there weren't nearly as many options for seller tools as there are today.
In 2022, hundreds of tools are available to help with tasks such as product research, keyword research, listing optimization, accounting, sales analytics, and review requests.
As Amazon experts at Jungle Scout, we know which tools are best suited for growing and running your business.
Below is a carefully curated list of the best Amazon seller tools in 2022:
Product and competitor research tools
1. Jungle Scout Product Database, Opportunity Finder, Extension

This should be no surprise to anyone reading this article! Jungle Scout has been active for over seven years, and it has become synonymous with Amazon FBA and selling on Amazon.
Jungle Scout has grown from an extension to a full suite of tools for product research, sales analytics, review requests, and inventory management.
Using Jungle Scout's accurate research tools Product Database, Opportunity Finder, and Extension, Amazon sellers can easily find high-demand, low-competition products.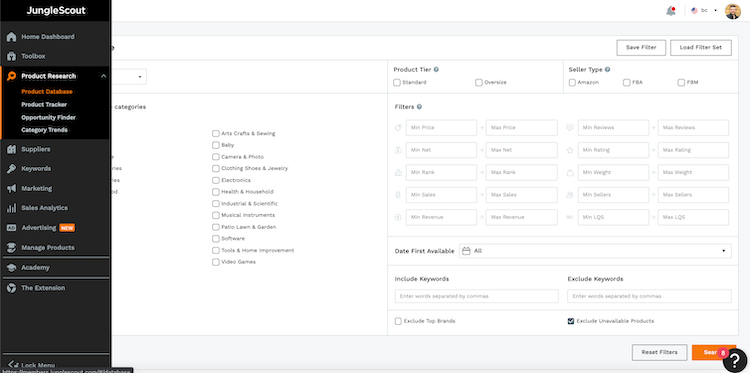 Click the button below to learn more about how Jungle Scout can help grow your Amazon business.
2. Jungle Scout free Sales Estimator
If you're just starting or are on the fence about becoming a seller, you can always look into Amazon sales risk-free by trying out Jungle Scout's Sales Estimator.
The same data science engine powers the estimator as the other Amazon seller tools in Jungle Scout's Seller Tools suite. Just enter an Amazon product's Best Seller Rank (BSR), choose its parent category and marketplace, and the Estimator will tell you the estimated number of units sold in one month.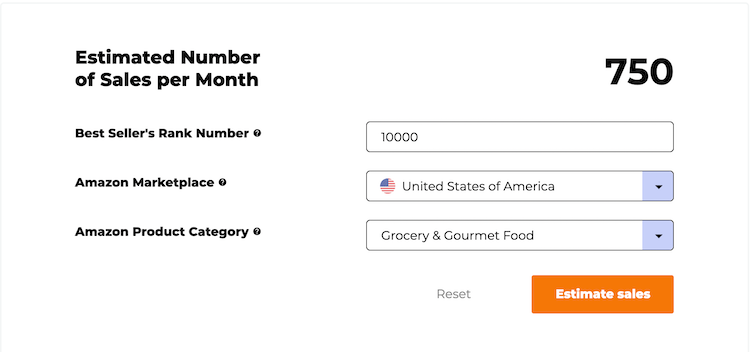 3. Keepa
Keepa puts a widget right on each Amazon product listing page and gives you information on a product's historical BSR, the average price (used, new, and Amazon's), lightning deals, review count, rating count, and other helpful information.
With this tool, you get a solid understanding of a particular product's long-term performance on Amazon versus just looking at the product's current Best Seller Rank.
This tool is known by nearly all Amazon sellers and can help you when sourcing products for private label, wholesale, retail arbitrage, online arbitrage, or dropshipping.
Jungle Scout has a similar historical graph that is now included with the Extension.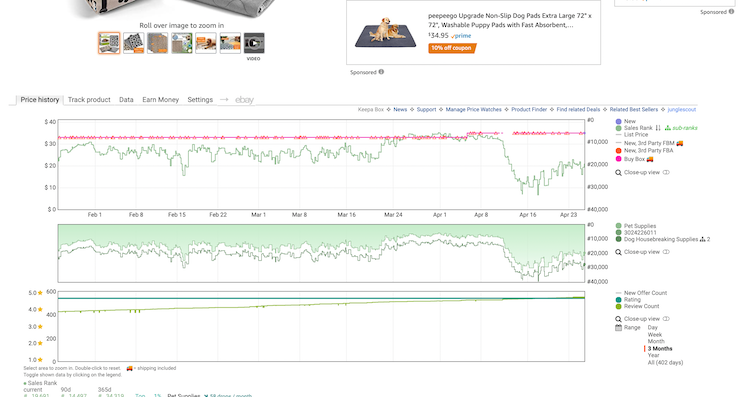 4. RevSeller
RevSeller is a chrome extension that adds an Amazon revenue calculator on any Amazon listing. This tool is perfect for online arbitrage sellers who need to quickly view BSR and calculator profit potential.
Simply enter the selling price and your buy cost, and the calculator will account for all of Amazon's fees, no matter if you sell via FBM or FBA. The tool will also show potential ROI and profit margin per sale.

Inventory management tools
5. Jungle Scout Inventory Manager
Inventory Manager helps you accurately predict how much inventory your Amazon business needs to ensure you never go out of stock or over-order inventory.
Using this tool is easy to automate your inventory planning, avoid costly storage fees, and prevent stockouts.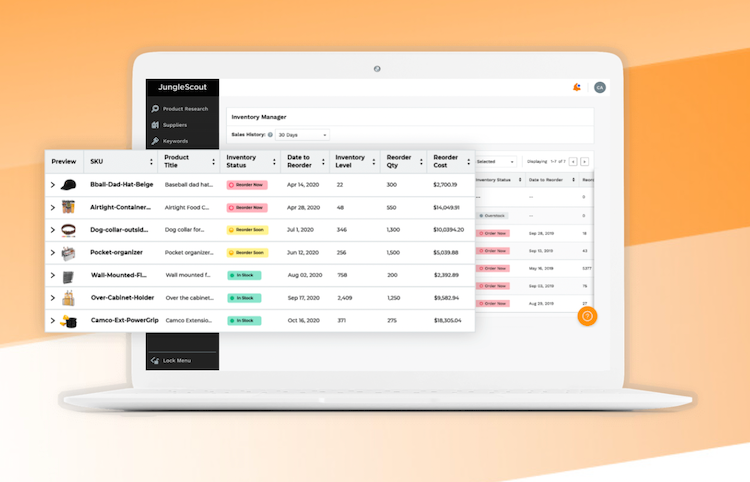 6. Inventory Lab
Inventory Lab is a fantastic tool for helping Amazon sellers keep track of inventory, list products, create shipments, and track profit and loss. This tool lets you see how much stock you have on hand per SKU, add unit costs, and view profitability per SKU.
This tool also helps you streamline your business processes to focus on building your inventory and growing your sales.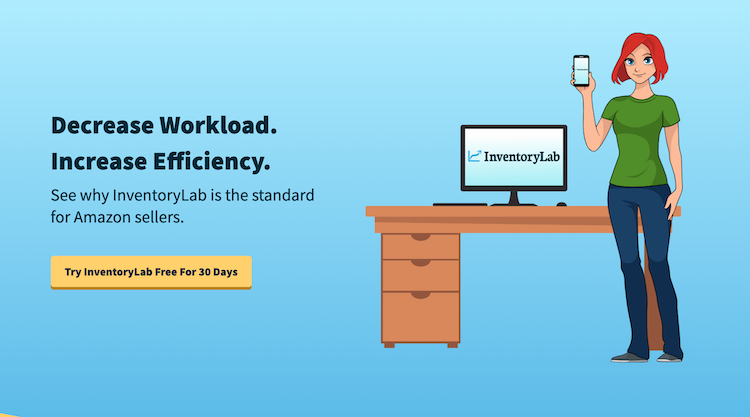 Amazon seller apps
7. Profit Bandit
If you decide to become an arbitrage seller, then Profit Bandit is probably the most helpful tool you'll ever use. It lets you scan products you find in brick-and-mortar stores, cross-referencing the price in-store with its current price on Amazon. Then, it will tell you how much profit you stand to make if you buy that product in the store and resell it on Amazon.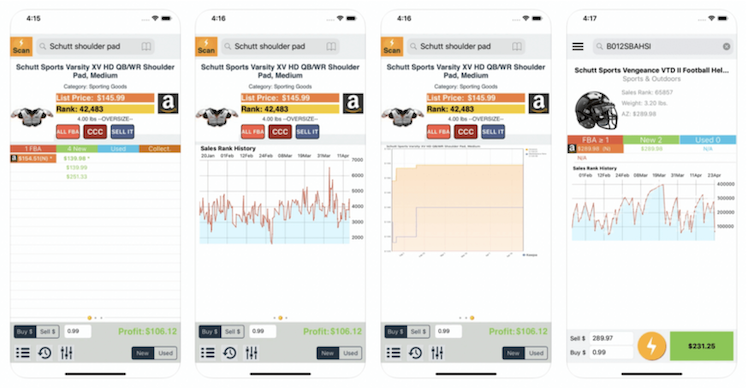 8. Amazon Seller app
The free app from Amazon puts Seller Central right in your pocket. View your daily sales, manage inventory, manage shipments, communicate with customers, and even list products for sale.
You can also scan product barcodes to view Best Sellers Rank, price, number of sellers, and profitability with the app.
If you are a retail arbitrage reseller, the Amazon Seller app is a great way to search for products to resell on Amazon.
Search or scan a product, enter your buy cost, and the app will break down all of Amazon's fees to see if that particular item is a good buy or not.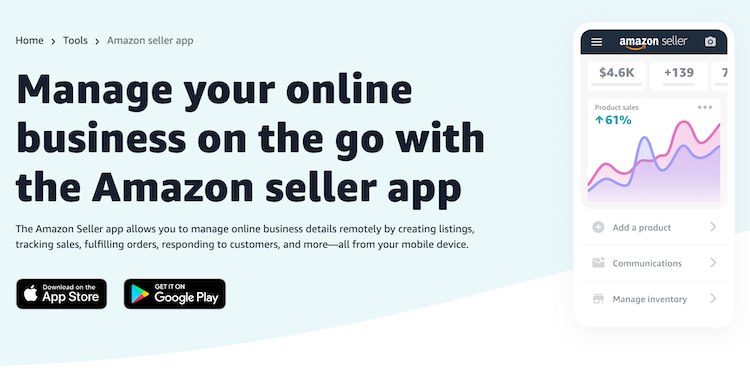 9. ScoutIQ
ScoutIQ is one of the best Amazon scanner apps explicitly built for booksellers. While it was made to sell books, the app can be used to scan products in other categories to view listing performance, Best Sellers Rank, pricing, etc.
A unique thing about ScoutIQ is that you can download Amazon's product database on your phone, meaning you can scan books and other products at lightning-fast speed without connecting to the internet. Pair it with a Bluetooth scanner, and you scan through hundreds of products quickly and efficiently.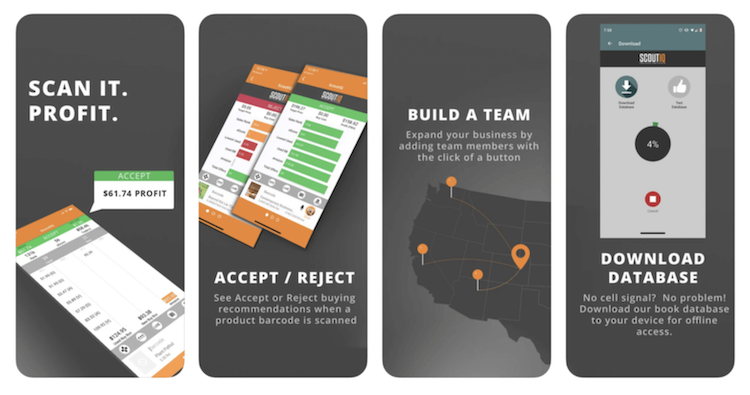 PPC and advertising tools
10. Jungle Scout Keyword Scout
The easiest way to advertise your listing is by using Amazon's own internal advertising platform, Amazon PPC. Of course, just having ads running isn't enough. You will need to find good keywords, too.
And the best keyword research tool anywhere is Jungle Scout's Keyword Scout. It pulls accurate search data straight from Amazon, letting you see exactly how customers search for products like yours. It takes a few minutes, and you'll have thousands of high-volume keywords at your disposal.

11. Downstream
Downstream, which is a part of the Jungle Scout family, is the leading advertising and analytics solution for Amazon and Walmart Marketplace sellers. This powerful tool automates your ads to help you sell more products and improve your ROI.
Sellers and brands can also track their positioning in the marketplace, understand the competitive landscape, and point out emerging trends in search activity.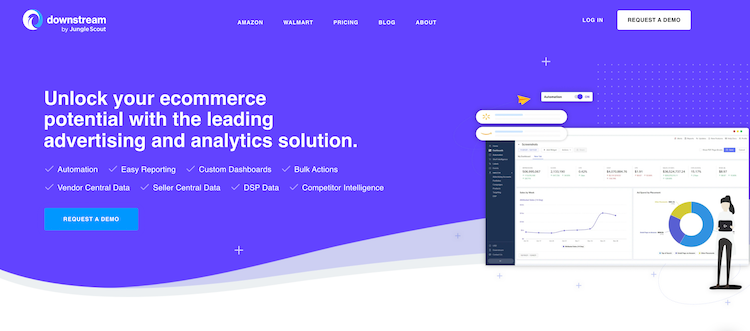 12. Jungle Scout Advertising Analytics
Advertising Analytics is a new tool available in Jungle Scout Suite, and Pro plans provide sellers with high-level insights into their Amazon PPC advertising campaigns.
You can now see a detailed breakdown of your organic sales, ad sales, ad spend, COGS, Amazon fees, and your overall profit.
Customize this tool with up to nine different widgets to view the following metrics: Impressions, Clicks, Attributed Total Ad Sales, Total Ad Cost of Sales (TACoS), Total Ad Spend, Top of Search (ToS), Advertising Cost of Sale (ACoS), Click Through Rate (CTR), and Conversion.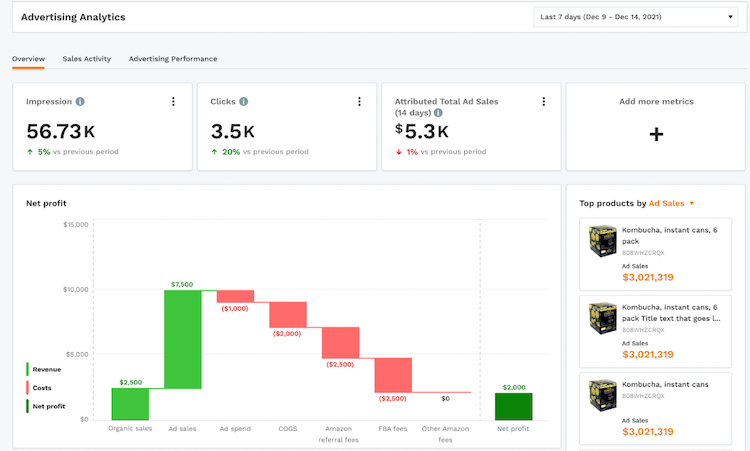 Sourcing/importing tools
13. Alibaba
Once you've discovered an excellent product you want to sell on Amazon, you need to source your product. One option is Alibaba, which is often referred to as the Amazon of China. But it's so much more than that!
It gives you direct access to thousands of suppliers and manufacturers around the globe. The site has been around as long as Amazon has, and they vet every manufacturer on the site so you can feel secure doing business with overseas suppliers.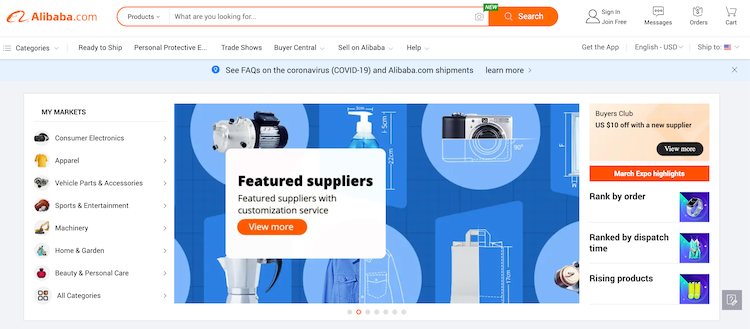 14. Jungle Scout Supplier Database
You can either start your search for a manufacturer using Jungle Scout's Supplier Database, or you can use it to validate the manufacturer you found on Alibaba.
The tool displays actual import data for suppliers who have shipped to the States, and you can even see their customers' names, meaning you can see who your competitors use to make their products!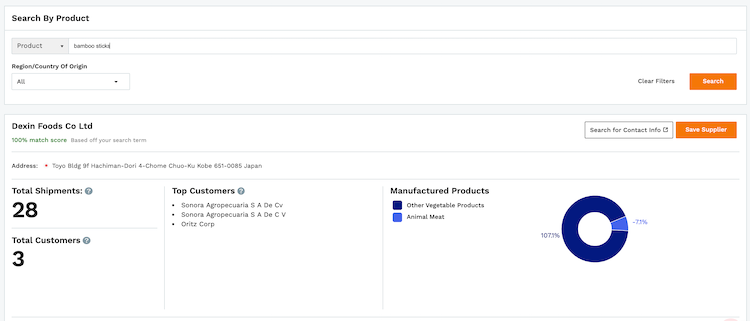 15. Freightos
When ordering products from overseas, one of the biggest challenges for ecommerce sellers is getting the product from China (or wherever you order from) to your warehouse or an Amazon FBA fulfillment center.
This is where freight forwarders come in. Freight forwarding companies help manage every aspect of your shipment to be sure it gets delivered legally and on time.
Freightos.com allows you to receive quotes from multiple freight forwarders so you get the best possible price and service. Once you choose a company to work with, you can manage and track your shipment within Freightos.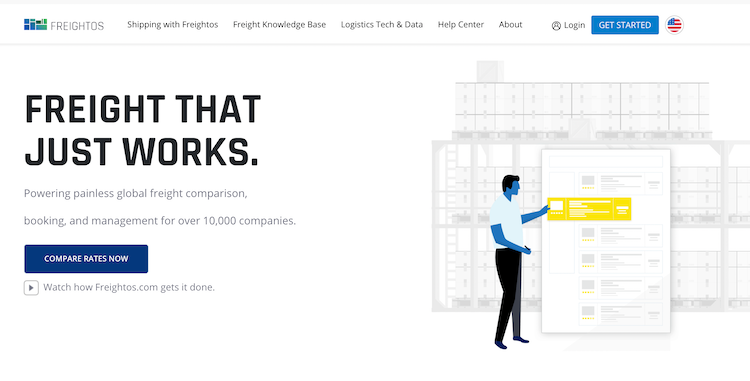 Repricing tools
16. Informed
Informed is an AI-powered repricing tool designed to help Amazon and Walmart sellers compete for Buy Box ownership and increase sales automatically.
They've claimed to help customers increase Buy Box ownership by 63% within the first two weeks of using the repricer tool.
With repricers, sellers can set specific pricing rules that help you maximize profits, so you never have to reprice products again manually. Repricing tools are best for arbitrage and wholesale resellers who compete for the Buy Box against other resellers.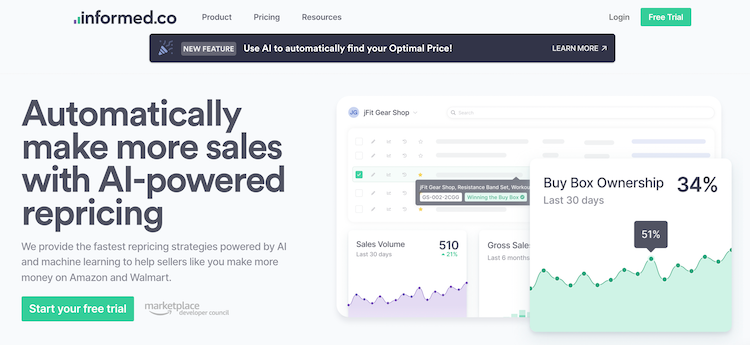 Product review tools
17. Jungle Scout Review Automation
Review Automation is an Amazon TOS-approved tool that sends out automated Amazon-generated review requests to customers who have purchased your products.
This tool automates that review request feature on the order detail page in your Seller Central account. Instead of manually clicking "Request a Review" on every order, Review Automation saves you time and earns you more reviews.

Accounting/profit tracking tools
18. Sales Analytics
Amazon's business analytics is a helpful back-end tool for Amazon FBA sellers although it doesn't include some essential data like the cost of your product or any other expenses outside of Amazon. And frankly, it can be a little overwhelming.
Fortunately, Jungle Scout has a Sales Analytics feature that takes all of that data and makes it easy to understand. It's straightforward to use, integrates directly into your Amazon Seller Central account, and tracks your Amazon FBA profits.
Think of it as a financial command center for your Amazon business. Keep track of Amazon fees, product costs, advertising costs, and profit.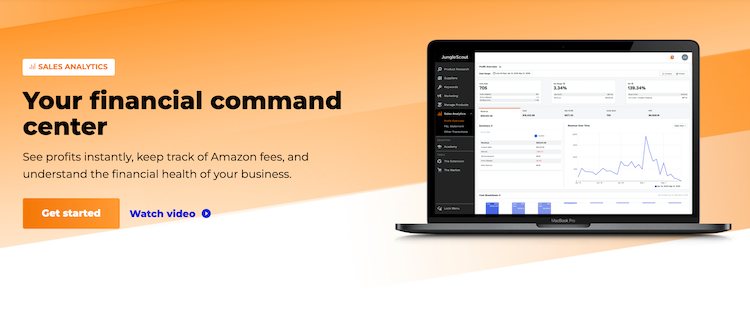 Listing optimization tools
19. Jungle Scout Listing Builder
The Listing Builder tool helps sellers build highly optimized listings for their Amazon products. As you build your listing, the tool will measure your product title, description, key features, keywords, and images and give you an optimization score to know when to keep making improvements.
Listing Builder also syncs directly with your Seller Central account, so you pull listings into Jungle Scout and resync the updates back to Seller Central.

Outsourcing
20. Fiverr
Amazon sellers typically have to wear many different hats. You're the product researcher, product sourcer, listing builder, and much more.
As your business grows, you'll likely need help with some aspects of your business. It can be product photography, listing optimization, product sourcing, or PPC advertising.
Using a freelancer website such as Fiverr, you can find many talented freelancers or virtual assistants to help handle specific tasks and jobs.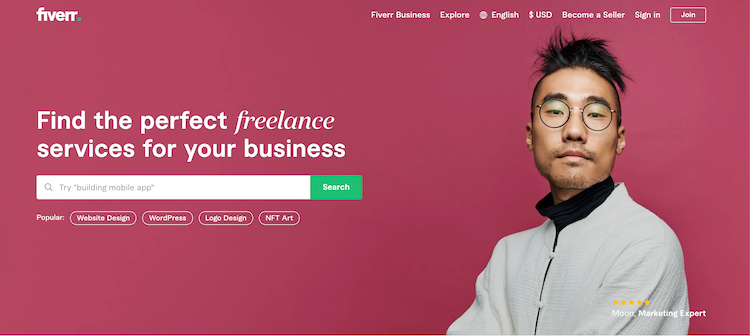 21. Upwork
Upwork is another freelancer marketplace where you can hire freelancers to handle tasks for your business. Find talented creatives and support such as listing copywriters, photographers, and product researchers. You can also speak to a talent scout to help find the right freelancer for your business.

Education
22. Jungle Scout YouTube channel
Want the best (free) Amazon selling advice on YouTube? Check out Jungle Scout's YouTube channel, which is filled with high-quality videos about starting and growing an Amazon FBA business.
Our video team is highly knowledgeable and entertaining, so you'll learn a ton and never get bored watching our videos! The information we provide in each video is better than most content you would find in an expensive Amazon FBA course, and the channel is kept up-to-date with fresh, relevant content
Check out one of our most popular videos, a complete in-depth guide on How to Sell on Amazon FBA for beginners.
How to Sell on Amazon FBA for Beginners | Complete Step-by-Step Guide by Jungle Scout (2022)
23. Jungle Scout blog
The Jungle Scout blog has hundreds of informative, well-researched articles about nearly every topic you can think of when it comes to selling on Amazon. The articles are fantastic resources for sellers just getting started and experienced sellers looking for more information on a specific topic.
Search our blog for the solution you're looking for, and we guarantee that we have an article for it. Click here to subscribe to our newsletter so you don't miss the latest articles and updates.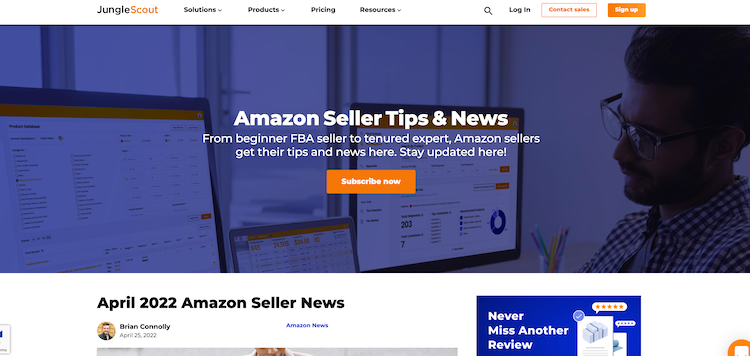 24. Amazon Seller University
Amazon's Seller University is a page filled with informative videos and articles about selling on Amazon and updates to make sure you're following Amazon's Terms of Service. The site has resources for beginners and established brands looking to expand their business on Amazon.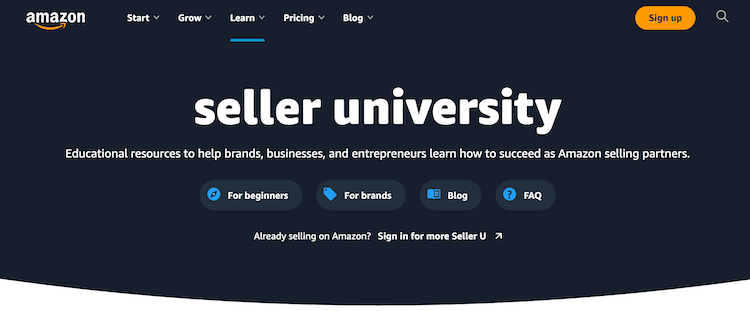 What tools do you use for your Amazon business?
We hope this definitive list helps you determine which seller tools are best for your Amazon business. Did we miss any? Which tools do you use for your business? Let us know in the comments!
Interested in learning more about how Jungle Scout can help you grow and run your Amazon business? Click the link below!