As the years go on, software and tools change quite a bit for Amazon sellers. With advancements in technology and the rise of AI, there are hundreds of apps, services, and Amazon seller tools to help you build a successful Amazon FBA business.
In this article, we will go over the best Amazon sellers tools to use to start, run, and grow your Amazon business.
Product/Price Research Tools
1. Jungle Scout
Since we are Jungle Scout, of course we are going to mention our suite of tools! Jungle Scout has been building advanced Amazon seller tools since 2015, so we have become synonymous with selling on Amazon.
In fact, according to Jungle Scout's State of the Amazon Seller Report, 65% of sellers use Jungle Scout to run or manage their Amazon businesses.
That's because Jungle Scout has everything you need to successfully sell on Amazon FBA — AI tools, product research tools, keyword research tools, sales analytics, inventory management, supplier search, and much more.
LEARN MORE | Learn more about Jungle Scout's new AI Assist tools
Here are the Jungle Scout tools you can use to research new potential products to sell on Amazon: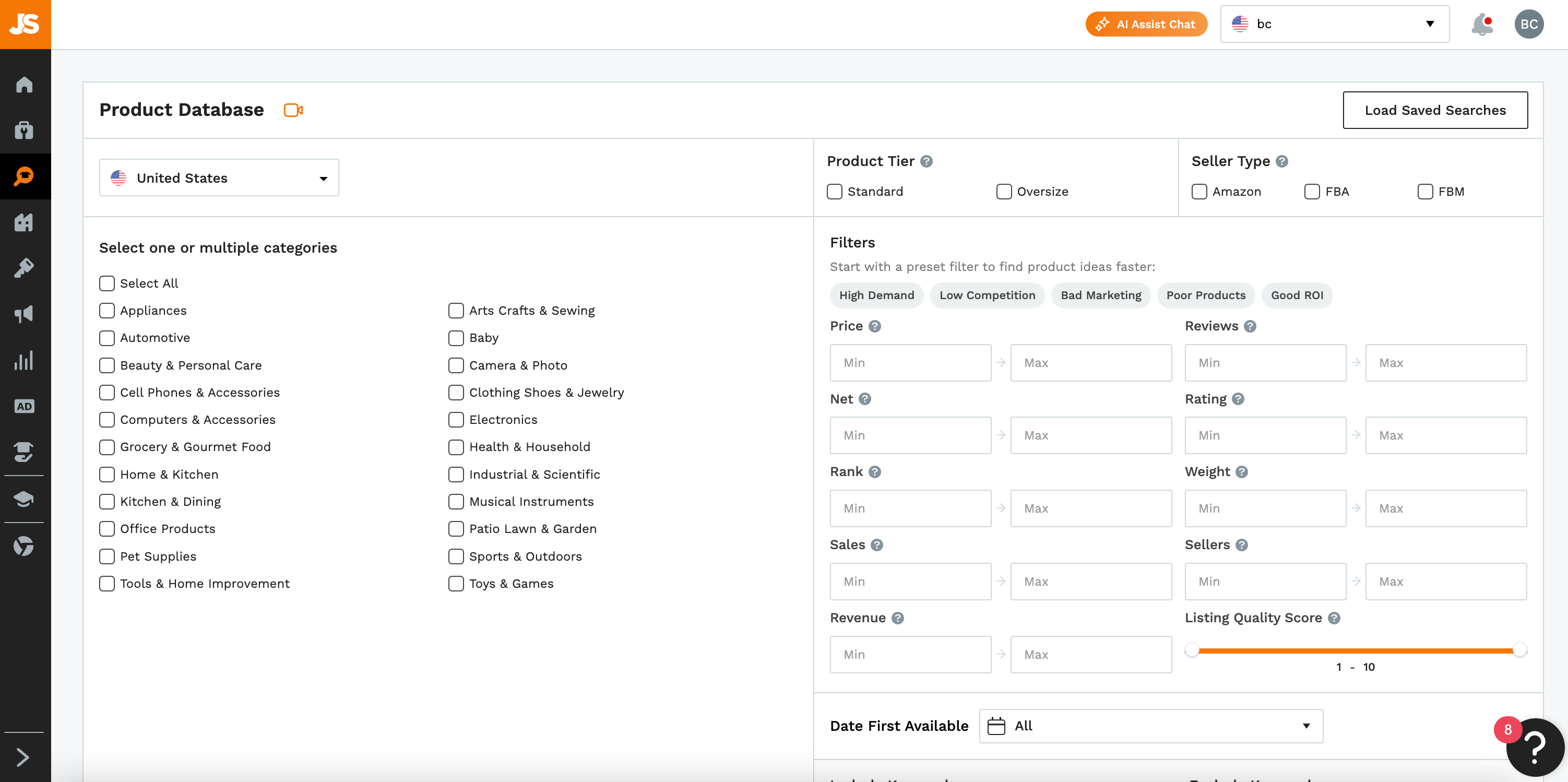 2. Keepa
Another very popular Amazon seller tool is Keepa. Keepa works similarly to the Jungle Scout Extension, where it will place a graph on each Amazon product listing page that shows historical data such as Best Sellers Rank, average price, number of sellers, and other useful information.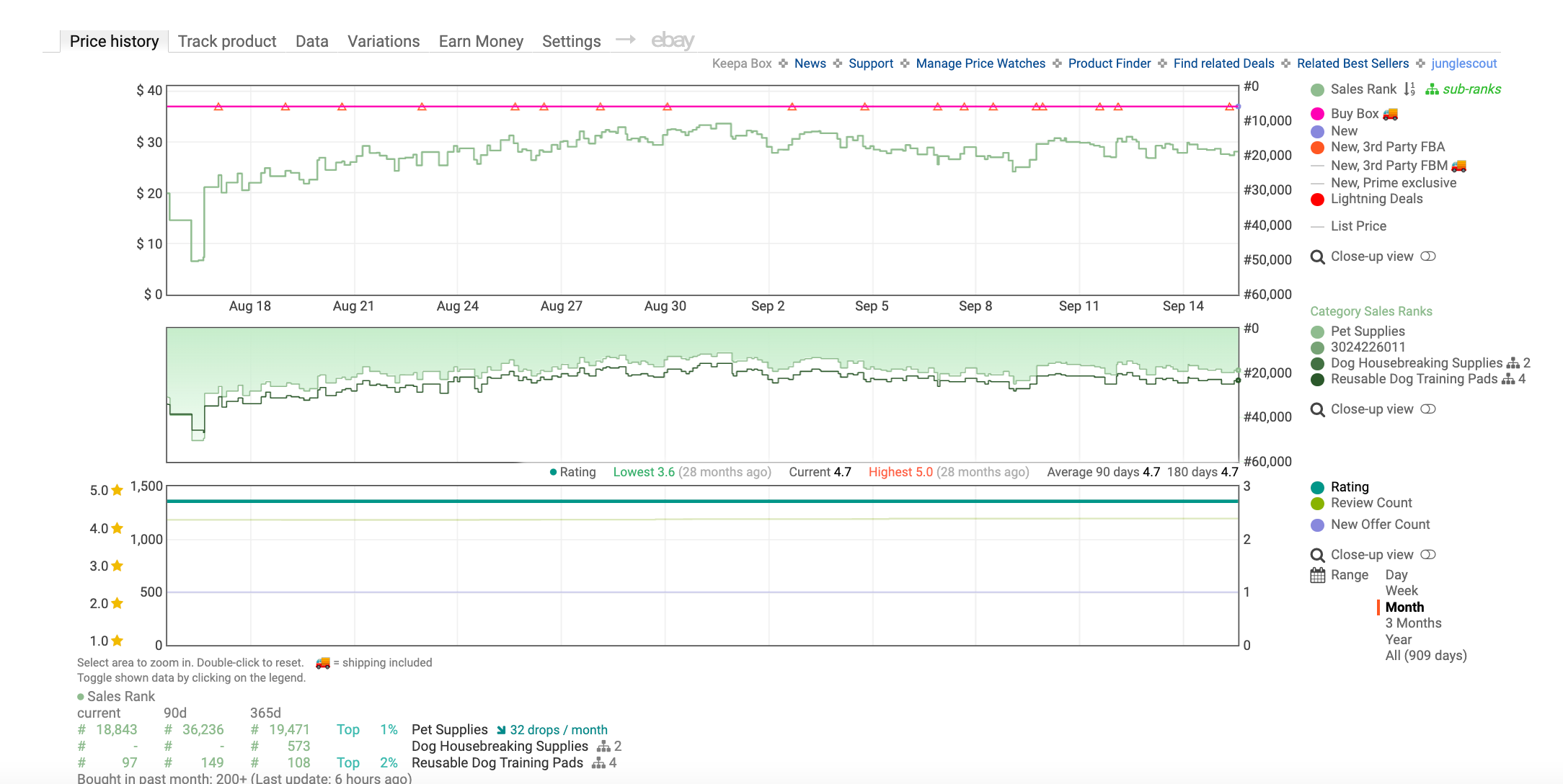 Keepa is a helpful tool to use while doing product research to see how well competing products sell over time. It is also very popular with retail arbitrage and wholesale resellers as average BSR and price are valuable information to have when choosing products to resell.
3. CamelCamelCamel
CamelCamelCamel is a free Amazon price tracker tool that is used by both sellers and consumers.
Like Keepa, this tool works well for private label, retail arbitrage, and wholesale sellers, as it tracks pricing trends, which will help you be competitive once you launch.
Sourcing/Importing Tools
4. Alibaba
Once you've discovered an awesome product you want to sell on Amazon, you'll need to source your product. One option is Alibaba, which is sort of like the Amazon of China—but for business to business transactions.
READ MORE | How to Buy Products on Alibaba to Sell on Amazon
Alibaba gives you direct access to thousands of suppliers and manufacturers around the globe. The site has been around as long as Amazon has too, and they vet each and every manufacturer on the site.
5. Supplier Database
You can either start your search for a manufacturer using Jungle Scout's Supplier Database, or you can use it to validate your choice of the manufacturer you found on Alibaba.
Supplier Database displays real import data for suppliers who have shipped to the States, and you can even see the names of their customers—which means you can see who your competitors use to make their products.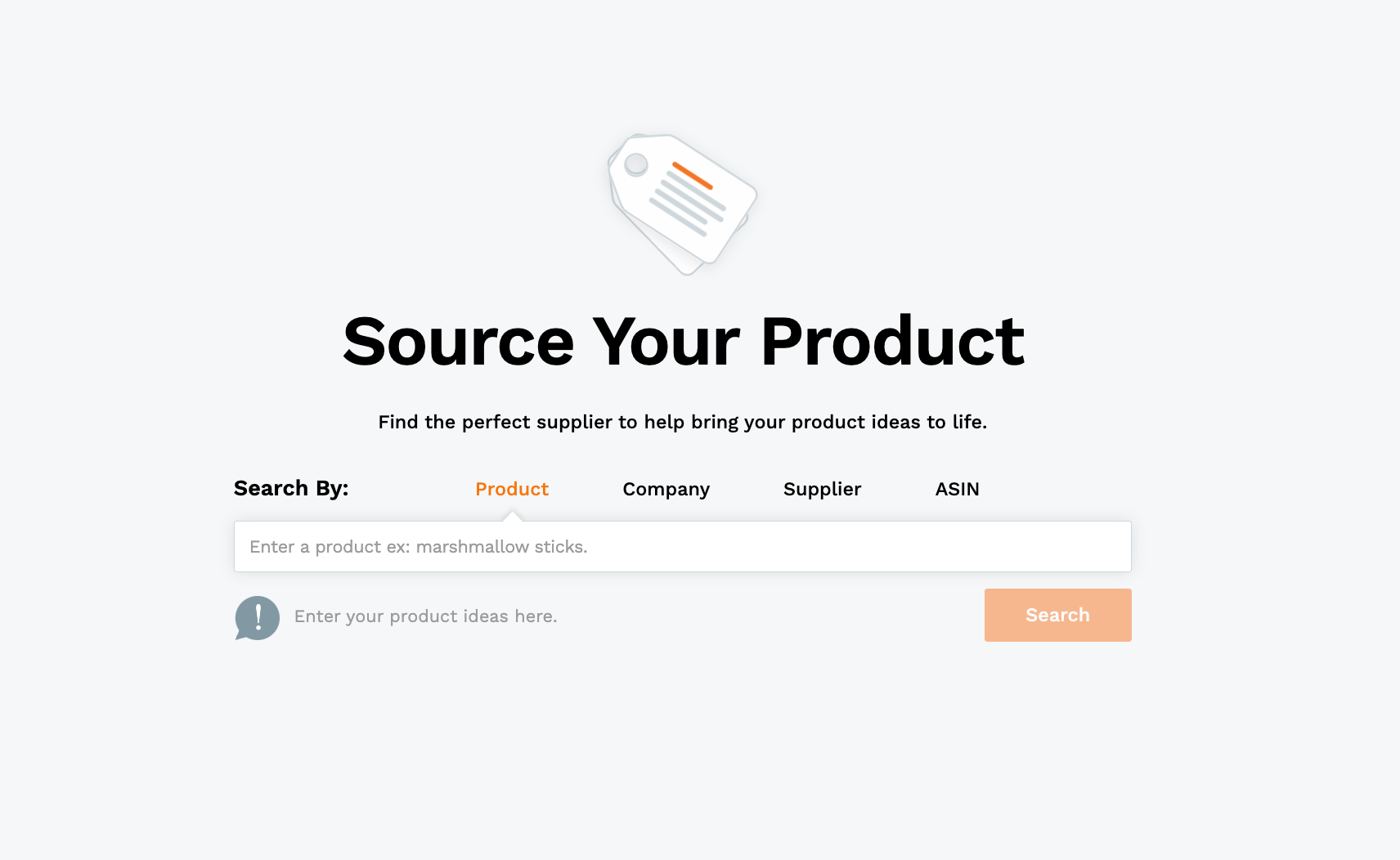 6. Flexport
After you make a deal with a supplier, you'll need a logistics company to help you import your product. Flexport can help you find the best shipping prices, not to mention that they can also help you deal with all the customs, tariffs, and everything else that goes into bringing in products from foreign countries.

7. Inventory Manager
Part of Jungle Scout's suite of Amazon seller tools, Inventory Manager helps sellers predict how much inventory your FBA business will need and when to restock.
In addition, Inventory Manager directly integrates with your Amazon Seller Central account to help sellers predict FBA sales and profits, and to avoid Amazon storage fees.
Listing Optimization Tools
8. Jungle Scout Listing Builder with AI Assist
Jungle Scout also has a Listing Builder tool with AI Assist that helps sellers write and optimize their listings in minutes. Using keyword banks from Keyword Scout, Listing Builder AI Assist will take the keywords and create compelling listing copy automatically for you.
The tool is great for sellers who aren't great copywriters, want to save time writing listings, or want to save money from hiring a professional listing copywriter.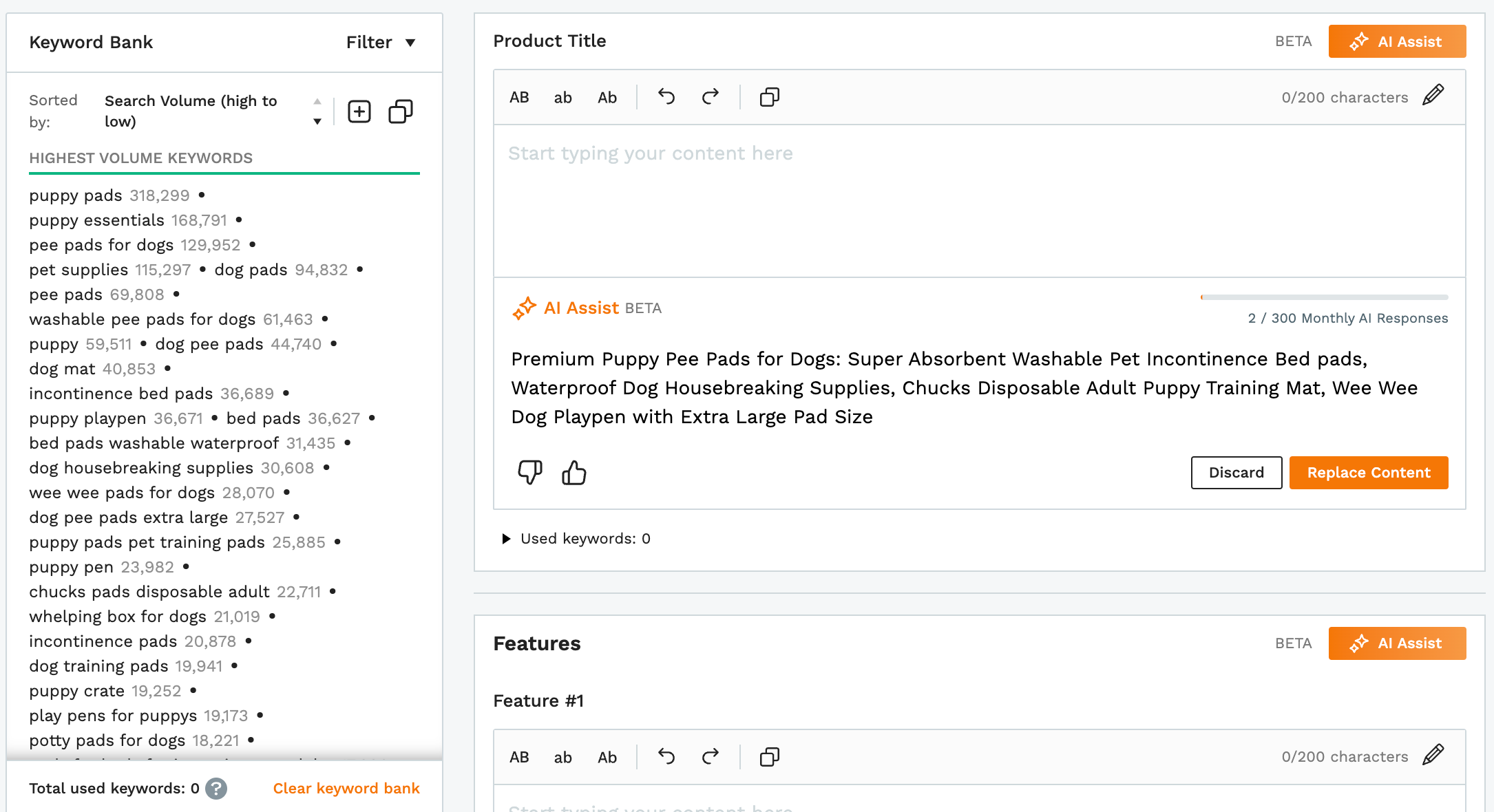 9. Blend Express
Eventually you might want to expand your Amazon FBA brand into different markets. After all, Amazon has marketplaces on nearly every continent now.
But in order to sell in some of those markets, you'll need to have your products and landing pages translated. With Blend Express, you can have all of your product's copy and information quickly translated and ready to go for any Amazon marketplace.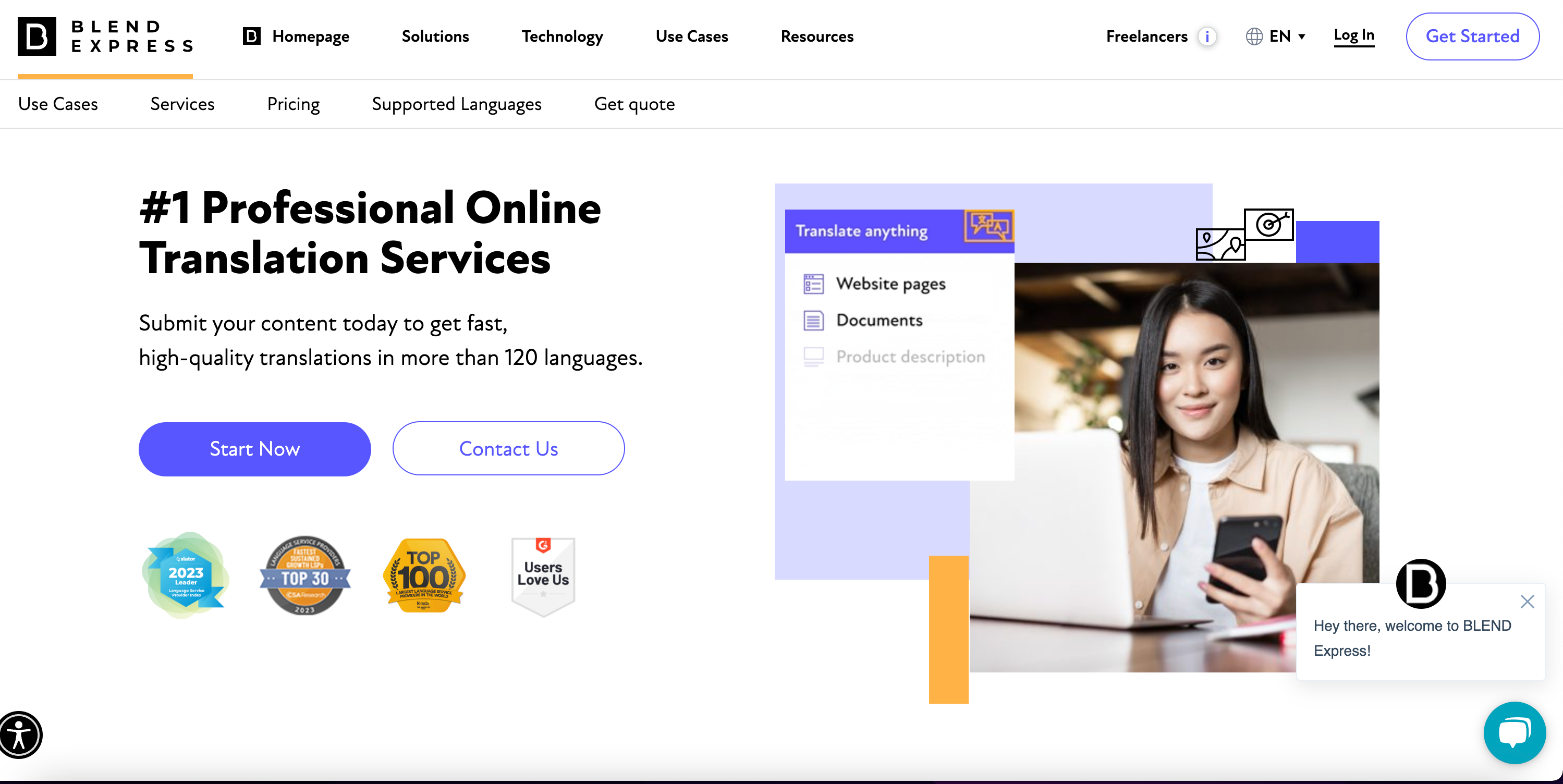 10. Manage Your Experiments
Manage Your Experiments is a tool available to sellers enrolled in Amazon Brand Registry within Seller Central. This tool allows sellers to create A/B tests on various aspects of their listing to experiment with two different versions to see which performs better.
For example, you can run experiments on your A+ Content, bullet points, product images, product description, and product title.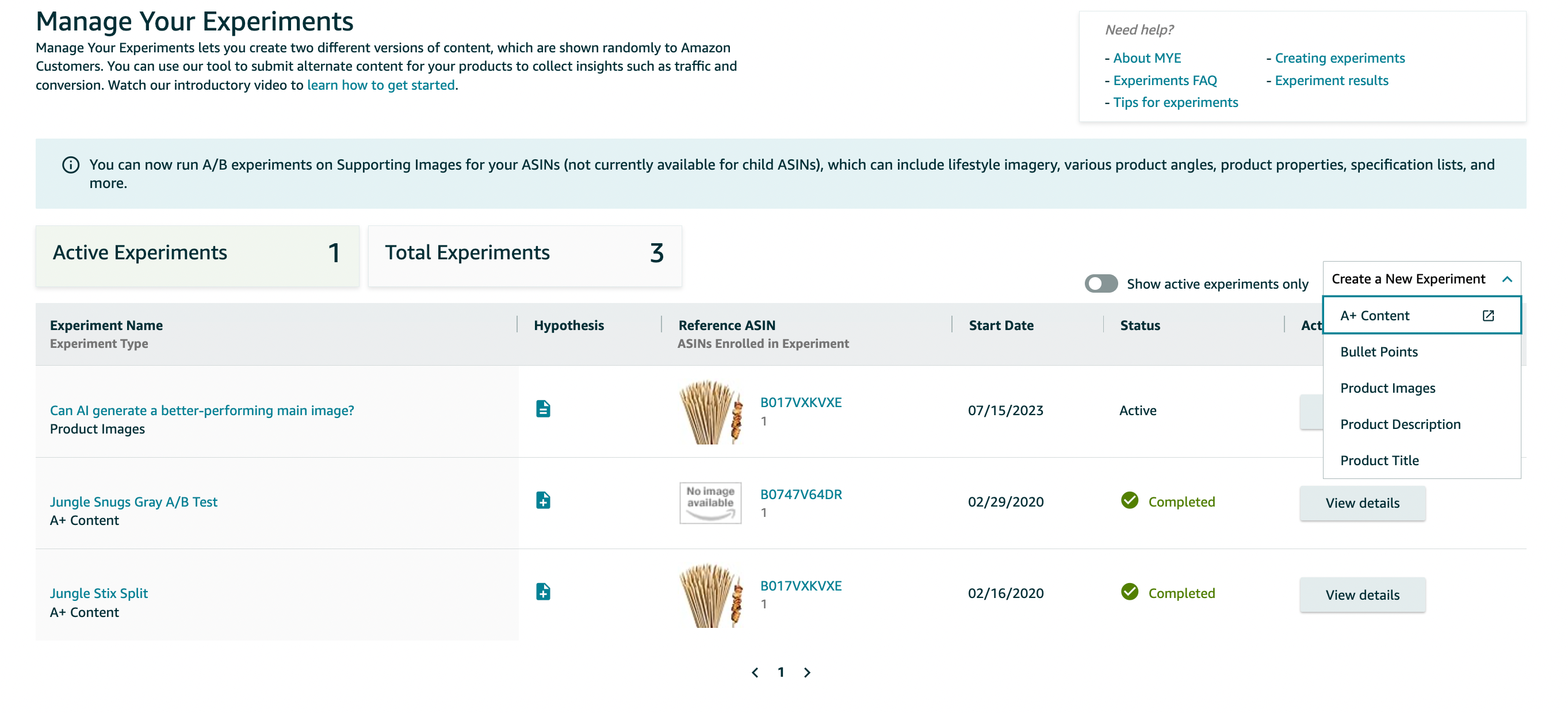 PPC and Advertising Tools
11. Keyword Scout
The easiest way to advertise your listing is by using Amazon's own internal advertising platform, Amazon PPC. Of course, just having ads running isn't enough. You will need to find good keywords, too.
And the best keyword research tool anywhere is Jungle Scout's Keyword Scout. It actually pulls real search data straight from Amazon, letting you see exactly how customers are searching for products like yours. All it takes is a few minutes and you'll have thousands of high-volume keywords at your disposal.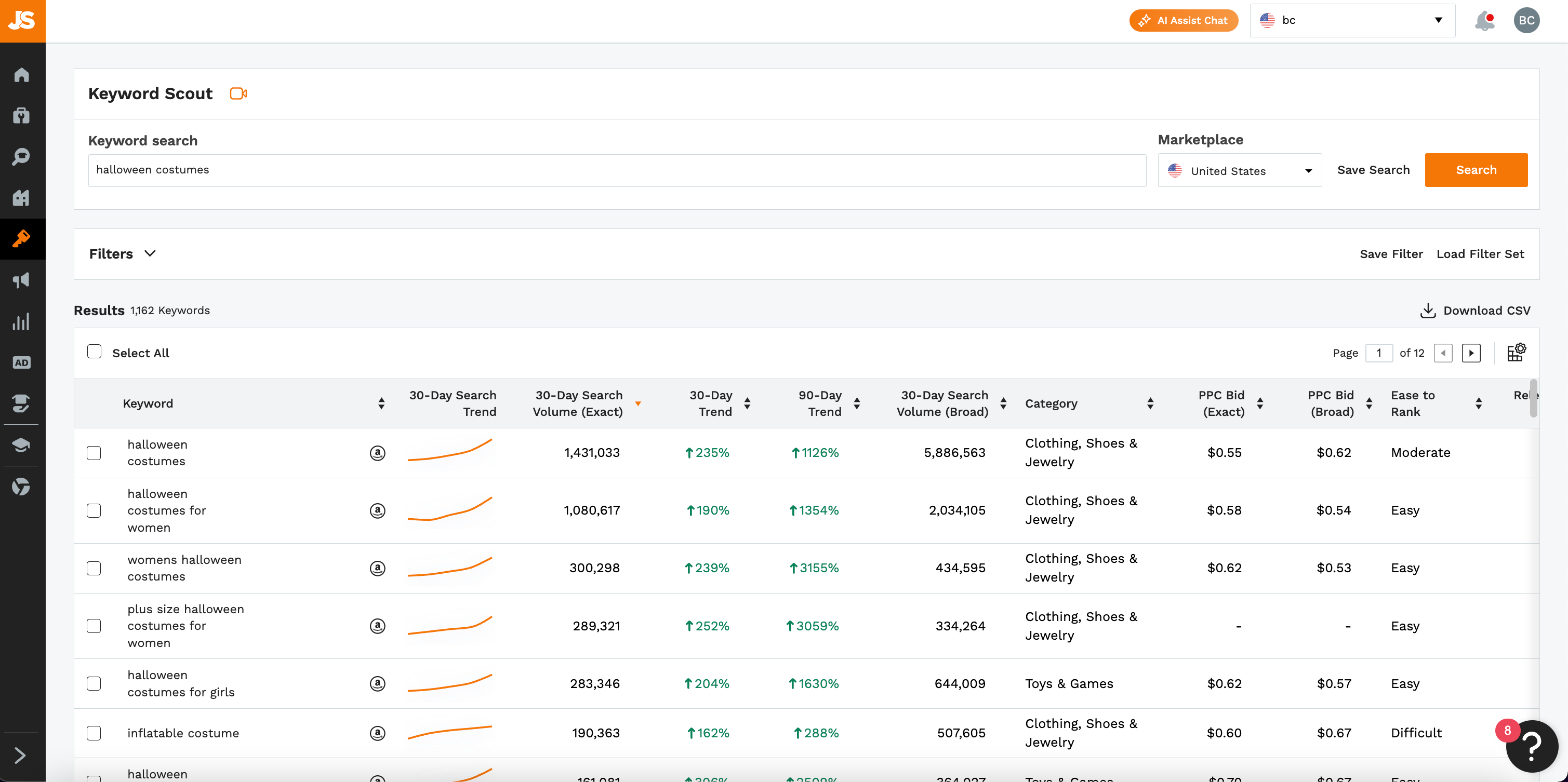 12. Google Keyword Research
Amazon is probably the best place to start your keyword research, since 57% of consumers shopping online start their searches there.
However, Google is a great place to do keyword research using their free Google Keyword Planner. Since Google offers up information on its own keywords, you can see monthly search volume, seasonal trends, and even advertising costs for those keywords.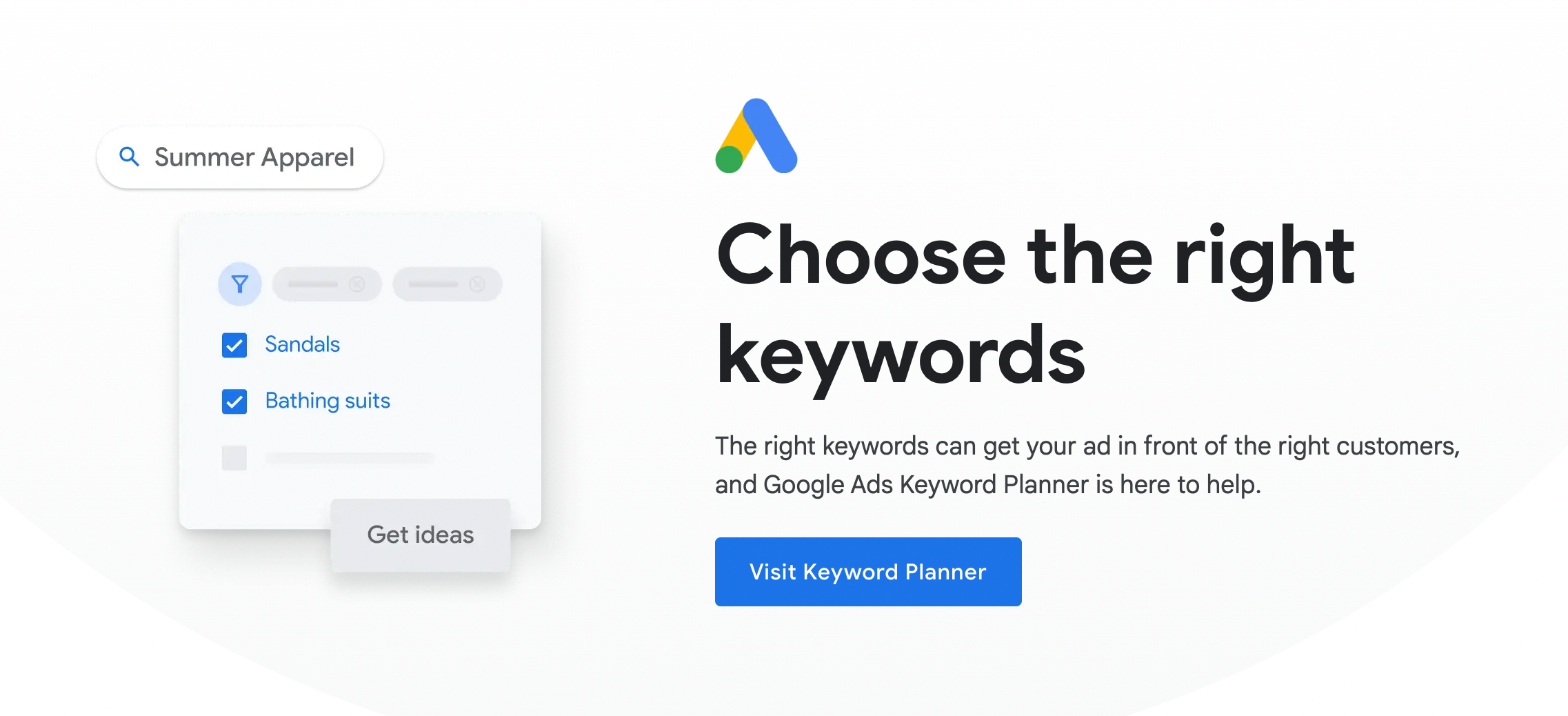 13. Advertising Analytics
Another tool within the Jungle Scout suite to help you run your business is Advertising Analytics. The tool aggregates Seller Central and Campaign Manager data to help sellers evaluate the success of their PPC campaigns.
Analyze advertising profitability with metrics and data visualizations at a company, ASIN, and campaign level.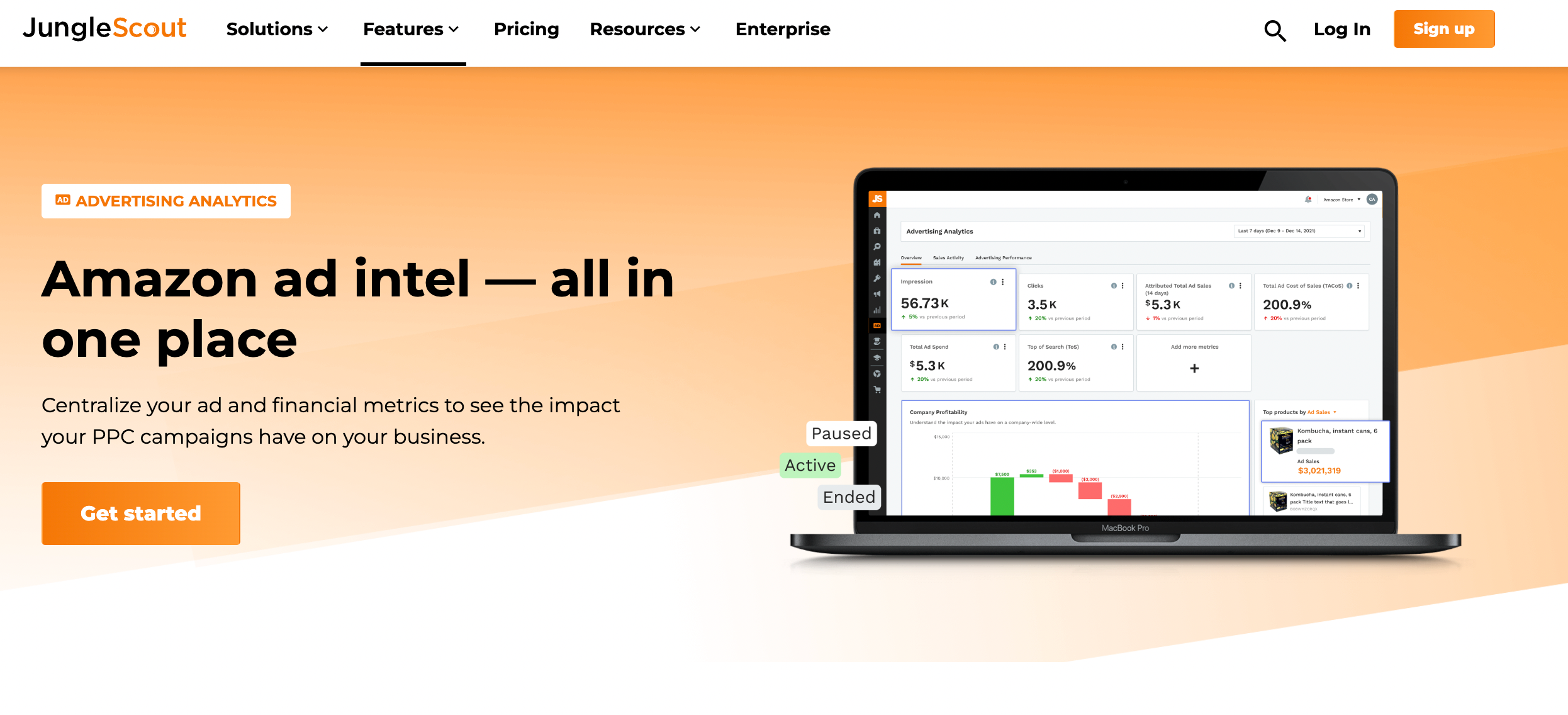 Accounting/Profit Tracking Tools
14
.
Sales Analytics
Amazon's business analytics is a useful back end tool for Amazon FBA sellers, but it doesn't include important things like the cost of your product or any other costs outside of Amazon. And, frankly, it can be a little overwhelming.
Fortunately, we have a feature called Sales Analytics that takes all of that data and makes it easy to understand. It's incredibly easy to use, integrates directly into your Amazon Seller Central account, and tracks your Amazon FBA profits.
Sales Analytics now has AI Assist which analyzes your sales data such as revenue, cost of goods sold, and fees, and delivers a comprehensive report with insights and tips sellers can use to improve and optimize their business.

Amazon Seller Apps
15. Amazon Seller App
The Amazon Seller app lets you see your Amazon orders the moment they come in. You can also check your inventory levels, sales history, seller communications and more. You can even use it when sourcing products to sell via retail arbitrage with the built in barcode scanner.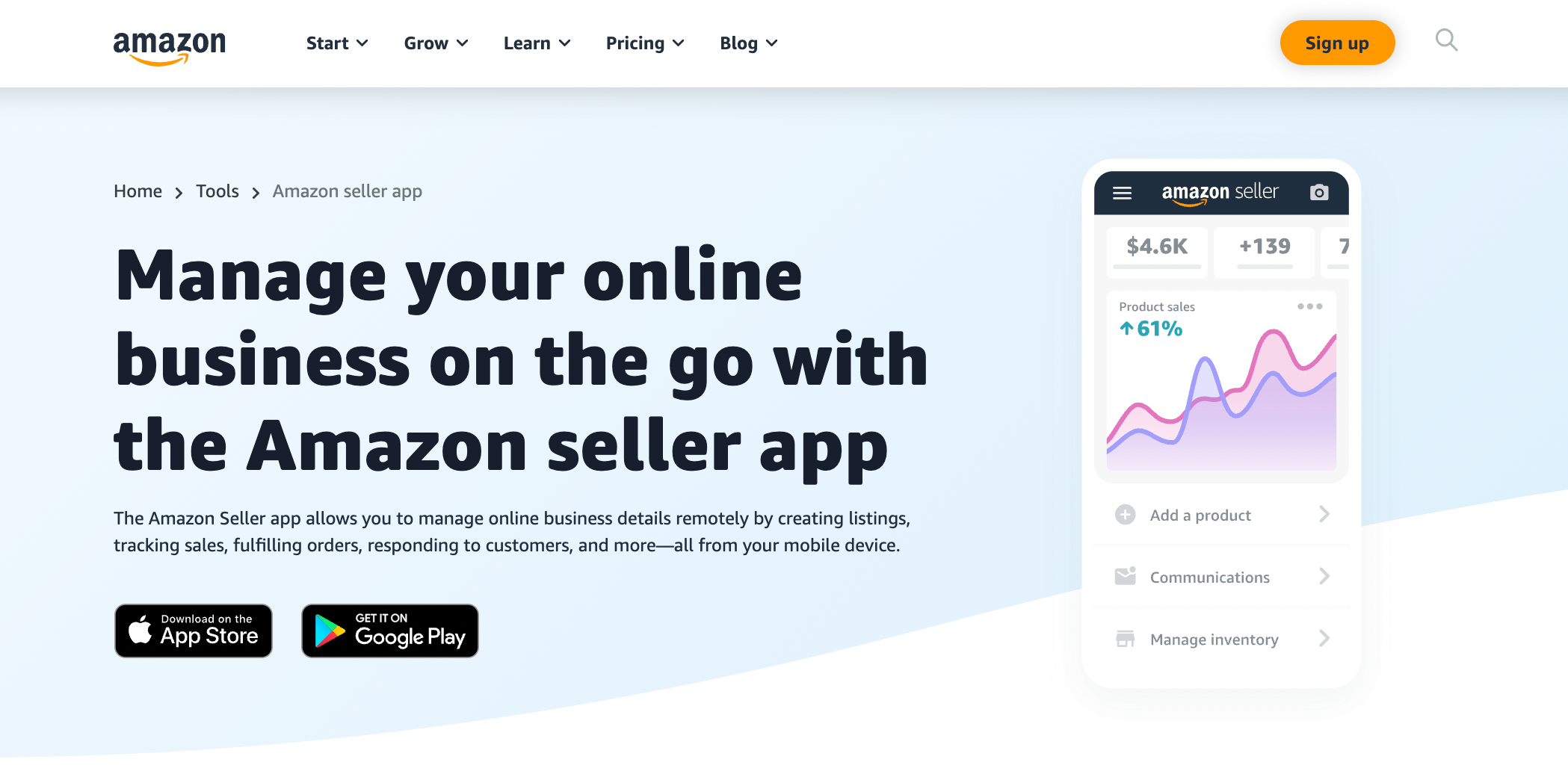 16. Profit Bandit
If you decide to become an arbitrage seller, then Profit Bandit is probably the most helpful tool you'll ever use. It actually lets you scan products you find in stores, cross referencing the price in the brick and mortar store with its current price on Amazon. Then, it will tell you how much profit you stand to make if you buy that product in the store and resell it on Amazon.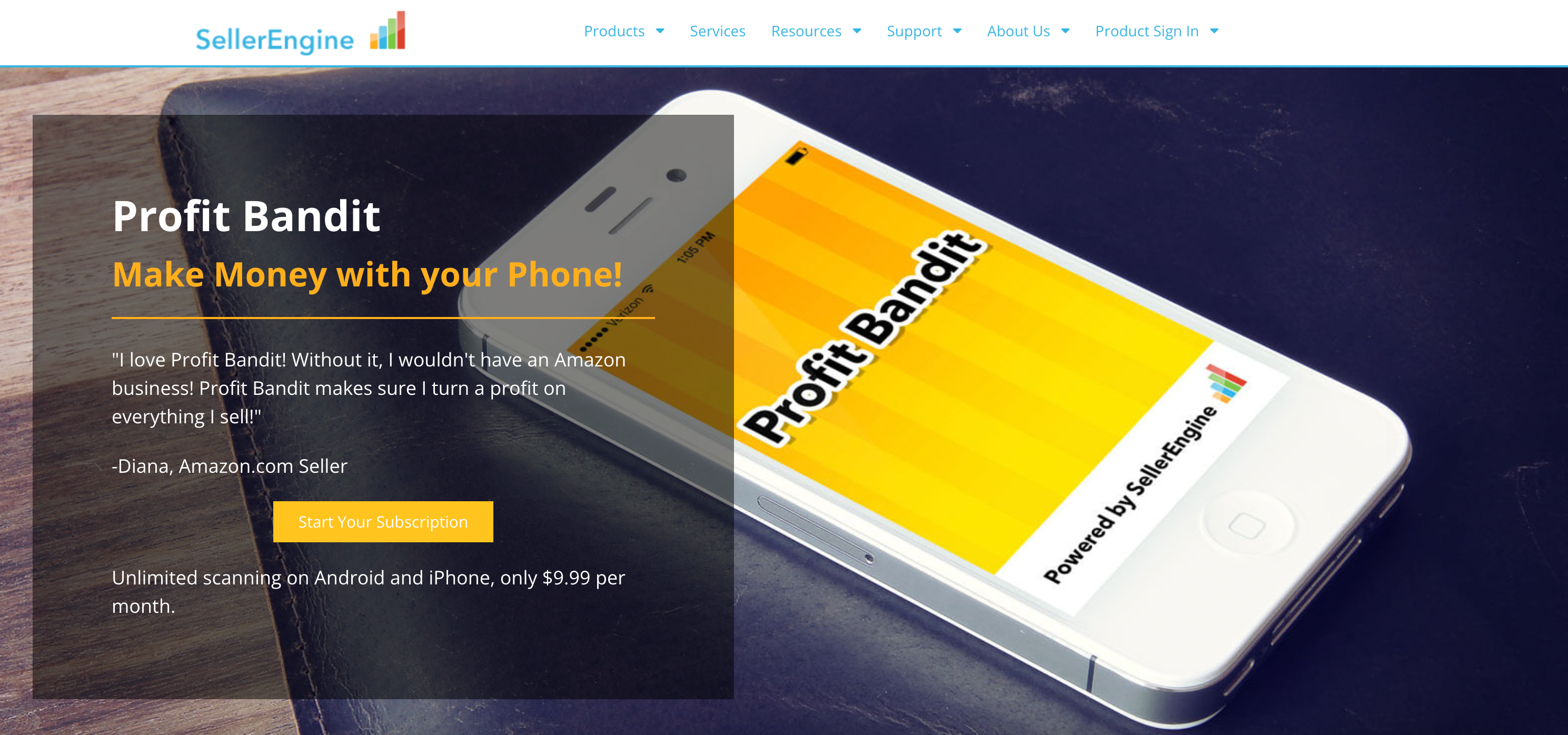 Product Reviews
17. Review Automation
Gaining (positive) reviews is one of the biggest challenges for Amazon sellers, as most customers simply do not leave reviews.
Jungle Scout's Review Automation tool will automatically send Amazon-ToS approved review requests to your customers—increasing your chances of earning those sought-after reviews.
Simply turn the tool on in Jungle Scout, and the tool will do all the work for you.
18. Review Analysis
‍Jungle Scout's Review Analysis with AI Assist makes analyzing reviews easier by automatically gathering reviews of any given ASIN and sellers provides actionable analysis.
The tool provides both a comprehensive analysis of reviews so a seller can improve the product and serves as a product research tool, allowing sellers to analyze any ASIN's reviews to identify common positive or negative trends to evaluate product opportunities.
This gives users of Jungle Scout a significant competitive advantage against non-Jungle Scout users, as they will be better informed regarding product design and iteration.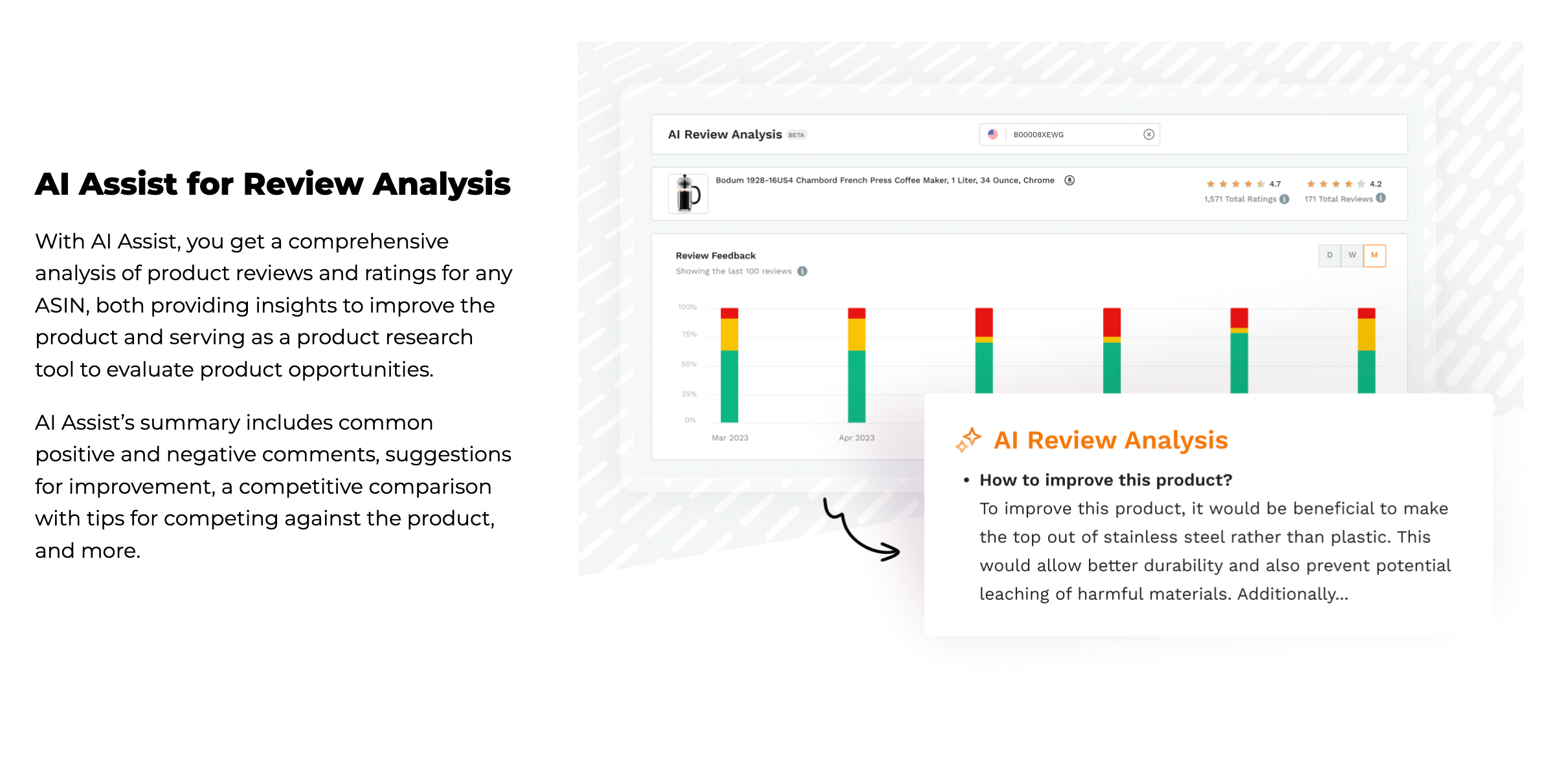 Thanks for reading!
Hopefully, this definitive list of Amazon seller tools will help you, regardless of which stage of the Amazon FBA sales process you're in: beginner or expert, garage-entrepreneur or enterprise owner.
Click the link below to learn more about Jungle Scout's powerful suite of intelligence tools for Amazon Sellers.