Whether you are a brand new Amazon seller beginning your research or an experienced Amazon vet, it can be difficult to figure out which product category to focus on.
With over 40 categories to choose from, how do you narrow down your research and find the best niche to put all your focus on?
At Jungle Scout, we conducted a survey with over 2,000 sellers and found out what the most and least popular main categories were among Amazon businesses.
In this article, we will be going over:
Want to learn more about selling on Amazon? Check out our complete guide.

What Amazon product categories do shoppers buy from the most?
When selling on Amazon, or any other platform, it is important to know where and what consumers are buying. You wouldn't want to set up shop at a flea market and realize you're in the wrong parking lot, right?
The same goes for Amazon and ecommerce. If you create a product in a niche or category that very few people shop in, you're going to have some trouble.
Taken from our 2023 Q3 Consumer Trends Report, the graph below examines buyers' changing spending habits in multiple top Amazon categories compared to Q2 of 2023.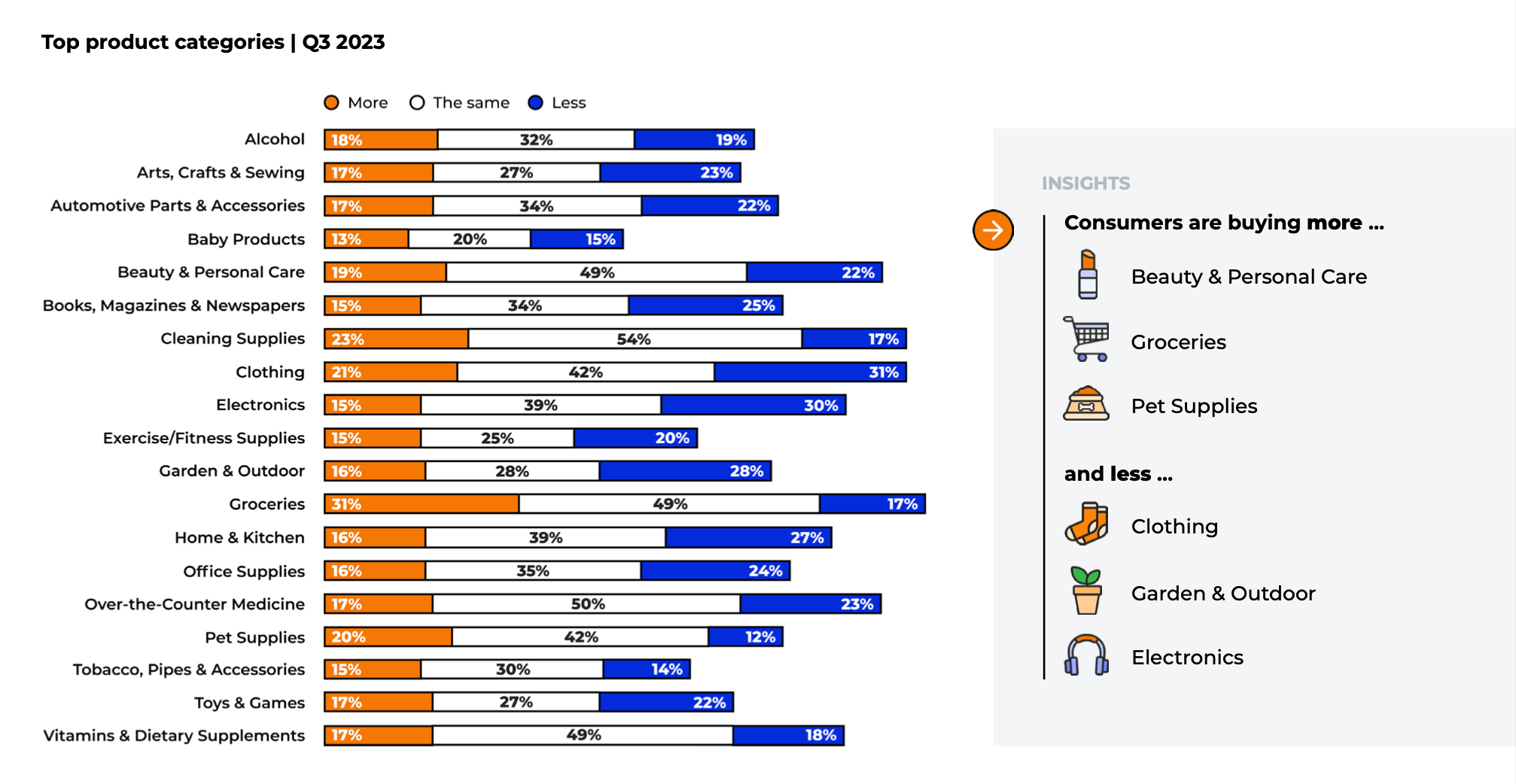 While there is a large number of shoppers in these categories, that could mean there's also a large number of sellers as well.
Not only do you have to measure whether or not there are buyers for your product, but you also have to measure the amount of competition. In a sea of garlic presses and apple slicers, it can be hard to stand out.
Most popular product categories among Amazon sellers
It is no secret that selling on Amazon has become increasingly popular over the years, thus increasing the amount of competition for existing sellers.
According to our 2023 State of the Seller Survey, these are the top 10 categories sellers have products listed in:
Top 10 categories
| | |
| --- | --- |
| Home & Kitchen | 35% |
| Beauty & Personal Car | 26% |
| Clothing, Shoes & Jewelry | 20% |
| Toys & games | 18% |
| Health, Household & Baby Care | 17% |
| Baby | 16% |
| Electronics | 16% |
| Sports & outdoors | 16% |
| Pet Supplies | 13% |
| Office Supplies | 13% |
–
Sellers could select multiple categories.
A question I immediately ask myself is: Are these categories too competitive? The last thing you want to do is jump into an oversaturated market with little-to-no chance of reaching page one.
Here are some additional issues with selling in a popular product category:
39% of sellers are concerned about increased competition driving prices down.

The more competition a particular niche or product has, the harder it will be to compete on price

Categories that are more saturated will have higher advertising costs.

This can include a higher CPC (cost per click), as well as hiked up advertising costs with diminishing returns.
This is why product research is such an important step when choosing a product to sell on Amazon.
In a later section, I'll explain how you can dig deeper into various subcategories to find better product opportunities.
Why do so many people sell in Home & Kitchen?
It's no surprise that the Home & Kitchen category is the most popular among sellers. Everyone uses some type of home or kitchen product in their everyday lives.
Lower barrier to entry.

Selling in this category is easier than others because it is not restricted to new sellers.
Easier to think of product ideas.

Everyone has some type of kitchen or home product in their house.
Most products don't have complicated requirements.

Examples of this include supplements, food expiration dates, toy certifications, auto parts, and so on.
Easy to manufacture.

Search through a few kitchen supplies on

Alibaba

and see how easy it is to get almost any kitchen product you can think of.
How you can find a popular category to sell in

Luckily, there are a handful of tools and strategies you can utilize to find popular product categories that aren't prohibitively competitive. Here are a few of our favorite tactics.
1. Keyword Scout & Opportunity Finder
Use Jungle Scout's suite of powerful tools to help you conduct more accurate product research and. Great ways to find low-competitionlow competition products, in high demand.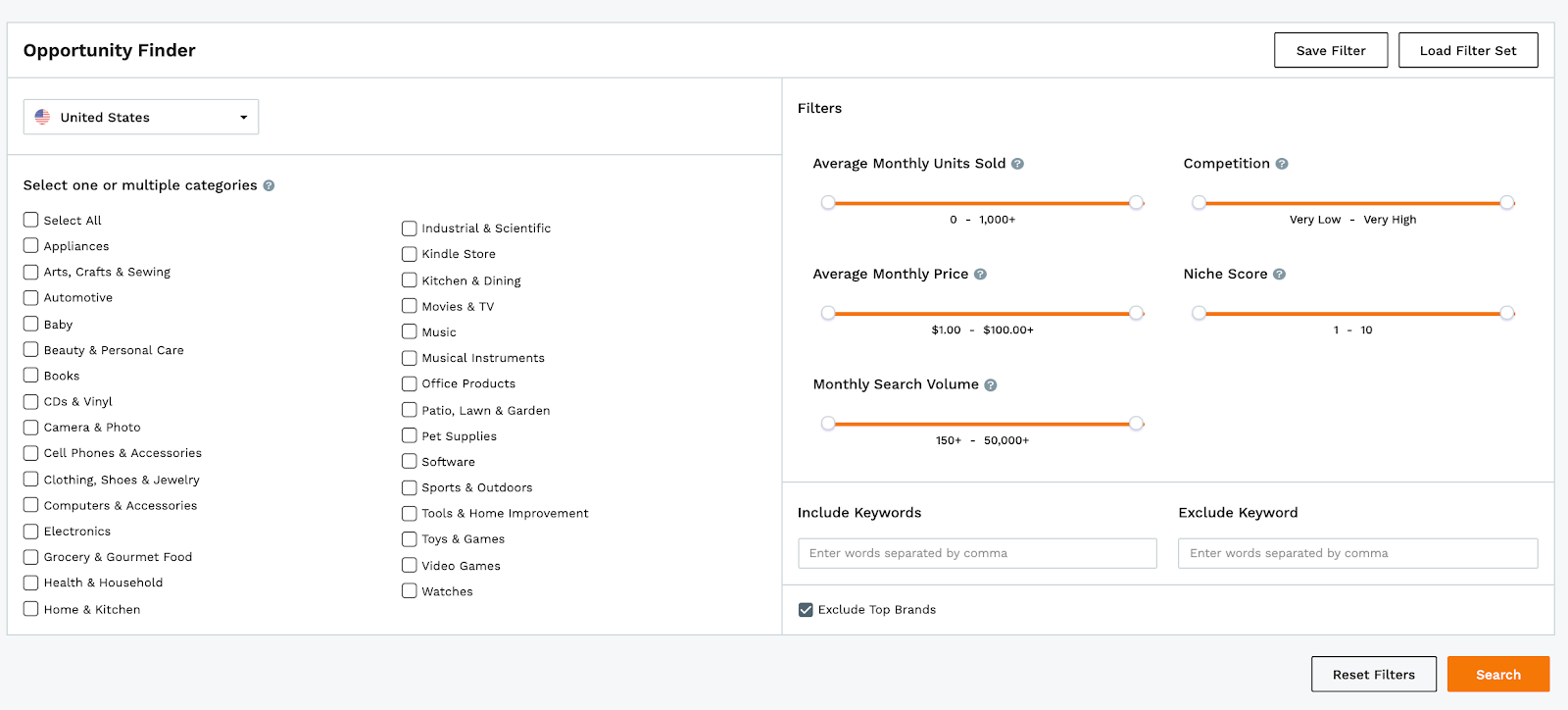 2. Google Trends
A free, powerful tool that will show you the current trends in today's world. A great place to get ideas for a new product or a growing category.
While many consumers have stated they will be buying less in 2023 due to increased inflation, categories such as groceries, pet supplies, and beauty & personal care have seen an increase in purchasing in Q3 2023.
79% of consumers say inflation has affected their spending in 2023 — look for categories that consumers need to spend in versus want to spend in, and figure out ways you can offer discounts or deals to ease some of the financial pressure consumers are feeling.
4. Find a low- competition niche
The idea is to start with a broad topic and conduct deeper research into your initial subject. While the broad subject you searched may be highly competitive, the deeper you dig down the "rabbit hole", the more likely you'll discover an untapped market. Read about how to find a low competition niche here.
Least popular product categories among Amazon sellers
On the flip side, here are the least popular product categories, according to our 2023 State of the Amazon Seller Survey.
| | |
| --- | --- |
| Appliances | 12% |
| Garden & Outdoor | 11% |
| Cell Phone & Accessories | 10% |
| Apps & Games | 8% |
| Automotive | 8% |
| Handmade | 6% |
| Computers | 5% |
| Industrial & Scientific | 5% |
| Collectibles & Fine Art | 5% |
| CDs & Vinyl | 4% |
| Luggage & Travel Gear | 4% |
| Video Games | 4% |
| Musical Instruments | 2% |
Though fewer sellers list products in these categories, they can still be profitable. Remember:
Profitability does not depend on the main category's popularity. It depends on the niche chosen

, the competitiveness of your product,

price

, cost of goods, and several other factors.

Fewer sellers could mean more opportunity for sellers. 42% of Amazon shoppers buy from the electronics category in 2023 but only 16% of sellers list in electronics.
Conduct product research in these categories. If you don't have a product in mind and the product category doesn't really matter to you, then you should stand out from the crowd and search through the less obvious category options.
Are some categories more profitable than others?
While some categories may be more popular than others, every category has profitable sub-categories.
Home & Kitchen is the number one category among sellers but there are plenty of subcategories that are not profitable because of increased competition, price wars, direct competition from Amazon, and increased PPC costs.
Our survey shows that there are profitable sellers in every category but some show to be more profitable than others. In fact, less popular categories can be more profitable than popular categories. For example:
Home & Kitchen

. (2% of sellers have 51%-100% net profit.)

Arts, Crafts, & Sewing.

(10% of sellers have 51%-100% net profit.)
Based on our survey, here are the categories with the most profitable sellers (21% net margin and up):
Beauty & Personal Care:

30% of sellers

Home & Kitchen: 30% of sellers
Clothing, Shoes & Jewelry: 27%

of sellers

Arts, Crafts & Sewing: 23% of sellers
Electronics: 22%

of sellers

Sports & Outdoors: 21%

of sellers

Health, Household & Baby Care: 21%

of sellers

Toys & Games: 20%

of sellers

Grocery & Gourmet Food: 19%

of sellers

Cell Phone & Accessories: 17%

of sellers

Appliances: 17%

of sellers

Office Products: 17%

of sellers

Baby: 16%

of sellers

Pet Supplies: 16%

of sellers

Books: 15%

of sellers

Tools & Home Improvement: 15%

of sellers

Automotive Parts & Accessories: 13%

of sellers

Garden & Outdoor: 13%

of sellers

Handmade: 11%

of sellers

Collectibles & Fine Art: 10%

of sellers
Note: Sellers often sell in multiple categories
Which categories potentially have more opportunities
It's interesting that one of the least popular categories (handmade, 6% of sellers) has the highest number of profitable sellers (above a 20% margin).
While there are profitable sellers in every category on Amazon, there are a considerable number of sellers who are also not profitable. Out of everyone surveyed, 8% of sellers are not profitable, and another 8% don't know their numbers.
In the most popular category (Home & Kitchen) 14% of sellers are unprofitable or don't know their profit margin.
Picking one category over another will not guarantee that your product will be profitable, but there is an opportunity in less popular categories.
Automotive Parts & Accessories accounts for only 87% of sellers, but 42% of auto sellers see profit margins of 21% – 100+%.
The automotive category is restricted to new sellers but can be worth the upfront hurdles to have the ability to sell in categories others cannot.
Less popular categories will also have less competition.
Your ability to sell in a less popular market depends on your ability to:
How to find lower competition products in a popular category
The key to finding high demand, low competition products is to really niche down (dig deeper) in your main category. The further you go into subcategories and the more specific you get, the better chance you have to find a market with limited competition.
You can still find lower competition sub-niche within a large, popular category.
For example,

Home & Kitchen > Kitchen & Dining > Storage & Organization > Countertop & Wall Organization > Vertical Plate Holders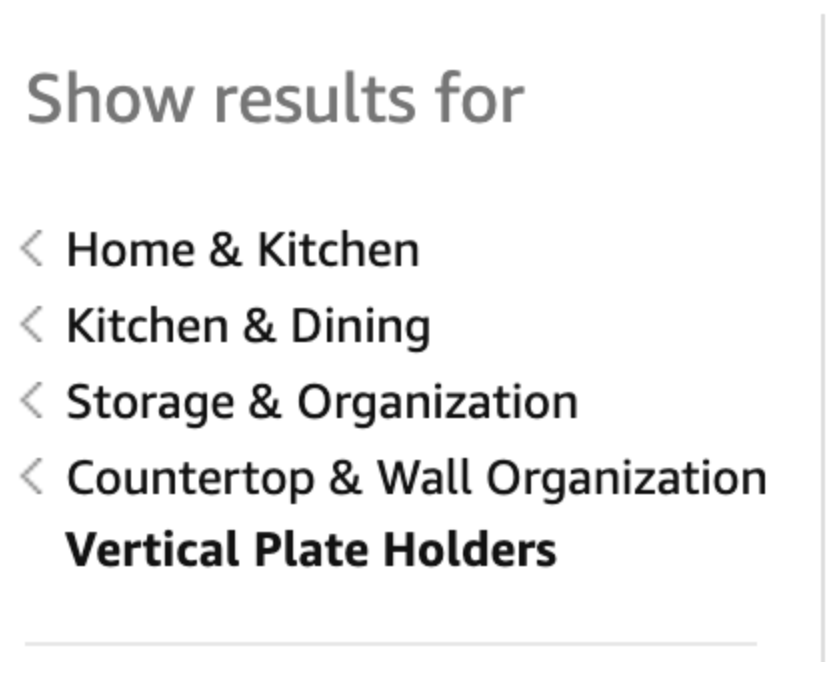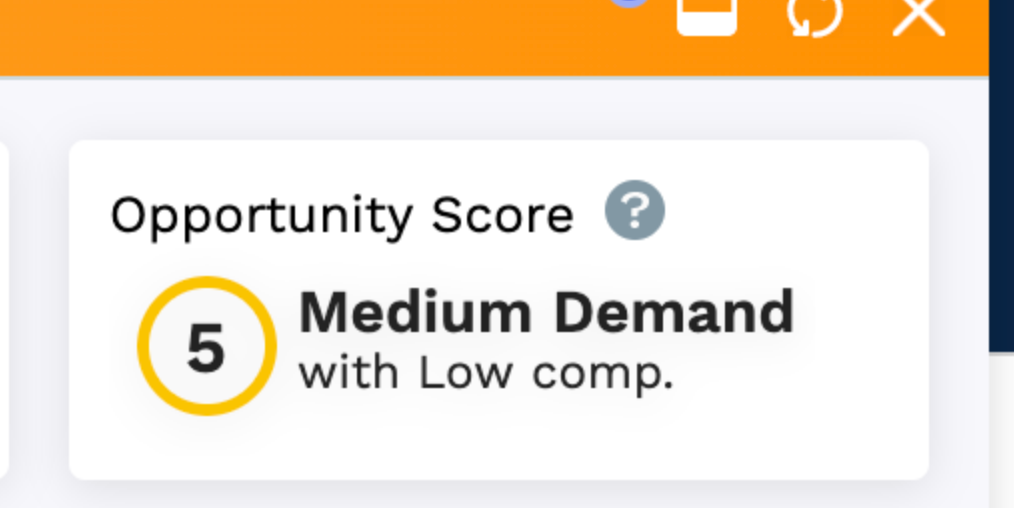 In just five minutes, we were able to find a medium demand product with low competition.
Now, you will need to do more research to determine whether or not this is a good category to target — this is just to give you an idea of how simple it can be.
Don't skip or rush the product research phase. Continue to dig deeper into every subcategory until you can find a low competition/high demand product with consistent sales history.
Does it matter what category you sell in?
As you can see from the data in our seller survey, there are profitable sellers in every category on Amazon. Finding a category or market with limited competition won't be easy, but it will be worth it.
Again, it depends on product research, competitiveness, etc. Remember:
Demand is more important than category

Be different; don't just sell in a popular category because that's what everyone else is doing

Amazon is very competitive — get creative!
Using Jungle Scout tools to find untapped opportunities
At Jungle Scout, we create tools that make your life as an Amazon seller a little easier. Especially when it comes to product research.
With tools like Product Database and Opportunity Finder, you will be on your way to a profitable product idea in no time.
Paired with the Extension, you can get a quick overview of the demand and competitiveness of your product
Which top Amazon category will you sell in?
When it comes to growing your business or selling on Amazon, everyone has different goals they're trying to reach. This post isn't about telling you which category you should be selling in, it is to get you to think outside of the box so you have the best chance for success when selling on Amazon.
Make decisions based on data and not what you think will sell well.
To learn more, check out this video that helps you decide which category to sell in!
If you have any other questions regarding the top Amazon product categories or product research, post your comments below!
Learn more about Jungle Scout here: