Aspiring entrepreneurs have looked for innovative ways to make money. Fortunately, Jungle Scout's research has proven time and again that running an ecommerce business is a viable way to earn an income—and can generate enough profit to replace a full-time job.
Ecommerce offers entrepreneurs the kind of flexibility a traditional retailer could only dream of. Online sellers set their own hours, pay what they want to launch and grow their businesses, and can work from anywhere in the world. They succeed at all ages and education levels, many with no prior business experience.
Selling products online isn't just accessible—it's meeting an enormous surge in demand for online shopping. As more consumers shift to shopping on their phones, tablets, and even smart speakers, opportunities to launch ecommerce businesses will only grow. In fact, 57% of consumers shop online at least once a week.
If you've been thinking about starting a business online, now is the perfect time to get the ball rolling. We'll go over how to launch an ecommerce business in five detailed steps, plus how to plan for future growth—even if you have zero startup funds.
Step 1: Research your product idea
The first step to launching your online business is often the biggest bottleneck: finding a profitable product to sell.
Notice that step one of starting a business isn't fundraising. You can start a business at virtually zero up-front cost—stay tuned to find out how.
If you don't have any product ideas yet, don't worry! Thinking about how you want to sell online will inspire you.

Choose a business model
There are all kinds of ways to sell products online, but here are seven tried-and-tested, profitable options:
Your business model will help determine where you source your products, your marketing plan, and how much you stand to profit. Check out our guide to Amazon business models to learn more about each method's popularity and profitability.
Note that you can sell online in more than one way—for instance, you could start selling used items to earn enough money to develop your own private-label product.
Validate your product idea with data
Here's a gut check: Your product decision can't hinge on a hunch.
That's right—you can't just take the revolutionary idea you conjured in the shower and run with it. You have to validate its profitability through product research, even if your family, your friends, and your dog all think it's a million-dollar idea.
Product research answers many of the necessary questions any ecommerce business owner should ask before launching their operations, such as the following:
Is my product idea original? If similar products exist, is there an opportunity to improve on those products?
Will my product idea sell year-round, seasonally, or not at all?
Where should I source my product, and how much will that cost?
What fees will I have to pay to list and fulfill my orders?
Product research estimates your dream product's profitability before you seriously invest in selling it—a necessary, if time-consuming first step. Skip it, and you may end up building a business around inventory that will ultimately sit unsold in a warehouse (or your garage).
Jungle Scout's data-driven tools and free educational resources are here to handle the heavy lifting and guide you in your product research. While our software tools use data specific to Amazon, the product opportunities they reveal are transferable to virtually every ecommerce platform, whether it's Walmart, eBay, Etsy, or Facebook Marketplace.
With the Opportunity Finder, Chrome Extension, and Product Database, Jungle Scout users can examine competition and demand for specific product niches, forecast potential sales using real Amazon sales data, and ultimately uncover profitable product ideas they wouldn't otherwise find.
If you're not a Jungle Scout user yet, you can still follow our free, in-depth guides to selling on Amazon, read about our data-driven ecommerce product ideas, and learn about how to discover niche opportunities. More guides will be linked throughout this article.
We keep a finger on the pulse of the ecommerce industry through regularly-published data reports on consumer spending and seller behavior. You can view insights into what consumers are buying online in our quarterly-updated Consumer Trends Report.
Data on how ecommerce sellers conduct their business can be found in our annual State of the Amazon Seller Report. Our seller guides draw from industry trends to give readers new opportunities to launch and grow their businesses.
Find a supplier
Your supplier can be many things—a private-label product manufacturer, a wholesale distributor, or the local hardware store where you buy furniture-making supplies. Whatever your sourcing needs, the cost of procuring your product is a crucial aspect of product research.
Reliability is important—you'll want to develop a rapport with your supplier if possible, choose materials you can easily reorder, and stay within your inventory budget instead of banking on runaway sales to cover the cost of goods.
Choose an ecommerce platform and fulfillment method
Thanks to ecommerce's growing popularity, you can list your product on many different online marketplaces, where it can be viewed by thousands—if not millions—of potential customers.
While online marketplaces tend to have some similarities, you'll find that each one offers advantages depending on what kinds of products you're selling. For instance, used items tend to do well on eBay and Facebook Marketplace, whereas private-label products sell well on Amazon and Walmart Marketplace.
Selling on Facebook Marketplace, or Instagram can also be lucrative; 54% of U.S. consumers have purchased products they first learned about on social media, and that figure is likely to grow.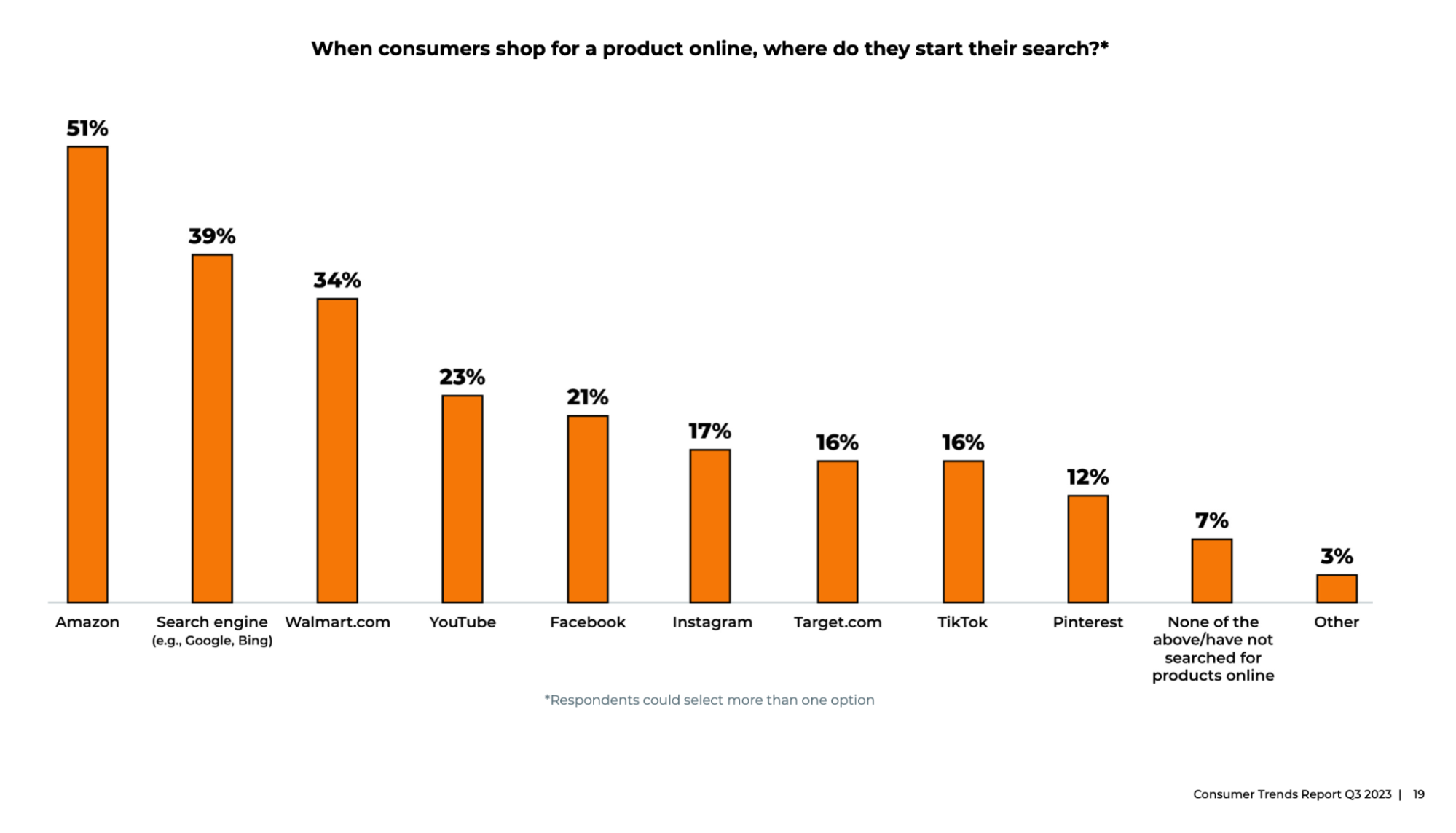 Each platform offers different fulfillment methods. "Fulfillment" includes all the actions that occur after a customer clicks "purchase": picking and packing the order, labeling the package, and shipping it to the customer. Done right, and it feels like a magic trick to the end customer—it's a key determinant of customer ratings and reviews.
The best fulfillment method for your business will depend on your finances and time. You can self-fulfill by storing inventory in your home or a rented space, and pack and ship orders yourself. You may prefer to outsource these tasks to a third-party logistics provider or use Fulfillment by Amazon (FBA).
Whatever you choose to do, make sure you can reliably fulfill orders on time and at a reasonable cost to the customer, using packaging that ensures the product arrives intact.
To that end, it can be helpful to have some inventory on hand in case there's a sudden disruption with third-party fulfillment services. When COVID-19 interrupted FBA shipping speed, many Amazon sellers temporarily pivoted to FBM (Fulfillment by Merchant), packing and shipping orders from their homes to avoid losing their rank and ratings on Amazon.
Choose a memorable brand name
Think hard about your brand name—it's an important piece of marketing. Use it to evoke what you want your customers to feel about your brand.
It should be distinctive, memorable, and original. Be sure to check whether your intended brand name is already taken before you use it.
Not sure what to call your brand? Try riffing on branding trends and archetypes, or tell a personal story with a family name. If you're stumped, play around with an online brand name generator—this one even suggests fonts and logos to match.
Step 2: Build a financial plan for your online business
Once you've validated your product idea, it's time to get real about the numbers game—namely, how much it'll cost you to launch and maintain your business, and when you can expect to start earning profits.
It is possible to start an online business for free. But if you want to make a significant investment in inventory, legally register your business right away, or develop your own private-label product, you'll incur some up-front costs.
Having a budget for your business is important. Try not to get overwhelmed by all the line items that can accrue—making adjustments here and there to stay within your spending limit is part of the process. An up-front investment can feel like a huge risk, but with a well-researched product and optimized operations, it'll pay off.
Let's go over what items you should consider in your financial plan. Loosely, they include:
Cost of goods/sourcing costs
Seller fees and/or fulfillment fees (varies by marketplace)
Cost to form an LLC
Business insurance
Taxes
Your estimated time-to-profit
Financing options
Seller fees, legal fees, insurance costs, and taxes
Depending on where you list your products, you may be subject to seller fees and insurance requirements. You'll also want to think about legally registering your business as an LLC, as it comes with some tax advantages.
Seller fees
On Amazon, sellers must pay "referral" fees—kind of like a commission—back to Amazon for each order. Typically, these fees come out to 15% of the product's sale price. Amazon sellers also pay additional per-item fees or subscription fees (depending on their seller account type) and refund administration fees. And if they use FBA, there are fees for that, too.
Not every ecommerce platform will charge as many fees. You can use a fee calculator to estimate your net profit—we recommend Salecalc.
Here's a rough breakdown of online seller fees outside of Amazon:
Walmart: referral fee for each product sold, typically 15% of sale price; no monthly subscription fees
eBay: 13.25% of product sale price to list and sell most items; $0 monthly for a free seller account, $7.95+ per month for eBay Store subscribers
Facebook Marketplace: no subscription fees; no referral fee for local sales; referral fee of 5% of the sale price if the product is shipped
Instagram Checkout: selling fee of 5% per shipment
Shopify: monthly seller subscriptions start at $29.99
Etsy: listing fee of $0.20 for each item, plus a 6.5% of sale price transaction fee. Etsy Plus subscribers pay $10 per month
Craigslist: listings are free, except for a handful of regional fees for vehicles, housing, and furniture
Keep in mind that platforms often offer advertising programs to their sellers, which come with their own fees. We'll discuss marketing in Step 4, but for now, keep in mind that advertising costs need to factor into your overall budget.
Legal fees
If you're in the U.S., it's a good idea to register your business as an LLC (a Limited Liability Company). While you don't technically need a business license to sell products in most ecommerce marketplaces, LLCs offer business owners protection, flexibility, and a simpler tax reporting process—not to mention the credibility of a licensed brand name. While it costs money to create and maintain an LLC, we recommend it.
You can form an LLC all on your own, or you can hire a lawyer to help you. The price of forming an LLC varies by state, but typically falls between $50-200. Naturally, you can expect to pay more for the help of an attorney.
Insurance
Once you have your LLC set up, you'll want to protect it from unexpected costs like accidents and lawsuits. On certain ecommerce platforms like Amazon, you may be required to maintain some form of business insurance.
The type of insurance you'll need depends on where and how you run your business—there are policies to protect you from lawsuits, property damage, and defective products. You should shop around to compare rates and benefits.
Taxes
All U.S. businesses must file taxes, typically on a yearly or quarterly basis. Our seller calendar can help you stay on track with quarterly business tax deadlines.
If you're operating as an LLC, you're eligible to write off a significant amount of business expenses through deductibles. We recommend that you hire a professional accountant to handle your taxes, as they can be tricky to decipher.
Startup costs and time to profit
So, after all of these fees and taxes, what should you expect to spend at startup, and how quickly can you make a return on your investment? Once again, it depends.
You can start selling online for virtually no money—dropshippers, Amazon Merch sellers, and used item resellers (if they're selling their own stuff) don't have to spend a dime on inventory.
Our data on Amazon sellers indicates that sellers using the wholesale or arbitrage models will pay up-front costs in the neighborhood of $500-$2,000. Private-label sellers tend to spend more, because it costs more to develop your own product. 59% of private-label FBA sellers invest at least $2,500 at startup on inventory, Amazon fees and storage, and advertising costs.
On the whole, over half of all Amazon sellers spend below $5,000 at launch, and nearly one quarter spend no more than $1,000.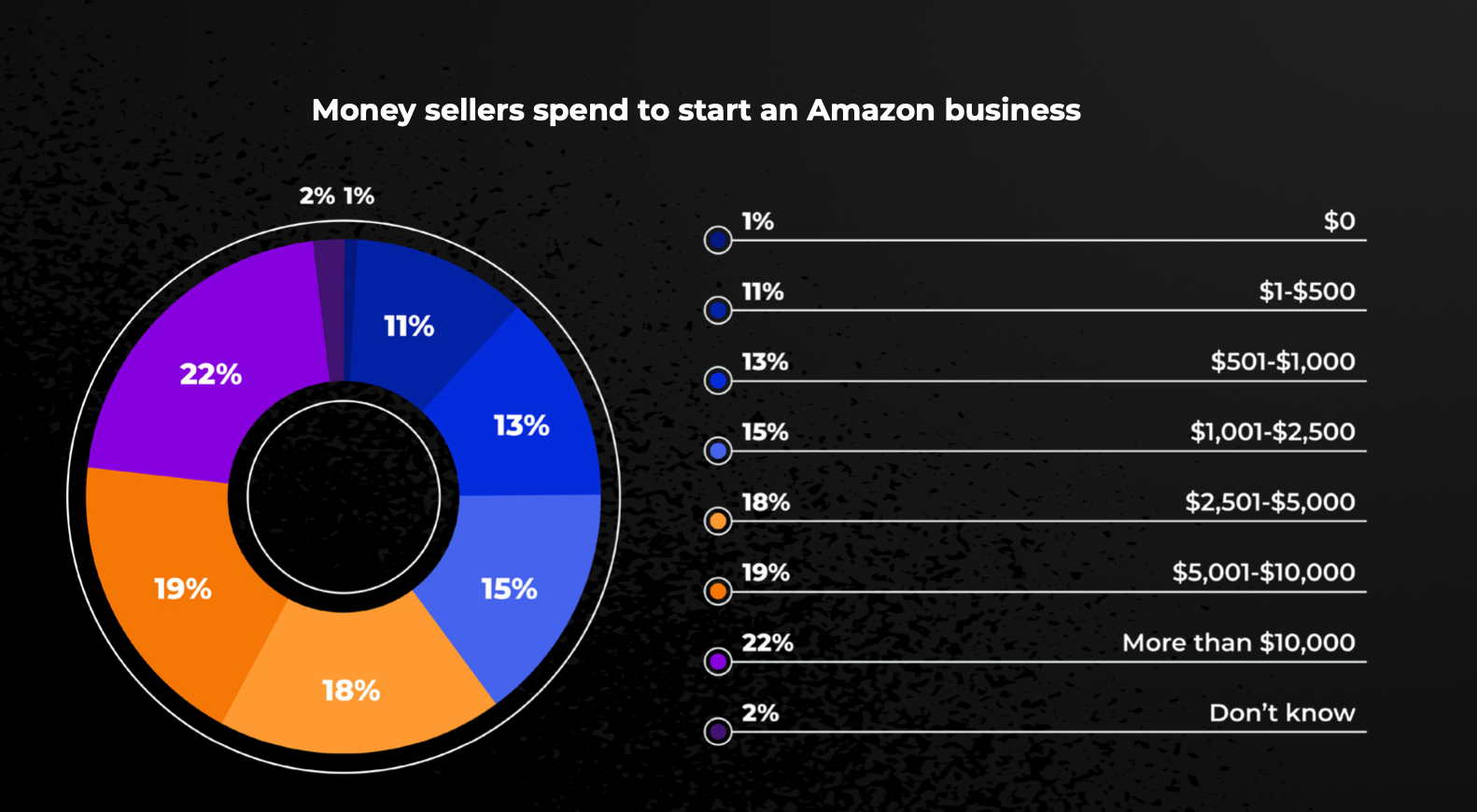 Ecommerce isn't a get-rich-quick tactic—it takes time to generate profits. While the majority of Amazon arbitrage, wholesale, and dropshipping sellers turn a profit within three months of launching their businesses, private label sellers usually take longer.
But the outlook is generally positive: 63% of all third-party Amazon sellers achieve profitability within the first year of launching their business.
That said, if you've invested heavily at launch, make sure you're ready to spend several months to a year before making that money back. While most Amazon sellers are profitable (89%, to be exact), they didn't get that way overnight.
How to finance your online business
There are many different ways you can fundraise the money you need to start an ecommerce business.
Over three quarters of Amazon sellers funded their businesses using personal savings, a testament to ecommerce's affordability for aspiring entrepreneurs.
A third took out family or business loans, which can range from $500 microloans to tens of thousands of dollars paid back over several years.
It can be difficult for new ecommerce sellers to qualify for loans from a bank or the government, because they tend to require tax and credit histories that new sellers don't have.
Fortunately, Amazon and fintech companies like AccrueMe are developing investment solutions for online sellers that offer more flexibility. You can read more about how to fund your ecommerce business in our guide to financing options.
Step 3: Create compelling product listings
Customers can learn about a product many different ways—by viewing ads, seeing a suggestion on Google or Amazon, reading a review from a satisfied customer, scrolling through social media, and even via word-of-mouth.
Ultimately, brand awareness starts with your product listing—it's the single best piece of marketing in your arsenal. Use your listing to tell customers why they need your product, communicate your brand identity, and build credibility with your audience.

Use keywords to boost visibility
Your product listing should capture the relevant keywords and feature the data that customers use to find the products they want to buy. That way, it'll actually show up in search results, instead of getting lost in a sea of competitors.
Here's how that works: when deciding what to display in search results, search engines like Google and Amazon check potential results for relevance—either by "crawling" text on a web page, as is the case for Google, or by scanning keywords and data associated with different products, as Amazon does with ASINs.
One big difference between traditional search engines and ecommerce platform search functions is that the latter are product-focused. In other words, while Google seeks to answer questions with information (i.e. articles on the "best dog beds" or "top 10 dog beds"), Amazon wants to answer search queries with relevant products (i.e. the products most related to the customer's search terms, like "dog bed").
Because users come to Amazon to buy things, the search results need to facilitate a purchase, which means presenting the products most likely to satisfy the customer's needs.
In any event, this is true for both Google and Amazon: the more relevant your listing is to a customer's search, the more likely it is to appear in search results.
A keyword-rich product listing boosts your product's visibility to the millions of customers across the globe who shop online. A great keyword strategy can elevate your brand above your competitors, reach new audiences, and ultimately generate more sales for your business.
You can do keyword research for free on ecommerce platforms and search engines. Here's a great method to start: try searching Amazon for broad terms that describe your product, and see what its search algorithm suggests in the autofill drop-down box. For instance, if you're envisioning selling a dog bed, type "dog bed" into the Amazon search bar, but don't press "enter" just yet.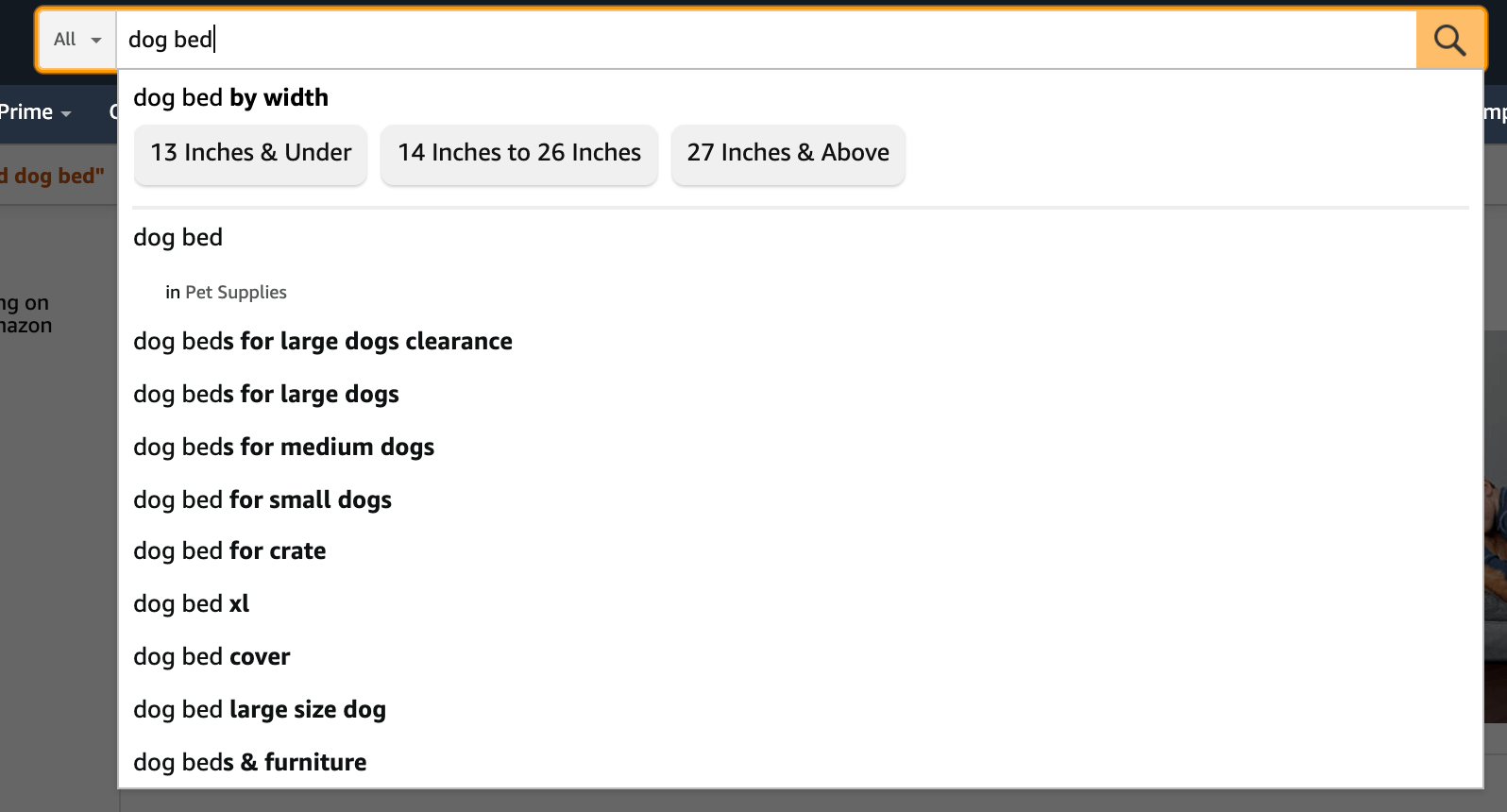 Amazon will suggest popular keywords associated with "dog bed," so you can see exactly what real customers have searched for, design your product to suit that demand, and include those keywords in your product listing.
If you already have ideas about your product's design or features, you can search for more specific keywords, too. Say you want to sell a pink, fluffy dog bed that heats up. Make your search more descriptive ("pink dog bed" or "heated dog bed"), and take note of the suggested keywords for those specific niches. You'll want to include at least some of them in your listing.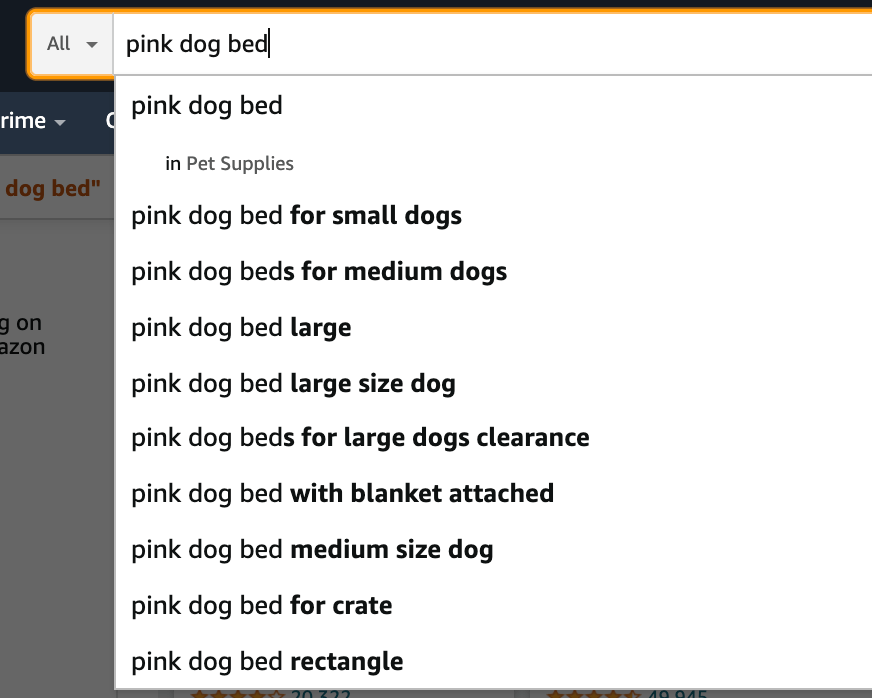 Then, start browsing your competitors' listings. Take note of how other sellers describe their dog beds: do they mention benefits for your dog, machine-washability, or other special features? Informative descriptions help convert customers, so be sure to include relevant details about functionality, advantages, and design features in your listing.
You run a similar autofill search on Google. Be sure to also take a look at the "People also ask" feature to generate more keywords. This section pops up in Google search results and can offer details about how and why people are searching for a given product. You can translate those queries into keywords that indicate your product's functionality or purpose.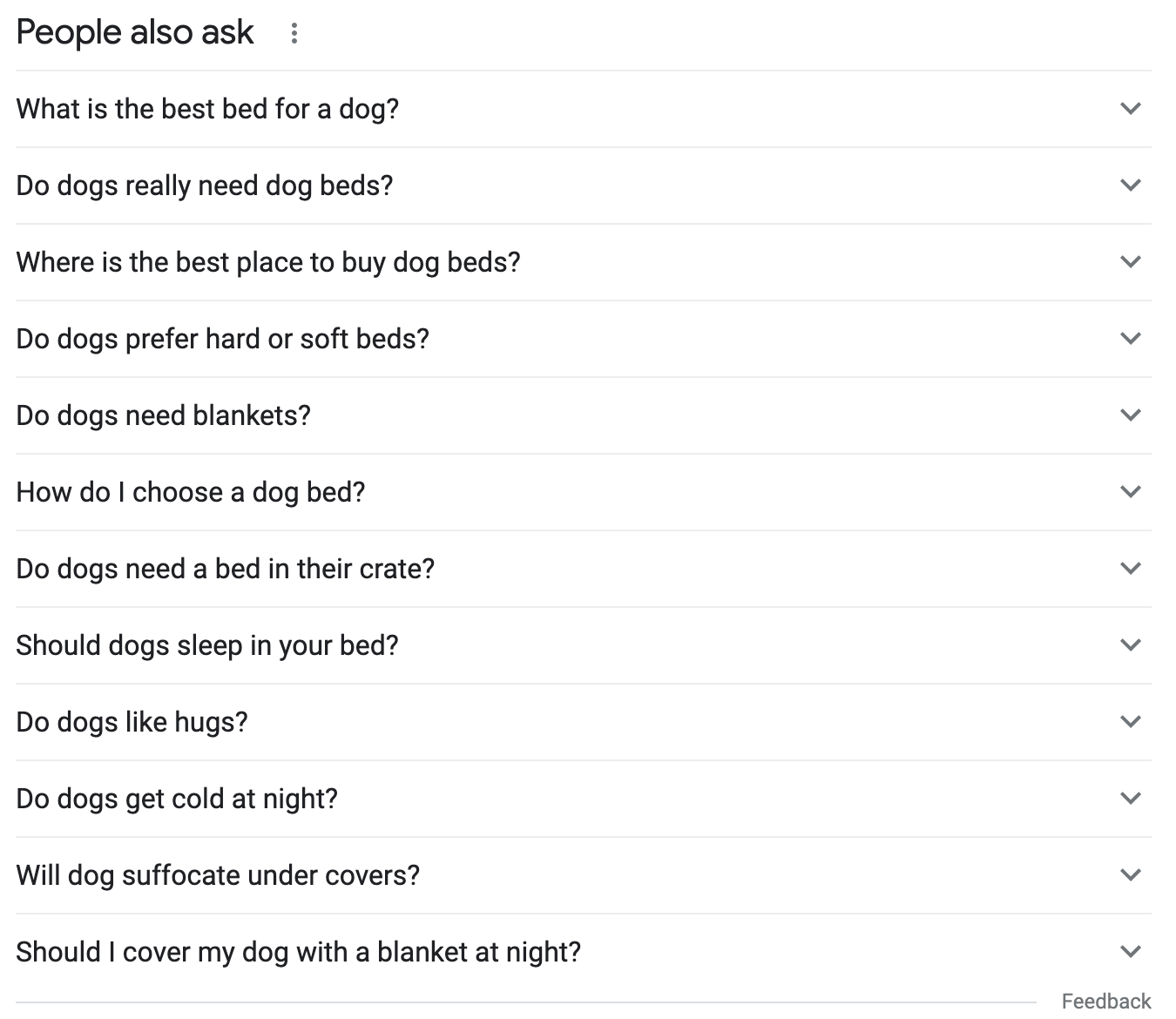 For example, people who Google "dog bed" want to know about proper firmness, best use, and accessories, so you should include keywords in your listing like "soft" "for crate" or "with blanket" if they apply to your product.
The best way to do keyword research is to use a paid tool like Jungle Scout's Keyword Scout. This tool does the work for you—it pulls advertising data directly from Amazon and suggests thousands of high-converting, top-ranked keywords to include in your listing.
To learn more, check out our top keyword strategies.
Take great product images
Different marketplaces will have different image requirements for listings and ads. One thing is true wherever you sell: having high-quality images of your product will boost sales.
You should also consider including video content of your product. Amazon allows sellers to upload quick, informative videos for ads and product listings.
Step 4: Market your product, drive traffic, and build brand awareness
So, you've built an informative, keyword-rich product listing with compelling copy and stunning visuals. Now it's time to let the world know about it!
You want to drive as much traffic as possible to your listing so you have more chances at conversion—that is, you want to get as many people as you can to click on, view, and purchase your product.
The broader your online presence, the more likely you are to attract online shoppers. So make sure to establish a digital foothold in at least three areas: on your own ecommerce storefront or landing page, on social media, and in online ad space. Once you start making sales, keeping your review count and ratings high will boost your brand's legitimacy.

Build an ecommerce storefront
Your storefront is where customers can learn about your brand, and where you'll convince customers that your brand is legitimate, with products worthy of their hard-earned cash.
Essentially, you want to recreate the experience of visiting a physical store, but streamlined. Think about what a customer would want to know about your product or brand and what questions they'd have for the store clerk, and communicate that information somewhere within your storefront.
Typically, that means providing plenty of photos and videos of your products in action, links to product listings, and information about your return policy. You can include your brand story, customer testimonials, and even helpful tutorials on how to use your product. The goal is to gain the customer's trust in your product—and ultimately, a purchase.
You can build a standalone website through hosting platforms like Shopify or Wix, or you can create a storefront on Amazon or eBay using their templates.
Leverage social media
54% of consumers have purchased products they first learned about on social media, making a social presence a no-brainer for entrepreneurs looking to build brand awareness.
Growing a following for your brand on Instagram, Twitter, Facebook, and TikTok exposes your products to millions of potential customers.
You can link your storefront or individual product listings within your social media profiles so customers can easily navigate to your listings You can even sell products directly on Facebook and Instagram.
Social apps also allow you to interact with viewers in ways that can feel more organic than with traditional advertising. For example, you can run polls on Instagram or Twitter to get feedback on your products, notify customers about sales and discount codes, or post engagement prompts to encourage comments.
You can also use social media to notify customers about sales and other notable events.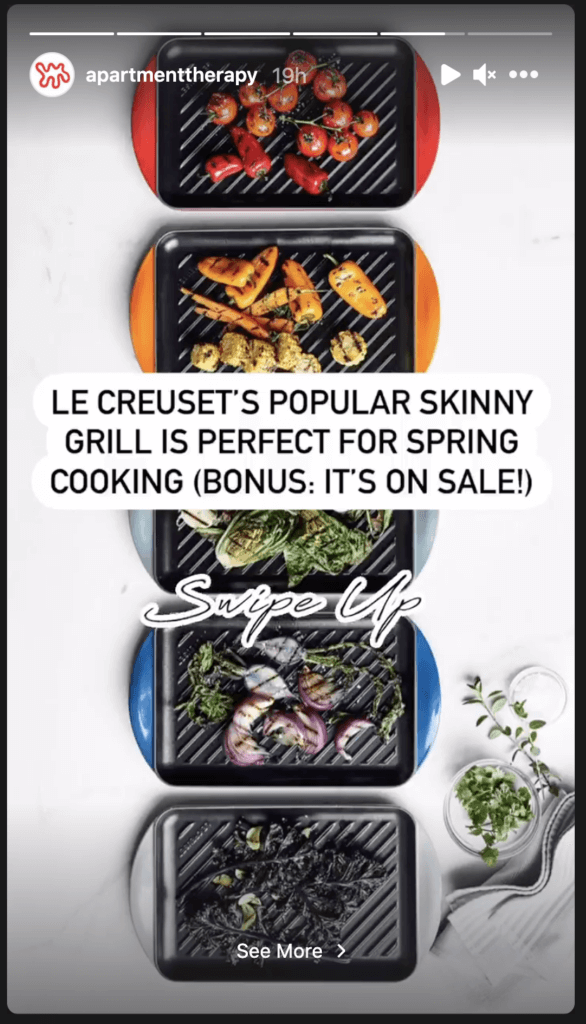 Even if you don't yet have a social media strategy to promote your brand, it's important to claim the social media handles you'll want to use (like "@junglescout") before someone else scoops them up.
Create ad campaigns
Ads generate clicks, which in turn lead to sales. And in today's competitive ecommerce industry, you have to maintain a solid advertising strategy to get noticed.
Fortunately, ecommerce sellers have a ton of options when it comes to advertising their products. Amazon offers a wealth of pay-per-click (PPC) ad options to its sellers, as well as other marketing programs to boost visibility. You can even track inbound traffic to your listing from your off-Amazon ad campaigns.
Here are some helpful guides to advertising your products on and off Amazon:
Get reviews
Product reviews matter more to your business's long-term success than you might expect. 71% of U.S. consumers are influenced by products with the best ratings and reviews when shopping online, and 68% find reviews with photos or videos more compelling. On Amazon, getting a high volume of great reviews boosts your product's ranking, which in turn affects sales.
Getting great reviews starts with having a high-quality product. Ensuring timely fulfillment and returns processing, courteous communication, and beautiful brand help, too.
We know getting reviews is hard, so we've published a few different articles about why reviews are important and strategies for boosting your review count.
Step 5: Optimize your online business and plan for growth
Launching a business is a huge accomplishment that takes time, money, and patience. Congratulations on becoming an entrepreneur!
Once you've gotten your business up and running, it's important to regularly check in on its performance. You may need to make some changes in order to set yourself up for long-term success.
Plan to check in on your business sometime in the first three months. But remember that while the majority of Amazon sellers get their businesses up and running relatively quickly, 23% take at least three months to launch their businesses, and over half wait six months or longer before turning a profit.
Measure your business's performance
Pull up your financial plan and start comparing it to how your business actually performed. Here are some questions to consider:
Are you meeting sales estimates, exceeding them, or falling short?
Have you turned a profit?
Is your current fulfillment method working for you and your customers, or do you need to find an alternative?
Are you able to stay on top of your inventory, or do you regularly run out of stock?
Is your profit margin above 20-30%? If not, how can you raise it?
Are you getting plenty of positive reviews? Have you checked your reviews for helpful feedback or improvement opportunities?
You'll want to keep a close eye on performance metrics like sales volume, revenue, and ad spend, so you can spot trends and quickly identify hidden fees. Software tools like Jungle Scout's Sales Analytics keep track of this for you, so you can focus on strategy instead of bookkeeping.
If your product isn't living up to your expectations, don't panic. Investigate any changes you could make to improve its functionality, or try to get customer feedback on how it could be upgraded. If you're selling multiple products, consider nixing one that isn't selling well.
Lower your fees and costs
If running your business is costing more than you expected, there are probably ways you can cut back.
It's easy for first-time ecommerce sellers to know they're being overcharged for things like shipping fees, so we wrote a guide to help you get reimbursed.
Here's another way to cut back on overhead costs: try negotiating for better inventory costs with your supplier.
Expand to other channels
Just because you start your business on one ecommerce platform doesn't mean you have to stay there forever. You'll be more competitive and attract a wider audience if you list your product on multiple ecommerce channels.
Hire freelancers or employees
Like any job, selling online comes with tasks you perhaps would rather not have to do. Thanks to freelancer hubs like Fiverr and Upwork, it's easy to find high-rated, trained consultants to cover every imaginable aspect of running an ecommerce business.
Start your online business today
Ecommerce is a rapidly growing industry with plenty of opportunities for newcomers with great product ideas. With a bit of product research and planning, you can join the ranks of profitable ecommerce sellers. In time, you may be able to replace your full-time job, like the 47% of Amazon sellers who are self-employed or earn income exclusively from ecommerce.
If you're ready to get started on your new business, check out our in-depth beginner's guides to selling on different marketplaces:
If you need a product idea, get started here:
Do you have any questions about launching a business online that we didn't cover in this post? Let us know in the comments!
Start your online business with Jungle Scout
Get everything you need to launch a profitable business on Amazon, including product research, competitive analysis, and more!
Brian Connolly is an Amazon seller, ecommerce expert, and writer for Jungle Scout. He lives in the New Jersey Shore area with his wife and cat. When he isn't writing advice online for aspiring and experienced Amazon sellers for Jungle Scout, he spends his free time boating, fishing, and selling boating-themed items on his Amazon business.